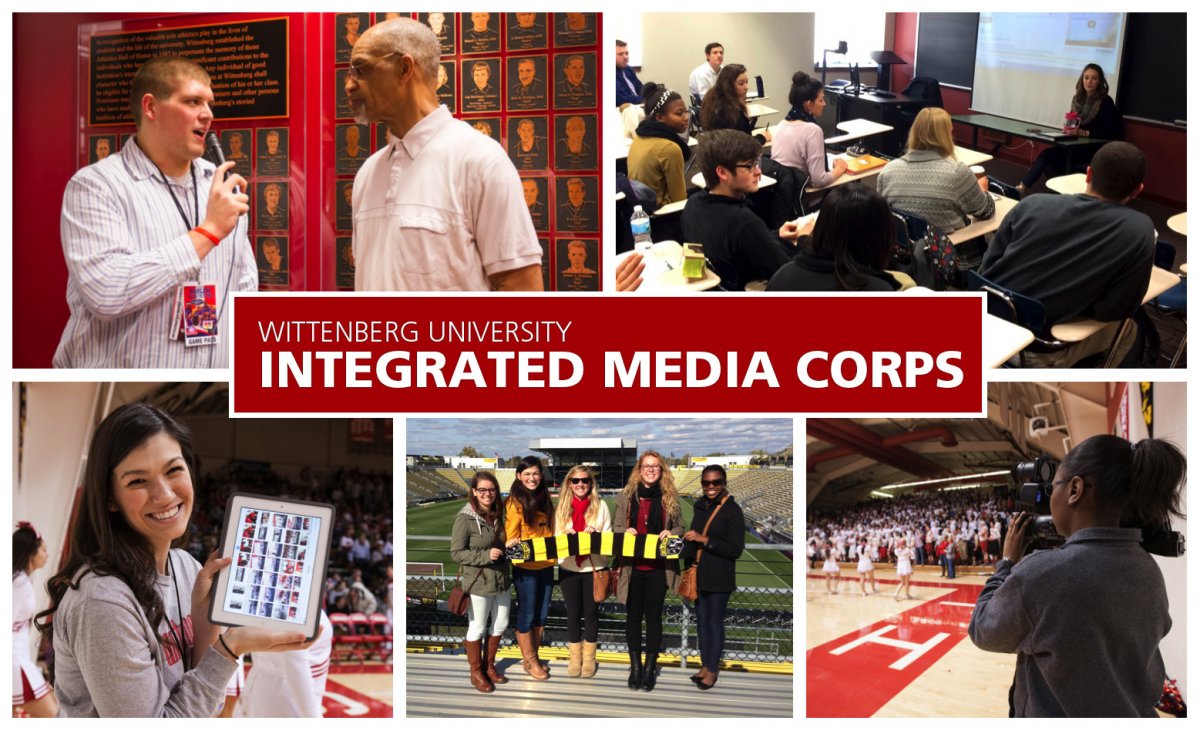 Springfield, Ohio — Wittenberg University's innovative Integrated Media Corps (IMC), a collaborative academic and work-study program developed to train media professionals of the future, has been recognized by the Ohio Communication Association (OCA) as the 2014 recipient of its Distinguished Program Award.
Program administrators will receive the award at the OCA's annual conference on Friday, Oct. 3, at Franklin University in Columbus, Ohio.
Created in 2010 as a collaborative effort of the administrative Office of University Communications and the academic Department of Communication, IMC provides Wittenberg students with opportunities to apply lessons learned in the classroom while gaining technical expertise through work-study internships. The program welcomes students from all majors, providing hands-on experience with all facets of media production and broadcasting while also meeting publicity and public relations needs for the university.
"The IMC represents the best of the liberal arts in action," said Professor of Communication Matt Smith, who serves as the program's academic advisor. "The program offers students practical experience in the context of a broad-based learning environment. I'm most pleased that the program has offered employable skills to a wide variety of majors, not just those students enrolled as communication majors, but also those across the humanities and sciences."
In its first year, the IMC included five students who primarily gained experience streaming live video of Wittenberg varsity athletics events. It has evolved in a remarkably short amount of time to include 20 students in the upcoming 2014-15 school year and now supports a wide range of activities, projects and interests, including digital media, news releases and feature writing, website maintenance, video and audio production, and social media promotion. Many of the IMC students' projects are featured prominently on the university's website, in printed publications, and across its various social media outlets, including Facebook, Twitter and Instagram.
In addition to work-study assignments, IMC students attend classroom sessions, which provide opportunities to discuss and develop communications strategies and interact and network with industry professionals who periodically give presentations. Guest lecturers have included professional writers, journalists, videographers, cinematographers, photographers, radio and television personalities, public relations professionals, and entrepreneurs in the communications field. Students also have toured media production facilities, including those at Columbus Crew Stadium, home to the Major League Soccer franchise, and Huntington Park, home to the minor league baseball Columbus Clippers.
"IMC has become a tremendous resource for the Office of University Communications as we find new and exciting ways to promote Wittenberg, its students, and the many aspects of campus that make the university a great place to live, study and play," said Ryan Maurer, Wittenberg's director of athletics communications and one of the founders of IMC. "I believe it is precisely this value to the university that makes the experience so fulfilling for the students because they know their work is important and that it contributes in very meaningful ways to increasing brand awareness and the visibility of the university."
IMC students will continue to expand their horizons and explore new creative outlets, thanks in large part to new curricular opportunities being created by site supervisors/program directors John Strawn (co-founder), Wittenberg's associate director of athletics communications, Erin Pence, university photographer, and Seth Iiames, director of communications and online content. The collaborative nature of the program continues to expand as well, as the academic curriculum evolves with the communications field, preparing IMC students well for life after Wittenberg.
"Seeing these students take this experience and then go to work as social media managers, radio and television producers, and public relations coordinators is the most rewarding part of the program," Smith said.
A nationally ranked university for the liberal arts and sciences affiliated with the Evangelical Lutheran Church in America, Wittenberg University has repeatedly been ranked throughout the years by the Princeton Review for the quality of its teaching and faculty. Additionally, The Chronicle of Higher Education named Wittenberg one of the nation's top producers of Fulbright Scholars among bachelor degree-granting institutions in 2010, and the university has consistently been recognized nationally for excellence in service and athletics.
Publish Date:
Wednesday, August 13, 2014