High School Scholars
College Credit Plus Admission Requirements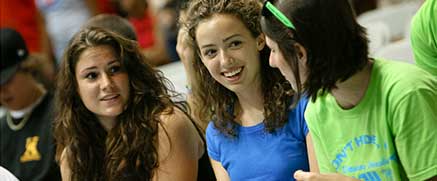 Below are the admission requirements for Wittenberg's College Credit Plus program:
To participate in College Credit Plus at Wittenberg, the student applicant must demonstrate readiness to take college courses.
How might one demonstrate college readiness? Most applicants will make the case through some combination of grades in college preparatory courses, standardized test scores, and recommendations from high school guidance counselors and teachers. As a rule, we recommend a high school GPA of 3.0 or higher in college preparatory courses. Wittenberg will also consider ACT and/or SAT test scores. [Note: Some Wittenberg classes in mathematics, science, or foreign language will require completion of an online placement test before students can register for courses.]
Click here to download the application. A high school transcript and counselor recommendation must be included with the completed CCP application.
When to apply:
College Credit Plus students may apply to Wittenberg at any time after March 1st. Interested students should notify their high school of your intentions to participate in CCP before April 1st. Registration for courses will begin over the summer.
Charges:
For public school students and private/homeschooled students approved by the state, tuition and book fees for College Credit Plus are paid by the state. For private/homeschooled students not covered by state funding, Wittenberg charges $160 per CCP credit. Wittenberg will not charge additional tuition or fees. The application fee is $30.
Questions?                        
Contact us at sce@wittenberg.edu or 937-327-7012.