History
Sigma Kappa was founded in 1874 at Colby College
in Waterville Maine. Mary Caffrey Low, Elizabeth Gorham
Hoag, Ida Fuller, Frances Mann, and Louise Helen Coburn
founded the sorority on November 9, 1874, which is now
known as Founders' Day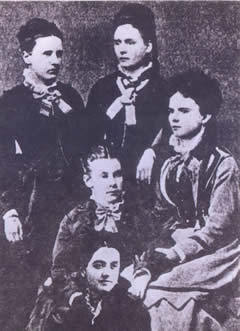 The Founding Sigma Kappa Sisters
Colors
Louise Helen Coburn's early reminiscences give us her memory of white as the color favored in the early days of Sigma Kappa. She said that lavender and maroon, as our colors, occur in the minutes of June 1891. They were being used then and apparently had been approved earlier. A note in the minutes of 1904 speaks of a committee appointed to "write down the true significance" of our colors which is revealed in the ceremony of initiation.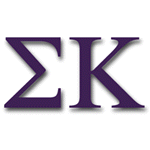 Flower
The delicate violet grew wild along the banks of the Messalonskee River where the founders sat and dreamed of Sigma Kappa. In June 1892, the violet was adopted as our official flower. The flower was thought to belong to the days of promise as is Sigma Kappa. 

Symbols
The dove was established as an official symbol of Sigma Kappa at the 1984 convention and the heart was adopted at the 1988 convention. Both symbols signify the love felt by members across the country.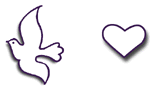 Coat of Arms
The Sigma Kappa coat-of-arms reflects the familiar symbols of the sorority - the dove, the violet, the Greek letters, and maroon and lavender. Adopted in 1911, the coat-of-arms consists of a maroon shield with a diagonal bar of gold, bearing five lavender stars; the lower portion a coiled serpent. Above is a wreath of alternate maroon and gold, surmounted by a dove in silver, with outspread wings, all beneath an arch of gold rays. Below is a scroll of silver, bearing in black the open motto.