Philanthropy
Gerentology
In 1954, Sigma Kappa recognized the need to help and work with the elderly members of our commumity. Sigma Kappa members across the country volunteer to contribute to the needs and to enrich the lives of the elderly.
Alzheimer's Association
In relation to their support of gerentology research and support, Sigma Kappa adopted the Alzheimer's Association as an official philanthropy in 1984. This past fall, Sigma Kappa participated in the Walk To End Alzheimers to raise awareness and funding for Alzheimers research. The walk was held in Yellowsprings, at Antioch College. As a chapter, the Gamma Omega sisters of Sigma Kappa hold an annual Blueberry Pancake Dinner to raise awarness and funds for the Sigma Kappa Foundation which supports the Alzheimer's Association.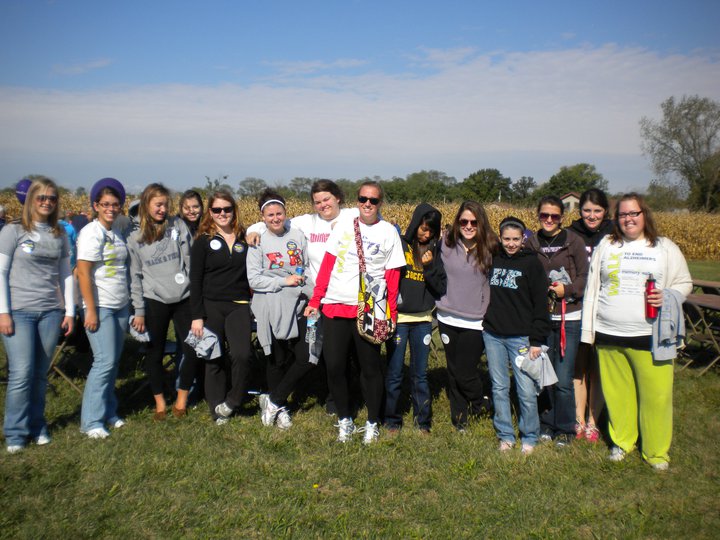 This past March, Sigma Kappa held the second annual Blueberry Pancake Dinner, raising nearly a thousand dollars to donate to the Sigma Kappa Foundation to go to Alzheimer's and gerentology research. This dinner was started because of the anti oxidant properties of blueberries, which are believed to help improve memory. 

Inherit The Earth
Inherit the Earth ties together Sigma Kappas interest in gerentology with helping the environment. Through Inherit the Earth, Sigma Kappa sisters work closely together with senior citizens to enrich the community and environment. 
The Maine Sea Coast Mission
Because Sigma Kappa was founded in Colby Maine, in 1918 Sigma Kappa officially adopted the Maine Sea Coast Mission to help those along the coastal region of Maine. The program works to help those in need while also working to address the cause of their problems. Included in the focus of the Maine Sea Coast Mission are pastoral services, assistance to those in sickness and poverty, financial aid, food banks, crisis intervention, and youth programs, all designed to help those in need.
Other Philanthropies
In addition to these and other events, Sigma Kappa also hosts an annual haunted house with the brothers of Phi Kappa Psi to raise money for both the Sigma Kappa Foundation, and the Phi Kappa Psi's philanthropies.