Campus Living
Rotating Image Carousel (optional):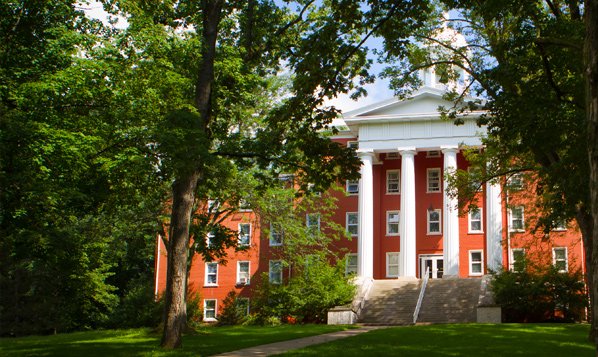 Residence Life
With six distinct residence halls, including the perennial student favorite, Myers Hall, the first building ever to grace campus back in the mid 1800s, first-year students here immediately feel like full-fledged members of our residential community of learners. At the same time, they know that their own unique contributions, gifts and talents are respected and appreciated – a fact reflected in the many themed housing proposals annually submitted.  Such proposals have led to students establishing an environmentally friendly abode, an international living and learning house, as well as an all-student-governed residence.
Outside of "dorm life," students also can find a range of places to take a study break, chat with friends, play some games or grab a bite at Wittenberg's main gathering spot, the Benham-Pence Student Center.
Once inside, students can select from three distinct dining options - the "CDR," Founders and Post 95 - depending on the time of day. Each reflects student input in its design and unique offerings. For those desiring made-to-order wraps, a cool smoothie or a wide selection of to-go food, Post 95 is the place. For a more traditional cafeteria-style experience, the CDR serves up an array of options, including a hummus bar, all-vegetarian and omelet made-easy stops, and a pizza-by-the-slice station. As the week winds down, Founders becomes the preferred gathering spot to enjoy an evening of food and entertainment with friends.
In addition, nearby Doppelgängers, Wittenberg's newly renovated game room in the Student Center, offers opportunities for relaxation. From pool to Rock Band to Wii, Doppelgängers makes down time fun.
Off-Campus Housing
Students at Wittenberg know that where they live can greatly enrich how they learn, which makes Wittenberg's University District extremely popular with juniors and seniors. A coveted neighborhood in close proximity to campus, the University District encompasses both North Campus and South Campus, and is bordered by the North Fountain coordinator, which will soon enjoy enhanced lighting and completely refurbished walkways.  Wittenberg's own Alumni Way serves as the quaint divider between North Campus, which surrounds Wittenberg's always busy Health, Physical Education and Recreation Center, and South Campus, which connects to Springfield's Cliff Park, home to a new rock amphitheater.
One of the many reasons students seek out the University District for their final two years is because many of the historic homes available have welcoming front porches. Ideal for impromptu social gatherings on beautiful spring and fall days, or for simply kicking back with a friend one-on-one, the homes and their front porches create lasting memories of college life.
Easy-to-find blue light phones make travel in the University District safe as does Wittenberg's friendly full-service police/security force, which provides escort services for students at any time of the day or night, and insists on taking a pro-active approach in progressive campus policing.
For those wanting more traditional upper-class housing, Wittenberg offers a number of newly built apartments near the entrance to Cliff Park.