Communication Majors Bring Home National Championship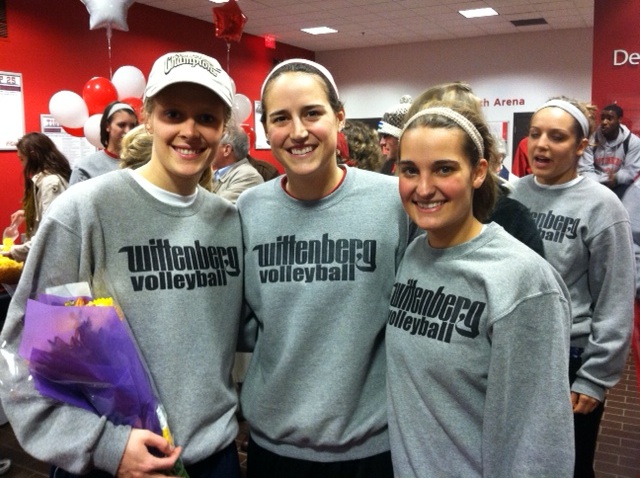 The Department of Communication is proud to congratulate three special members of the championship women's volleyball team, Communication majors Jessie Batanian, Christina Gilene, and Katie Sumner. These athletes and students have had an incredible journey using the skills they've acquired in the
Katie Sumner ('12), Jessie Batanian ('13), and Christina Gilene ('13) at the volleyball welcome reception after the championship
classroom and applying them to interactions with their teammates and even members of the media.
"Communication has helped me to be more comfortable around people," said Gilene, junior.  "I have realized that when talking to other peers, adults, or even giving interviews after a big volleyball game, I am able to get through what I need to say in a professional manner and not have any setbacks."
Batanian echoed the sentiments of Gilene, saying that a Communication major has helped her with interacting with others.
 "A Communication degree has helped me perform as a better teammate by how I now have an understanding of group communication as well as a background in interpersonal relationships," said Batanian, junior.
These women are not only exceptional athletes; they are exceptional students. Balancing the demands of the classroom with the requirements of being a student athlete can be particularly challenging, but these women have managed both.
"We oftentimes have study tables while traveling to matches and we really emphasize staying ahead in course work," said Batanian.
"The professors are also great about us missing class," added Gilene. "They are very understanding and it is so easy to meet with them during their office hours so they can help us get on the right track."
Congratulations again to the Women's Volleyball team for bringing home the NCAA Division III championship! 
By Shelly Gregory, '13