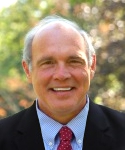 Eugene Pierce, Ph.D.
Associate Professor of Practice
Hollenbeck Hall 218-A
(937) 327-7911
piercee@wittenberg.edu
Courses Taught
BUSN 290 – Topics in Business

BUSN 310 – Operations Management

BUSN 460 – Business Strategy
Academic Background
Dr. Pierce earned his doctorate from CASE Western Reserve University with post graduate studies at the University of Florida.  He also earned his MBA from The Ohio State University, as well as bachelor's and master's degree in Computer Science.
Teaching Background
Dr. Pierce advises doctoral students at CASE Western Reserve University in the Weatherhead School of Management, and has been an adjunct professor in the Fisher School of Management at The Ohio State University and Wright State University.
Professional Background
Dr. Pierce has 30 years of commercial and government executive level experience in companies such as MITRE, NCR, AT&T, and Lexis Nexis.  He also has founded and developed four startup companies.  Through these experiences, he has held such positions as Sr. Vice President at Mypoints.com, Chief Technology Officer at Lexis Nexis, and Chief Architect of a major Department of Defense Supply Chain/Logistics acquisition program.
Research Interests
Dr. Pierce enjoys studying the factors impacting corporate team performance and trust.