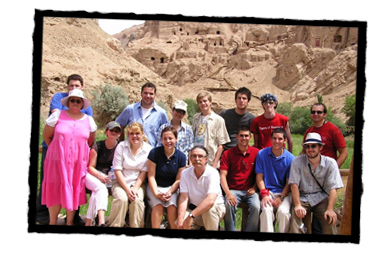 May 18th - June 18th
On the Silk Road is a unique, interdisciplinary program designed to introduce students to some of the peoples, cultures and history of China. Uniquely, this program explores the historic and contemporary interactions and exchanges between China and "the West", between Han and non-Han peoples along the western periphery that make modern China a multi-cultural, multi-ethnic state.
The Silk Road is both a metaphor for the historic exchanges of religions, arts, material goods, ideas and peoples of China, India, Persia, Mongolia and the rest of the "West", as well as the actual locations where such exchanges took place. On this journey students will explore both.
This program is designed for students to learn about, learn from, and learn by doing as they study and travel along the Silk Road. Through assigned readings; class lectures and discussions; visits to cultural and historic sites; interactions with Chinese students, artisans and families; explorations of cities and villages; experiential learning activities; and independent explorations, students will gain an understanding of China, their own culture, and themselves. Students are required to: complete all mandatory University forms and orientation assignments; attend and actively participate in daily class, de-briefing and/or reflection meetings; complete all assignments; write daily reflection journals; and develop an individual interest project which will culminate in a short formal paper and presentation.
The program consists of two courses: Credit hours & general education requirements
      EAS 290 - Introduction to China's Silk Road will focus on the geography, history, peoples, economies, religions, and social institutions relevant to Silk Road studies of China today and in the past with particular attention to the western provinces of Shaanxi and Gansu, and the Xinjiang  Uigher Autonomous Region.  This 4-credit course will meet Wittenberg general education requirements for C, L or S.
    EAS 290 – The Silk Road Observer: From Travel Analysis to Cultural Analysis.  Both anthropologists and travel writers are good observers.  Through a participatory approach to the Chinese Silk Road travel experience, students will learn to translate their observations into travel essays while learning more about the cultural practices of the peoples we encounter on our journey.  This 2-credit course will meet Wittenberg general education requirements for A or C.
 Open to all majors and minors; no Chinese language required  
Number of participants: 11-15 students
   The $6,400 program fee is inclusive of all program expenses in China: transportation, housing, meals, entry fees, tips and allowances.  International airfare to/from China, visa, text and gifts (estimated $2,000) plus personal expenditures are the responsibility of the student.  Non-Wittenberg students also pay a $40 Summer Session Application for Transient Students fee.
Contact program directors for more information:
      Dr. Marcia Frost, Associate Professor of Economics & East Asian Studies
          e-mail: mfrost@wittenberg.edu; office : Synod 112A ; 937-327-7935
     Dr. Nona Moskowitz, Assistant Professor of Sociology & East Asian Studies
         e-mail: nmoskowitz@wittenberg.edu; office Carniege 110F; 937-327-7507
Information Sessions
Monday, November 18th from 4:15 to 5:15 in Shouvlin 205 -- stop by any time
Thursday, Novermber 21st from 7 pm in Founders
This 2014 program has been provisionally approved by the Field Studies Committee