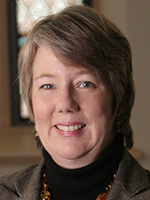 H. Orth Hirt Chair, Professor of History
Medieval Europe
alivingstone@wittenberg.edu
(937) 327-7842
Hollenbeck Hall 309
To go to Dr. Livingstone's Personal Web Page, click here
H. O. Hirt Chair, Professor of Medieval History
Academic Background
Ph.D. Michigan State University
M.A. Michigan State University
B.A. Michigan State University
Recent Awards and Recognitions
Historical Consultant for the National Geographic Documentary "Engineering the Impossible: Chartres Cathedral" (June 2007)
"Aristocratic Women in the Chartrain" was selected as "December's Article of the Month" by the Medieval Feminist Web site. The essay was selected for "the importance of the thesis, the skill with which it was written, and its appeal to undergraduates." (1999)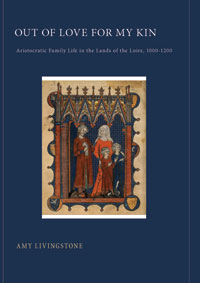 Publications
"Out of Love for My Kin: Aristocratic Family Life in the Lands of the Loire, 1000-1200" published by Cornell Press, March 2010.
"Kith and Kin: An Examination of the Kinship and Family Structures of the Nobility of Eleventh and
Twelfth-Century Blois-Chartres." French Historical Studies 20 (1997): 419-58.
"Noblewomen's Control of Property in Twelfth-Century Blois-Chartres." Medieval Prosopography 18 (1997): 55-72.
"Pour une révision du "mâle" Moyen Age de Georges Duby." Clio 19 (1998).
"Powerful Allies and Dangerous Adversaries: Aristocratic Women and Power in Medieval France" in Women in Medieval Western European Culture, edited by Linda Mitchell, Garland Press, 1998.
"Diversity and Continuity: Family Structure and Inheritance in the Chartrain, 1000-1200," in Mondes de l'ouest et villes du monde: Regards sur les sociétés médiévales, Presse Universitaire de Rennes, France, 1998.  
Medieval Monks: Ideals and Realities: Essays in Honor of Richard E. Sullivan, co-edited with David Blanks and Michael Frassetto,  Brill 2006.
Courses
History 101 Life, Love and War in the Middle Ages
History 111 Medieval Civilization
History 201 The Crusades
History 202 Children of the Past
History 203 Fact and Fiction in The da Vinci Code
History 240 Renaissance Florence
History 240 Did Women Have a Renaissance?
History 301 The Age of Cathedrals
History 312 From Constantine to Charlemagne: The History of the Early Middle Ages
History 312 England in the Middle Ages
History 390 Wives, Wenches, Saints and Sinners: The Women of the Middle Ages
History 411 Senior Seminar 
Research Interests
Her research interests focus upon aristocratic life of the eleventh and twelfth centuries in the region surrounding the cathedral town of Chartres. At present, Dr. Livingstone is completing a book examining the life experiences of the members of one noble family as a portal into understanding the "big events" of the Central Middle Ages and how they shaped the lives of medieval people. She is also co-editing a volume on how current scholars are writing the lives of medieval women.
Other Interests/Info
When not teaching, writing or working in the archives, she enjoys spending time with her family: her husband, Gordon Thompson, cartographer extraordinaire, her two sons, Samuel and William, and Nick the Cat. Cooking, traveling, biking and playing badminton in the back yard are family favorites. The family also loves spending time exploring the neighborhoods of Paris, the ristorantes of Tuscany, the beaches of North Carolina and the reefs of the Caribbean.
Dr. Livingstone is also co-leader for the Wittenberg in Paris Program. This is a month long program where Wittenberg students explore the history of the Middle Ages by visiting the museums and monuments of medieval Paris. Click here for more information about this program.