Test and improve your intonation with our iPhone app InTune. InTune has been a top-25 music app in more than 60 countries, including the US and Canada.
Test and improve your intonation!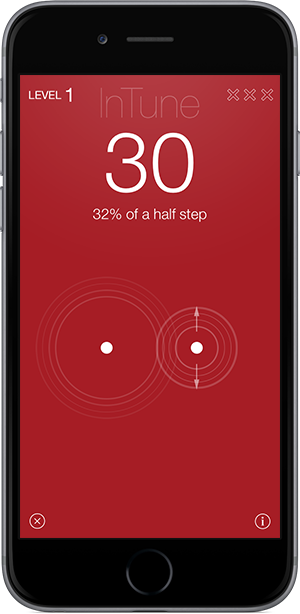 InTune has been a top-25 music app in more than 60 countries, including the USA (#11), Canada (#6), the UK (#9), Italy (#10), Portugal (#3), Sweden (#6), Finland (#3), Russia (#11), China (#4), Hong Kong (#2), and Australia (#6).
"A brilliantly simple game of precision hearing. This ingenious game puts your skill of pitch discernment to the test. Ease of play and instant feedback might just get you addicted. Musical perfectionists and sound geeks beware: this game could become an obsession."
It's easy to find apps to help musicians play in tune, but not to improve a musician's ears. Now that changes, with InTune, the app that helps musicians play in tune by improving their ability to hear.
InTune is an outgrowth of twenty-five years of research and testing in the field of intonation by cellist and professor of

music Daniel Kazez. The concept began as a simple game to test the ability to hear two pitches that are very close together. Then, in a university research study, Kazez discovered that students' hearing improved the more often they played - at triple the rate of those who did not.
Use InTune, and you'll hear two pitches. Decide whether the second is higher or lower than the first. It starts easy but gets more difficult, until you get to the closest pair of pitches that you can distinguish. Play again and improve your score - and your ear! Share your score with others and find out who has the best ear.
Have questions about InTune? Contact Prof. Kazez: dkazez@wittenberg.edu
Reviews for InTune:
| | |
| --- | --- |
| | "What blows me away is how absolutely genius this app is. Yet so simple... Some say it's the best ear-training app out there... The Bottom Line: An absolute must for any musician who has to play or sing in tune with other instruments." |
| | "Wittenberg University Trains Your Ear: Anyone with an interest in sound will enjoy this. Whip out your phone and challenge the intonation of your friends." |
| | "An aesthetically pleasing and addictive app that is easy to use and accomplishes its goal very quickly; my score has improved every time I've played." (iSing Magazine, March 2014) |
| | Featured app three years in a row; 5-star rating. (AppAdvice) |
| | Simple and elegant. Delightfully simple - this little app will find a place in all musician's training regime. Elegant user interface and game play. I love this app. (Music Toolbox) |
| | "Lots of fun to be had challenging your friends." |
| | "There are a number of ear training apps available for the iPhone, but InTune has actual science to back it up." |
| | "Using the app is simplicity itself. A neat little utility." (Music App Blog) |
| | "A great little app and surprisingly compelling." |
| | "An awesome app." |
| | "A very fun and useful app for all music students." (AskAudio Magazine) |
| | "A great tool." |
| | "Very easy to use - a fun and useful addition to your practice toolbox." |
| | "I was surprised to find that not only was it cool, but it was helpful as well!" |
| | "This app is a little bit addicting! In fact, I'm quite sure I've never had this much fun before teaching and practicing intonation. The game-like setting keeps students engaged and challenged, and I definitely noticed a difference in their ability to tune their instrument after they played it." |
| | "The interface is really simple and easy to use - a great little app." (Classical Guitar n Stuff) |
| | "can be used to refine your pitch sensitivity step by step in a clear measurable way." |
| | "What a fantastic tool. This game can't promise you a Grammy Award, but it will absolutely help you develop a more discerning ear - a skill vital to all musicians." |