---
What is Tiger-Print (or Equitrac)?
Tiger-Print is the campus wide print queue. Sending a print job to Tiger-Print will let you release it at any Multi-Function Printer (MFP) on campus. This way if one of the MFPs are down in an area, or being heavily used, you can simply go to another MFP and release your print job at that MFP instead.
The actual software package used as the print management software is called Equitrac, so you might see Tiger-Print referred to as Equitrac as well.
---
How do I print something on Campus?
When you log on to a campus desktop system the Tiger-Print print option will be setup for you to use automatically, as well as any printers non Multi-Function Printer (MFP) in the lab. So if you logged on to a system in the Hollenbeck 115 (24-hour lab), you will see Tiger-Print setup for you. If you logged into a lab system in Science 144 you will see Tiger-Print and the Science 144 printer setup for you to use, this is because the Science 144 printer is no an MFP.
The default printer in all cases, labs, classrooms and offices, will always be set to Tiger-Print.
---
How do I print something while Off-Campus or from my personal system?
You have several options to print something from Off-Campus or from your personal system. Note in all these cases the printing will go through the Tiger-Print queue.
---
How do I release a print job at an Multi-Function Printer (MFP) from Tiger-Print?
At the computer make sure you have accepted the print charges, when presented with them, otherwise it will not be available to be released.
Note you will not have this page if you e-mail your documents to "Tiger-Print@wittenberg.edu", as it will assume you have accepted the costs.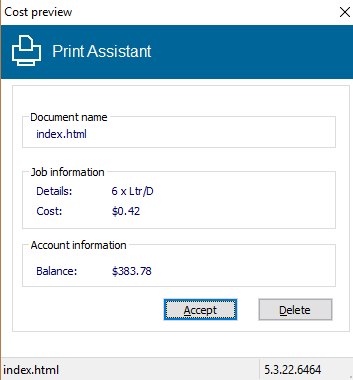 Simply swipe you Wittenberg ID card through the Card Swipe. Just make sure the mag-strip is facing away frmo the MFP.
Otherwise just user your campus username and password to login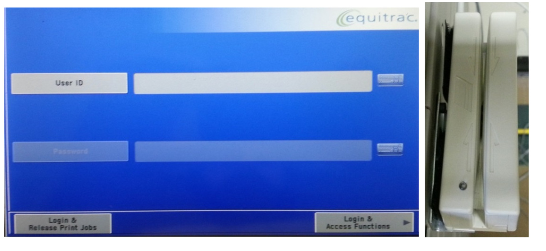 Select the "Login & Release Print Jobs" button, at the lower left

From the list of print jobs, select the ones you wish to print
Then click the "Print" button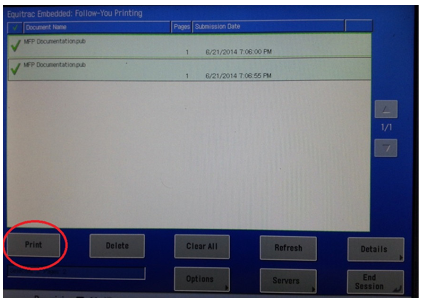 When finished, click the "End Session" button

---
How long can I wait to release my print job at an Multi-Function Printer (MFP) from Tiger-Print?
8 Hours
Tiger-Print will hold your print job for 8 hours, after that it will delete the print job from the queue. Tiger-Print will not charge you for print-jobs that are deleted, only print jobs that are released.
---
How much does it cost to print something?
At the beginning of each Fall and Spring Semester students are allocated $100 in funds, up to a maximum of $400. This equates to 1,000 Black and White single sided pages a semester. Here is a breakdown of the costs.
Printing costs
Black & White Single Sided 10¢ per page
Black & White Double-Sided* 14¢ per page
Color Single Sided** 25¢ per page
Color Double Sided** 36¢ per page
NOTES:
* Most MFPs are set to this by default
** Not all MFPs are color, if you release a color print job on a Black and White MFP it will only charge you for Black and White.
These costs are for all printer types around campus; both Multi-Function Printers (MFPs) and non-MFPs.
---
How can I check my print funds?
To check your print funds, as well as print history;
Log into https://my.wittenberg.edu
Towards the bottom, select the link labeled "View Your Print Quota"
Log in with your campus username and password
You will then see a page presenting you with your current print funds.
You can also click the "View" link to see your current print jobs in the print queue.
Or you can click the "Select" link to bring up various reports of your printing history.
The "Set default" link is not a function in use, so it will not do anything.
Be sure to click "Logout" when finished.
---
What happens when I run out of print funds?
If you run out print funds, you can stop by the Solution Center to fill out a form that will allow you add more funds to your account. These additional funds will be charged against your campus account by Student Accounts.
At the beginning of the Fall and Spring Semesters an additional $100 (or 1,000 B&W singled sided pages) are added to students' print funds, up to a maximum of $400.
---
What about printing and copying I do for my campus job?
In order to be refunded any costs associated with printing for a campus job, please talk to your campus supervisor. It would be best to present them with a report showing all the print jobs you printed for the campus print job. They will then need to contact the Solution Center about covering the costs of the print jobs that you did for them. Most departments have a departmental copy card you should use for making copies for that department.
---
What about printing and copying I do for my student organization?
For Student Organizations, you will need to contact the Student Senate about having them print out or make copies of the documents you are printing for your Organization. Or you can contact the Copy Center in the basement of Recitation Hall about printing up flyers. You will not be refunded any printing costs that you printed from your own account for Student Organizations, so you have to go through the Student Senate, or the Copy Center so they can appropriately charge the Student Organization.
---
What is the CutePDF printer option?
CutePDF is a program that will easily let you turn a document into a PDF. Simply select the CutePDF printer option, when you print your document, and it will then ask where to put the resulting PDF version of the document.
---
Why are we using a print management system like Tiger-Print?
Simply to reduce the amount of wasted printing on campus. This system was put in place to try and help users realize how much printing they are doing, in an attempt to reduce the amount of wasted paper on printing. This would hopefully have the two-fold result of reducing the amount of cost of printing overall as well as reduce the impact our printing has on the environment as a whole.
---
Where are the Multi-Function Printers (MFPs) on campus?
Available to Campus - Black & White
Hollenbeck 115
Student Center near Student Activities office
Synod Hall outside 100
Thomas Library Reference Lab
Available to Campus - Color
Hollenbeck 115
Hollenbeck 321 (8am-5pm during week)
Recitation Hall Second Floor
Recitation Hall Third Floor
Science Building 222 (8am-5pm during week)
Science Building 246
Student Center Gus Geil Lounge
Synod Hall Lower level
Thomas Library Lobby
Restricted to Faculty and Staff - B&W
Advancement 2nd
Chakeres Theater
Hollenbeck 103
Hollenbeck 221
Kreig 2nd floor
Physical Plant
Recitation Hall 05
Recitation Hall 21
Recitation Hall 40
Recitation Hall 53
Science Building 329m
Thomas Library Offices
Restricted to Faculty and Staff - Color
Advancement 3rd floor
Blair Hall 223
Hagen Center
HPERC 309
Koch 107
Recitation Annex 50
Student Services
Weaver Chapel
Zimmerman 204G
This document last reviewed August 21, 2017.