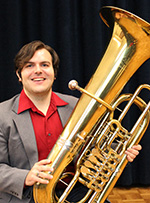 Adjunct Instructor
Tuba & Euphonium
jonesa32@wittenberg.edu
Andrew Jones is working towards a doctorate in performance at the University of Cincinnati College-Conservatory of Music. He holds a masters degree in performance from the University of Arkansas and a bachelors degree in music education and performance from the University of North Texas. His primary teachers have included Timothy J. Northcut, Dr. Benjamin Pierce, Donald C. Little, and Ed Jones.
Jones has played with the Fort Worth Symphony Orchestra, the Blue Ash Montgomery Symphony Orchestra, the Arkansas Philharmonic Orchestra, the North Texas Wind Symphony, and the Legacy Brass Quintet. He has been a finalist in the International Tuba Euphonium Association Arnold Jacobs Mock Orchestral Tuba Competition, and the International Women's Brass Conference Brass Orchestral Excerpts Competition. Jones has also been a semi-finalist in the student and artist division of the Leonard Falcone International Tuba and Euphonium Solo Competition. In addition to Wittenberg, Jones teaches tuba and euphonium for the bands of Milford Junior and Senior High Schools in Milford, Ohio and Randall K. Cooper High School in Union, Kentucky. Jones began teaching at Wittenberg in 2015.