To keep faculty and staff informed of actions and activities related to maintaining the health and safety of our community amid the COVID-19 pandemic, the following communication will be distributed as needed to campus. Please visit the COVID-19 website for more details and updates.
Community Expectations & Pledge
Many students have started moving in, and it is great to see so many out on campus. As a reminder, our ability to continue with in-person work and classes this semester is dependent on all members of our community upholding our expectations related to COVID-19 to prevent and slow the spread of the virus. Please be diligent and wear your face covering, maintain appropriate distance from others, wash your hands frequently, and follow all University policies and protocols. Also please remember to review the email regarding our Community Pledge recently sent by the COVID Response Team, which offers the option for your electronic signature
---
Final Employee Townhall
Wittenberg's COVID Response Team (CRT) will host the last of three Townhall meetings on Monday, August 10, at 4 p.m. Please find the instructional link to the Microsoft Teams meeting here.
 
At the event, a panel of individuals from the CRT, including medical and health professionals and members of our senior staff, athletics, student development and human resources teams, will share what Wittenberg has done to date (and is currently doing). The meeting will also offer staff and faculty the opportunity to ask questions about ongoing COVID-19 activities designed to protect the health and safety of our campus community overall.
---
Temporary Sick Leave Policy Change
During the COVID-19 pandemic, the University has implemented a temporary change to the current Sick Leave Policy as documented in both the Faculty and Staff Manuals. This temporary expansion to the policy may be modified, shortened or extended based on available COVID-19 facts and/or ongoing impacts as determined by the University.
The University understands that during this time there is a need for flexibility as we try to manage COVID-19 implications as well as transition back to on-campus work. The goal is to prioritize the health and safety of the Wittenberg community while establishing consistent yet flexible standards for sick leave during the COVID-19 pandemic. Learn more about the policy and find related forms here.
---
#MaskUp Ambassador Program
Sign-up to become a role model for Wittenberg — share your WHY for wearing face coverings and spread the work to encourage others to do the same. As an Ambassador, you will get some swag and other Ambassador items along the way! Click here to become an ambassador, and thank you to those who have already signed up.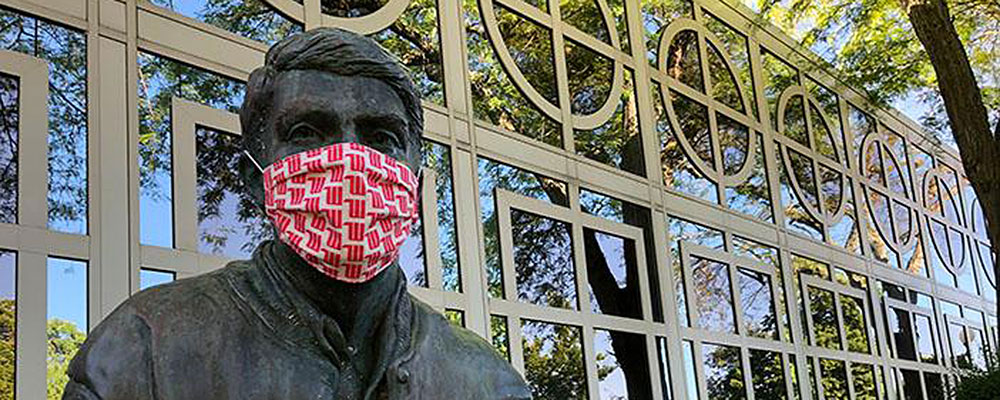 COVID-19 Daily Health Assessments
Wittenberg requires all faculty, staff and students to self-screen each day for symptoms of COVID-19 before coming onto any University property or going to class. Daily self-screening questions include:
Have you been in close contact with a confirmed case of COVID-19 in the past 14 days?
Are you experiencing a cough, shortness of breath, or sore throat?
Have you had a fever or felt feverish in the past 48 hours?
Have you had a new loss of taste or smell?
Have you had vomiting or diarrhea in the last 24 hours?
You must be free of any symptoms before coming on campus for work or school. Some of the symptoms related to COVID-19, as identified by the CDC, include:
Fever (Wittenberg identifies fever as above 99.9° F)
Shortness of breath or difficulty breathing
Coughing
Chills
Repeated shaking with chills
Muscle pain
Headache
Sore throat
Recent loss of the sense of taste or smell
Gastrointestinal symptoms which may include diarrhea, nausea or vomiting
If an individual has any of these symptoms and they are not due to a preexisting underlying chronic health condition, do not come to campus, go to classes or participate in any University-affiliated events. Employees should stay home and contact their direct supervisor and human resources. Students should notify their instructors and the Office of the Dean of Students.
If an individual feels unwell while at school and shows any of these symptoms not due to an underlying chronic health condition, the student should consult the health protocol for COVID-19. Anyone with symptoms must self-isolate, at a minimum, until test results are received.
Individuals without symptoms may still have COVID-19, potentially spreading the virus to contacts. Please remember to adhere to all other health and safety measures, including social distancing and wearing a face covering or mask.
Wittenberg is currently exploring a self-assessment application to be made available through a mobile application. This app will allow faculty, staff and students to conduct a self-assessment on personal mobile devices.
---
Event Guidelines
Guidelines for hosting and having campus meetings and events have been released. Please review all guidelines here. These guidelines were developed in accordance with CDC guidance, as well as input from students, faculty, and staff. Please expect things to be different this fall. Currently any gathering is limited to 10 people. Some highlights of the Event Guidelines include:
Meetings and events should be held virtually when possible.
All events, virtual or in-person, must be scheduled on 25Live, Wittenberg's event registration system. This is to allow for promotion on campus calendars and to make it easy for students, faculty, and staff to connect with an event.
Event or meeting hosts for in-person events or meetings must collect a list of all attendees. This is to assist with any contact tracing needs.
Student organization travel is limited to Clark County. Any special requests will be reviewed on a case-by-case basis through the Office of Student Involvement.
---
University Travel
To limit virus transfer, Wittenberg-sponsored off-campus travel should be limited to Clark County. Any local travel will need to be approved on a case-by-case basis by division vice presidents. Special notes regarding travel, which can also be found on Travel & Study Abroad section of the WITT website, include:
All personal travel should include consideration of risks associated with the type of travel chosen as well as the destination and return advisories in place at the time of travel.
Any Wittenberg employee who decides to personally travel during the pandemic should reference the CDC content for traveling in the U.S. found here.
Any employee traveling to a state that has a Positivity Rate at or above 15% must self-quarantine for 14 days prior to working on the Wittenberg campus. This information can be found here.
Please continue to practice appropriate precautions while traveling to best protect yourself and your family from exposure to the COVID-19 virus.
---
Unpaid Leave
Human Resources continues to receive many inquiries related to how unpaid leave due to COVID-19 will impact current leave accruals. We are currently working on those calculations and will be reaching out to our employees that are impacted over the next couple of weeks. Please consult the July 30 email from HR Director Mary Beth Walter for additional information.
---
Dining Update
Please note that meal times in the Campus Dining Room (CDR) prior to the start of classes are as follows:
Monday, August 3 - Friday, August 7
Breakfast: 7 a.m. - 8:30 am
Lunch: 11 a.m. - 1 p.m.
Dinner: 5 p.m. - 7 p.m.
Saturday, August 8 and Sunday, August 9
Brunch 11 a.m. - 1 p.m.
Dinner 5 p.m. - 7 p.m.
Monday, August 10 - Wednesday, August 12
Breakfast 7 a.m. - 9 a.m.
Lunch 11 a.m. - 1 p.m.
Dinner 5 p.m. to 7 p.m.
Thursday, August 13
Breakfast 7 a.m. - 9:30 a.m.
Lunch 10:30 a.m. - 1 p.m.
Dinner 5 p.m. - 7:45 p.m.
Friday, August 14
Breakfast 7 a.m. - 9:30 a.m.
Lunch 11 a.m. - 1 p.m.
Dinner 5 p.m. - 7 p.m.
Saturday, August 15
Brunch 11 a.m. - 1:30 p.m.
Dinner 5 p.m. - 7 p.m.
Sunday, August 16
Brunch 11 a.m. - 1:30 p.m.
Dinner 5 p.m. - 7 p.m.
As a reminder, students with campus meal plans for fall semester will receive an email with instructions about signing up for dining times each week, using the to-go ordering options, and about dining options when in quarantine or isolation. Students without meal plans that would like to utilize dining services are also asked to sign up for a dining time each week. Signing up for a dining time does not imply that a meal plan is present or that a meal plan holder has remaining swipes, bonus dollars, or Witt Gold available. Dining information, to-go ordering, and sign-ups are available here.
---
Reporting COVID-19 Concerns
If you have a concern about a member of our community not fulfilling our community expectations, please complete the Wittenberg University: COVID-19 Report a Concern Form. A member of the COVID Response Team will follow-up as appropriate.
If you have a concern about exposure (yours or someone else's) to COVID-19, you can also fill out the same form above. If you have general questions about COVID-19 and Wittenberg University's response, please email covid@wittenberg.edu.
---
Previous Issues of Community Digest
All issues of the Student Digest are posted on the W.I.T.T.: We're In This Together website in the communications section. If you have a question that has not been addressed in these communications to date, please email the COVID Response Team.