To keep faculty and staff informed of actions and activities related to maintaining the health and safety of our community amid the COVID-19 pandemic, the following communication will be distributed as needed to campus. Please visit the COVID-19 website for more details and updates.
From the HR Team
We want to say thank you to all employees. We know this has been a very uncertain and even frightening time for all of us as we navigate through the COVID-19 environment and impacts. Even though there have been negative impacts on our community as a whole, this time has also brought out the good in people across campus. We appreciate the kindness, patience and understanding that has been expressed toward each other as we all continue to do our best to work together to clear the obstacles we face in this current environment. Again, thank you. You have made a positive impact that we don't want to go unnoticed. Stay well!
---
Finish Strong
We're In This Together, and together we can slow the spread and finish the fall semester. A huge Thank You to all employees who are continuing to follow our guidelines, taking them and the health of our community seriously. Visit the HR COVID-Response page for additional resources.
---
Reminders
As We're In This Together, please remember to follow and promote these critical safety measures.
Avoiding being a direct exposure contact to others is one of the things you can control – simply keep your distance (more than 6 feet apart) and limit amount of time spent at a closer distance to less than 15 minutes.
Most community spread comes from people who are asymptomatic at the time of contact. Keep yourself and your community safe – maintain your distance at all times!
All protocols can be found on the We're In This Together website here.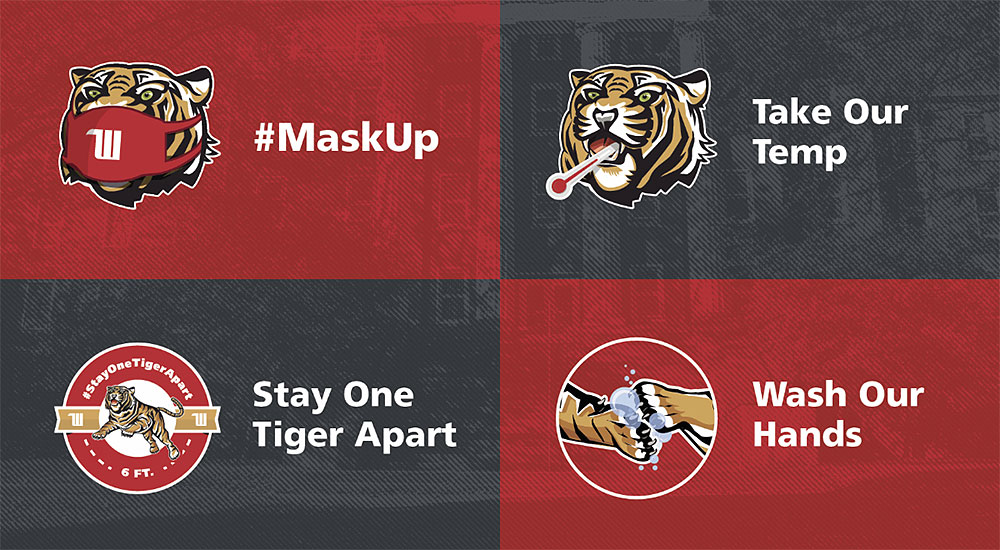 Sharing Concerns
If you have a concern about a member of our community not fulfilling our community expectations, please complete the Wittenberg University: COVID-19 Report a Concern Form. A member of the COVID Response Team will follow-up as appropriate. If you have a concern about exposure to COVID-19 (yours or someone else's), please use the same form above. For general questions about COVID-19 and Wittenberg University's response, please email covid@wittenberg.edu.
The campus community can also use the WITTTIP safety alert system to send a confidential tip via text message to the Wittenberg University Police division regarding safety concerns or criminal activity. Users should text the word WITTTIP and your message to 79516. A response will come from the text system promptly, to acknowledge it was received. Note: This is not to be used for emergencies. For emergencies, call Wittenberg Police at (937) 327-6363.
---
Greater Springfield Events & Happenings
Interested in staying connected with Greater Springfield Events and Happenings, including the Downtown food truck schedule and fun things to do a short walk from campus? Sign up for the Springfield Chamber of Commerce weekly events newsletter here.
---
Contact Tracing, Quarantine, and Isolation
The COVID Response Team is working to answer all questions and respond as needed. The WITT: We're In This Together website is another helpful resource. In addition, here is a reminder on helpful terms:
Quarantine is for individuals that are asymptomatic and/or have reason to believe they have been exposed to the virus.
Isolation is for individuals that have tested positive for COVID-19.
If you are contacted by a contact tracer, be upfront and honest about your interactions with others. This helps us get ahead of the spread and stop it short.
---
Flu Shot Clinic Results
A flu shot clinic for employees was held on September 22. Approximately 100 flu shots were administered. A special thank you to Marie Bashaw and her nursing students who assisted with the check-in process. A special thank-you also goes to our benefit vendors who supplied us with items for the goodie bags handed out during the clinic.
---
Benefit Updates
We have received notice that Superior Dental Care will be rebating a portion of dental premiums to participants recognizing the fact that employees may have had limited dental services available due to COVID-19. The partial rebate is being applied to the University's October invoice. Employees currently enrolled in dental coverage will see a 50% reduction in their October premium.
Thank you to our community for being safe in your daily work on campus! This has had a positive impact on our worker compensation rates. Keep up the great work!
A reminder that TIAA offers ongoing training for all employees.
Monthly administrative leave tracking (sick and vacation) is due no later than the 10th of the following month. The instructions for recording time and approving time is found under payroll instructions located here.
COMING SOON – information related to our Annual Benefits Enrollment for 2021
REMINDER – USI, our benefits broker, makes available its Employee Discount Program to all employees of Wittenberg at no cost.

Similar to employee-savings programs available to major corporations, Wittenberg employees have complimentary access to LifeMart, one of the largest members-only online discount shopping websites. Registered members will find discounts of up to 40% on more than 4 million products and services including:

Computers and electronics
Theme parks
Travel, car rentals, and hotels
Flowers
Gifts and retail shopping
Books and DVDs
Child care and parenting services
Senior care products and services
Movie tickets and video rentals
Restaurants

TO ENROLL FOR THE FIRST TIME: Please use the LifeMart Member Discount program link to sign-up and begin saving right away (use registration code "USI").
RETURNING MEMBERS: Log in using the username and password you created.
ADDITIONAL INFORMATION: Please view the LifeMart Video Demo and the LifeMart Member Discount program flyer.