Community Expectations
Many students have started moving in, and it is great to see so many out on campus. As a reminder, our ability to continue with in-person classes this semester is dependent on all students and members of our community upholding our expectations related to COVID-19 to prevent and slow the spread of the virus. Please be diligent and wear your face covering, maintain appropriate distance from others, wash your hands frequently, and follow the University's visitation policy. Remember: We're In This Together!
---
COVID-19 Daily Health Assessments
Wittenberg requires all faculty, staff and students to self-screen each day for symptoms of COVID-19 before coming onto any University property or going to class. Daily self-screening questions include:
Have you been in close contact with a confirmed case of COVID-19 in the past 14 days?
Are you experiencing a cough, shortness of breath, or sore throat?
Have you had a fever or felt feverish in the past 48 hours?
Have you had a new loss of taste or smell?
Have you had vomiting or diarrhea in the last 24 hours?
You must be free of any symptoms before coming on campus for work or school. Some of the symptoms related to COVID-19, as identified by the CDC, include:
Fever (Wittenberg identifies fever as above 99.9° F)
Shortness of breath or difficulty breathing
Coughing
Chills
Repeated shaking with chills
Muscle pain
Headache
Sore throat
Recent loss of the sense of taste or smell
Gastrointestinal symptoms which may include diarrhea, nausea or vomiting
If an individual has any of these symptoms and they are not due to a preexisting underlying chronic health condition, do not come to campus, go to classes or participate in any University-affiliated events. Employees should stay home and contact their direct supervisor and human resources. Students should notify their instructors and the Office of the Dean of Students.
If an individual feels unwell while at school and shows any of these symptoms not due to an underlying chronic health condition, the student should consult the health protocol for COVID-19. Anyone with symptoms must self-isolate, at a minimum, until test results are received.
Individuals without symptoms may still have COVID-19, potentially spreading the virus to contacts. Please remember to adhere to all other health and safety measures, including social distancing and wearing a face covering or mask.
Wittenberg is currently exploring a self-assessment application to be made available through a mobile application. This app will allow faculty, staff and students to conduct a self-assessment on personal mobile devices.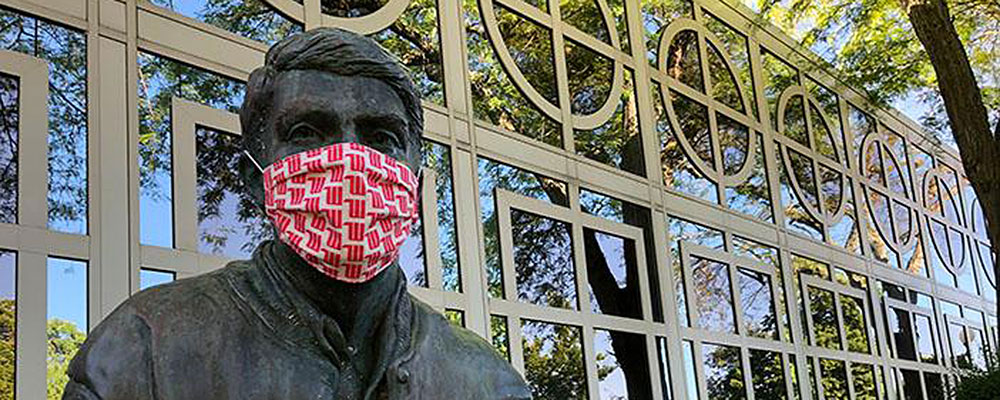 Deadline: Online Education Modules
Consistent with the goals of the University with regard to providing and maintaining behavioral standards and expectations for students that promote safety and security, personal dignity, self-regulation of behavior, and respect for the rights of others, we are requiring that all students complete the following two online modules by August 16:
Coronavirus: Managing Stress and Anxiety
Coronavirus: Awareness
A third module is optional for those interested: Coronavirus: CDC Guidelines for Making and Using Cloth Face Coverings.
All students will have already received an invitation to begin these modules from SafeColleges. These emails will come to your Wittenberg email with a sender by the name of SafeColleges. Please don't delete and make sure to check your junk folder in case it ends up there. If you have questions, please contact Robin Schreck, director of student conduct and deputy Title IX coordinator.
---
#MaskUp Ambassadors: SAAC Leadership
Here is why Brooke Dill '22, president of SAAC, and Michael Osmond '22, vice president of SAAC #MaskUp

Brooke Dill '22:
"Being an athlete, it feels as if we have had to sacrifice so many things including playing the sport we love. However, everyone has had to sacrifice things we love in order to stay safe and prevent the spread of COVID-19. We all want to continue moving forward and get back to a sense of normalcy, but in order to do that we all need to wear a mask and wash our hands to ensure that everyone on campus stays healthy. Stay safe and #MaskUp."
Michael Osmond '22
"To be honest, it makes me nervous to think about if we will be able to compete this year. There are so many things up in the air right now, but all we can do is take the precautions recommended and go from there. We all want to be able to play our sports and do what we love, therefore, we all need to follow the COVID-19 guidelines and wear a mask. It may not be the resolution to the entire problem, but it does give us (the students) a possibility of going back to our normal lives. Keep smiling and stay safe y'all!"
#MaskUp Design Competition
The #MaskUp mask design competition has chosen its finalists. We have 4 awesome designs from Allison, Hannah, and Julia! Vote for the winning design here.
---
Dining Update
Please note that meal times in the Campus Dining Room (CDR) prior to the start of classes are as follows:
Monday, August 3 - Friday, August 7
Breakfast: 7 a.m. - 8:30 am
Lunch: 11 a.m. - 1 p.m.
Dinner: 5 p.m. - 7 p.m.
Saturday, August 8 and Sunday, August 9
Brunch 11 a.m. - 1 p.m.
Dinner 5 p.m. - 7 p.m.
Monday, August 10 - Wednesday, August 12
Breakfast 7 a.m. - 9 a.m.
Lunch 11 a.m. - 1 p.m.
Dinner 5 p.m. to 7 p.m.
Thursday, August 13
Breakfast 7 a.m. - 9:30 a.m.
Lunch 10:30 a.m. - 1 p.m.
Dinner 5 p.m. - 7:45 p.m.
Friday, August 14
Breakfast 7 a.m. - 9:30 a.m.
Lunch 11 a.m. - 1 p.m.
Dinner 5 p.m. - 7 p.m.
Saturday, August 15
Brunch 11 a.m. - 1:30 p.m.
Dinner 5 p.m. - 7 p.m.
Sunday, August 16
Brunch 11 a.m. - 1:30 p.m.
Dinner 5 p.m. - 7 p.m.
As a reminder, students with campus meal plans for fall semester will receive an email with instructions about signing up for dining times each week, using the to-go ordering options, and about dining options when in quarantine or isolation. Students without meal plans that would like to utilize dining services are also asked to sign up for a dining time each week. Signing up for a dining time does not imply that a meal plan is present or that a meal plan holder has remaining swipes, bonus dollars, or Witt Gold available. Dining information, to-go ordering, and sign-ups are available here.
---
Event Guidelines
Guidelines for hosting and having campus meetings and events have been released. Please review all guidelines here. These guidelines were developed in accordance with CDC guidance, as well as input from students, faculty, and staff. Please expect things to be different this fall. Currently any gathering is limited to 10 people. Some highlights of the Event Guidelines include:
Meetings and events should be held virtually when possible.
All events, virtual or in-person, must be scheduled on 25Live, Wittenberg's event registration system. This is to allow for promotion on campus calendars and to make it easy for students, faculty, and staff to connect with an event.
Event or meeting hosts for in-person events or meetings must collect a list of all attendees. This is to assist with any contact tracing needs.
Student organization travel is limited to Clark County. Any special requests will be reviewed on a case-by-case basis through the Office of Student Involvement.
---
Success Resources
COMPASS: Sweet Success Center has provided a Remote Learning Guide to assist you in critical things to think about when participating in hybrid or remote courses. Take a look, prepare for how you will want to approach classes, and do not hesitate to set up a meeting with the team in COMPASS to build your academic plan for success this fall! You can schedule a meeting. Additionally, here is a downloadable time management sheet for you to start building your routine for fall! Unsure where to start in building a routine? COMPASS can assist you with that, too!
---
Student Support
Students who might be in need of accommodations due to the impact of COVID-19, or who would like to discuss potential learning or living accommodations, should contact Accessibility Services via email. Students can also submit a request for accommodations via the form found here or access more detailed information on the Accessibility Services webpage. It is critical that symptomatic or exposed students not physically attend class or work or participate in other campus activities. Students in quarantine/isolation should work with Accessibility Services and the COMPASS: Sweet Success Center regarding accommodations required for the continuation of their coursework.
---
Using Virtual Technology
As classes begin, a common virtual platform you most likely will use to participate in classes and events is Microsoft Teams. Before classes begin, please review this overview on how to use the platform. That way you will be ready to Tiger Up! when classes start. Another platform you will be using frequently is Moodle, the University online learning platform. Familiarize yourself with its features ahead of classes beginning so you do not miss a beat! You can access the Moodle overview here.
---
Reporting COVID-19 Concerns
If you have a concern about a member of our community not fulfilling our community expectations, please complete the Wittenberg University: COVID-19 Report a Concern Form. A member of the COVID Response Team will follow-up as appropriate.
If you have a concern about exposure (yours or someone else's) to COVID-19, you can also fill out the same form above. If you have general questions about COVID-19 and Wittenberg University's response, please email covid@wittenberg.edu.
---
Previous Issues of Student Digest
All issues of the Student Digest are posted on the W.I.T.T.: We're In This Together website in the communications section. If you have a question that has not been addressed in these communications to date, please email the COVID Response Team.