Great Start
Thank you, Tigers, for a successful first week back! Our community's ability to continue to follow all COVID-19 guidelines, including gathering restrictions, visitor policies, wearing a mask, and staying distanced, are critical to our being able to remain on campus!
COVID Reminders
A statewide curfew remains in effect from 10 a.m.-5 p.m. through January 30 as of now. Students and employees needing to go to the hospital, obtain essential items such as food or medication, or who need to work during these hours may do so. All campus facilities will continue to be locked by 10 p.m. Dining services will not be offered after 10 p.m. Students should also not walk in groups larger than two after 10 p.m.
Residential students are permitted only one Wittenberg visitor in a residence hall room or neighborhood house or yard per resident. Students can be in any residential property after 10 p.m. as long as they comply with the visitor policy. All must wear masks and be physically distanced by at least six feet when welcoming visitors into one's residential space. This is critical to slow the spread and preserve our residential experience.
All members of our community should continue to avoid large gatherings (more than 10) at this time. See current Campus Events Policy. The Entertainment Venue Guidelines that allow for event gatherings larger than 10 have been suspended until further notice.
We continue to ask students not to leave campus unless there is an approved educational reason such as a co-op, internship or student teaching assignment, outside employment, or for essentials such as groceries or medications. HOWEVER, we will permit students to visit their permanent residence. We recognize that the ability to go home to one's permanent residence is important to students during this difficult time. We continue to ask students not to visit bars or visit other college campuses.
Commuter Student Resources
The Traveling Tigers are Wittenberg's New Commuter Student Organization! To welcome this group, Wittenberg has upgraded several features to campus.
Traveling Tiger Lounge with study rooms located in Zimmerman Hall
Designated parking spots in the gated lot of Tower Hall and the Student Center lot.
Updated website resources and group chat feature on TEAMS - Traveling Tigers | Wittenberg University
Please connect with Associate Director of Student Success Drew Sawyer for any further information.
Register for Sorority or Fraternity Recruitment
Joining a sorority or fraternity provides a great way to connect with a values-based organization that offers support in leadership and academic growth as well as service and philanthropy. These organizations can be a great way to connect with other students as part of your Wittenberg experience.
Missed sorority recruitment registration? Email Kari Murphy today. For Fraternity Recruitment Registration, register here. Be sure to follow @wittgreeklife to stay in the loop with recruitment information and events.
Job or Internship Searching?
Check out the OFIC's Job Fair, Feb. 5 from 10 a.m. to 2 p.m.: All Ohio small, private institutions come together to host a VIRTUAL job fair on Handshake to meet top employers who want to hire Wittenberg students and other students from small, independent colleges. REGISTER HERE. So far we have more than 70 employers attending with the list growing daily!
Also, interest forms for the Summer 2021 Civic Engagement Internship program through The Hagen Center are due by Feb. 5, as well.
Upcoming Events
Thursday, January 28: The Political Science Department presents a virtual discussion on the "Post-Election Period and the Impact of the Events on January 6," 12 p.m.-12:50 p.m.
Friday, January 29: Art After Dark, 8 p.m., Lower Level, Student Center
Friday, January 29: Doppelgangers Game Room OPENS: Regular Hours: Friday and Saturdays 8 p.m.-10 p.m.
Saturday, January 30: Witt Late Night Program: All Things Games! Student Center, 7 p.m.-10 p.m.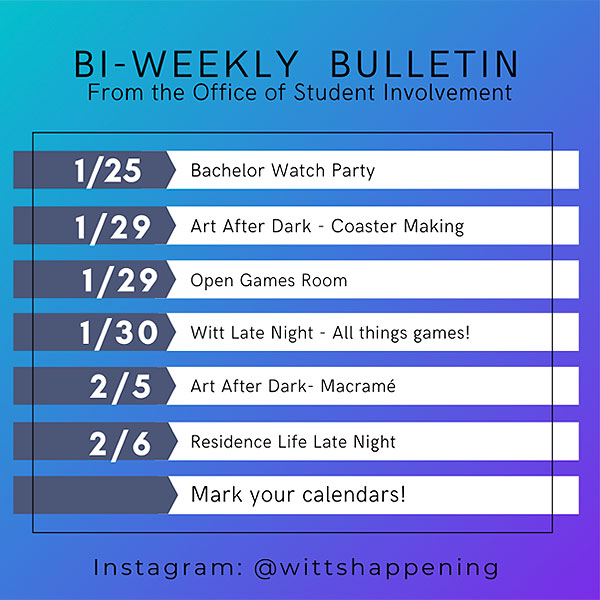 Resources for Success
Is your class meeting in a hybrid or remote format? Read the COMPASS: Sweet Success Center's Remote Learning Guide to assist you in adjusting to this format and in supporting your success. Set up a meeting with COMPASS to talk through your strategy and build your study plan here.
Financial Aid Evening Hours
The Office of Financial Aid now offers EVENING APPOINTMENTS to better serve you! In addition to standard business hours of 8 a.m.-5 p.m. Monday-Friday, Financial Aid is open Monday-Thursday until 7 p.m. The office is also available to meet virtually or by phone with you and/or your parents or family to answer questions, review your aid package and options, and more. Call (937) 327-7231 or email financial-aid@wittenberg.edu to set up an appointment or connect.
New Mental Health Resources
Headspace is a platform for mindful living with 1,000+ hours of guided mindfulness exercises, videos, and more to help you get healthier and happier. Enroll in Wittenberg University's student Headspace program for free here.
Talkspace is an online therapy service that connects users to a dedicated, licensed therapist via private messaging and live video from a secure, HIPAA-compliant digital platform. Click here to enroll.
How To Report Concerns
If you have a concern about a member of our community not fulfilling our community expectations, please complete the Wittenberg University: COVID-19 Report a Concern Form. A member of the COVID Response Team will follow-up as appropriate. If you have a concern about exposure to COVID-19 (yours or someone else's), please use the same form above. For general questions about COVID-19 and Wittenberg University's response, please email covid@wittenberg.edu.