Fall Courses
Students and parents received an email earlier today about the modes of instruction offered for students this fall. The instructional modes in which courses will be offered — online, hybrid, and in-person — are influenced by several factors, with primary considerations toward safeguarding the health of students, faculty, and staff, and maintaining the highest quality of education and engagement for our students.
---
Face Coverings
Effective July 2020, Wittenberg has implemented a Face Covering policy to help prevent the spread of COVID-19. We are also asking students to become a MaskUp! Ambassador. We're In This Together (WITT...get it!), and we need people who understand the unique responsibility that comes with being a member of our community. Wearing a face covering is an essential part of making sure our community stays strong, healthy, and vibrant. Sign-up to become a role model for Wittenberg. Please share your WHY for wearing face coverings and spread the work to encourage others to do the same. As an Ambassador, you will get some swag and other Ambassador items along the way! Sign up today by clicking here.
#MaskUp and also showcase your creativity in Wittenberg's Mask Design Competition! Use any photo editing software or print out the template and draw a design by hand. Then submit your design here. The winner will receive a mask with their design as well as other Wittenberg apparel! Get your submissions in by July 24.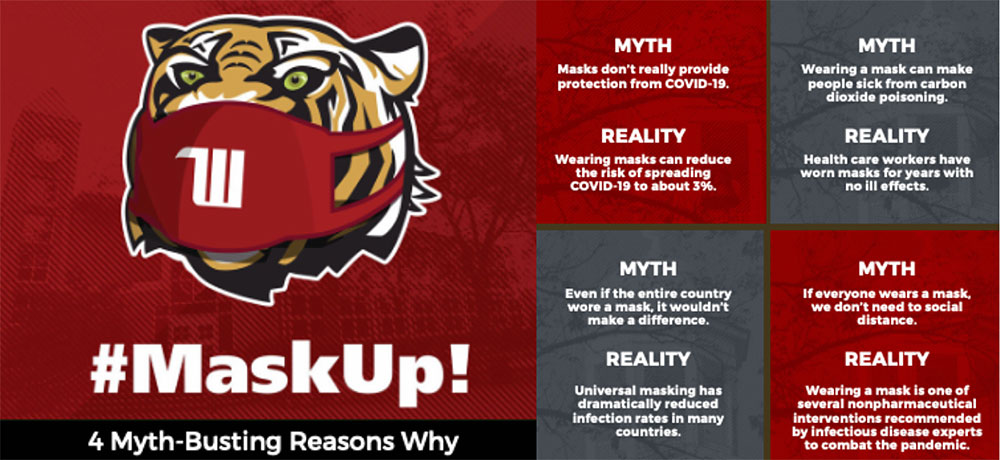 International Students
Thanks to the combined efforts of more than 100 universities and 14 states, the Administration has withdrawn the recent order regarding international students being prohibited from online study while in the United States. While we are still waiting for guidance, the government will not force students to transfer or leave the country should their school return to online instruction. This action represents a recognition of the vital role international students play on our campuses and in the U.S. economy.
---
COVID-19 Online Education Modules
Consistent with University goals of providing and maintaining behavioral standards and expectations for students that promote safety and security, personal dignity, individual responsibility, and respect for the rights of others, we are requiring that all students complete the following two online modules before returning to campus:
Coronavirus: Managing Stress and Anxiety
Coronavirus: Awareness
The third module is optional for those interested.
Coronavirus: CDC Guidelines for Making and Using Cloth Face Coverings
All students will receive an invitation to begin these modules sponsored by SafeColleges. These emails will come to your Wittenberg email directly from SafeColleges. Please don't delete, and make sure to check your junk folder in case the email ends up there. If you have questions, please contact Robin Schreck, director of student conduct and deputy Title IX coordinator.
---
Housing & Community Expectations
We are excited to welcome you back to your campus home but know that for many of you a return to campus brings lots of questions. In this edition, we will attempt to answer some of the most frequent questions we've received recently. Remember to sign up for your move-in time on the Housing System, instructions for which were sent to your Wittenberg email on July 10. Students are limited to two helpers for move-in. Directional maps and instructions for key pick up will be emailed next week. Please be sure to review and sign the community (and roommate) agreements online, as well.
Ordering for microfridge, lofts, and 'Burbs laundry rentals are currently open. Links to approved vendors for ordering are available on the ResLife website under Forms & Resources. Students are permitted to have a fridge in their residence hall room. Students wishing to have microwave access should plan to rent a microwave as common space microwaves are currently not available due to CDC recommendations. You can find fridge specifications and more within the suggested packing lists online under Move-In Information.
Students should plan to keep whatever furniture is in their room at the time of move-in in their room. For most students in residence halls, this means if you are in what is normally a double, you will have two sets of furniture even if you are the only person assigned to the room. In some cases, we may have needed to pull the spare set of furniture for use in other spaces, so we cannot guarantee that any furniture other than the assigned students' furniture will be present. We also cannot store any extra furniture present. We ask that students and families plan for this flexibility when packing and think creatively when arranging the room. If you need ideas, we are here to help.
In summary, please remember to sign-up for your move-in time, make any meal plan changes, sign your fall agreements (housing, community, & roommate), and place any rental orders by next week. If you have questions, let us know by email.
---
Student Support
Students who might be in need of accommodations due to the impact of COVID-19 or who would like to discuss potential learning or living accommodations should contact Accessibility Services via email. Students can also submit a request for accommodations via the form found here or access more detailed information on the Accessibility Services webpage.
---
Campus Events & Community Engagement
As you are preparing to return, it will be good to think about some items that you may want to use more of this fall while we all stay physically distant and spend more time outside. We encourage you to pack items that allow you to relax outside such as lawn chairs, hammocks, or blankets. One of the great things about Wittenberg is the large amount of open green space for students to hang-out, spread-out, and enjoy.
Don't forget that Wittenberg is also located a short five-minute walk to downtown Springfield, home to neat shops, murals, the weekly farmer's market, green space, and more, including the newly opened Co-Hatch The Market Food Hall. All are great spots for you to explore throughout the fall. Visit this website to check out local restaurants, arts, entertainment, and other options at your doorstop.
Springfield is also home to bike-trails and many running/walking/jogging routes. The National Trail Parks and Recreation Department has information on the many recreational programs and options around town. You can visit the department's webpage here. Students can register their bicycles with Wittenberg Police when they arrive on campus, too. Be sure to read through bike theft protection suggestions from Wittenberg Police found here.
---
Athletics
Wittenberg University, along with the members of the North Coast Athletic Conference (NCAC), have worked diligently over the past two months to devise a safe and responsible return to campus and more specifically a return to sport plan for the 2020 fall athletic season. Students can read the full-announcement that was email to student athletes here.
---
Concerns & Questions
If you have a concern about exposure (yours or someone else's) to COVID-19, please complete this online form. If you have general questions about COVID-19 and Wittenberg University's response, please email the COVID Response Team at covid@wittenberg.edu.