Mandates & Guidance
Wittenberg continues to monitor all State of Ohio mandates and recommendations. With Governor DeWine's recent announcement regarding masks and travel, we are discussing the impact of those and will have more information to share in the coming days.
---
Testing
Testing to diagnose COVID-19 is one component of a comprehensive strategy and should be used in conjunction with promoting behaviors that reduce spread, maintaining healthy environments, maintaining healthy operations, and preparing for when someone gets sick. Wittenberg's testing strategy and health protocol for students aligns with Ohio Governor Mike DeWine's Responsible RestartOhio: Guidance for COVID-19 Testing at Institutions of Higher Education.The University will focus its efforts on quickly testing students, faculty, and staff members who become symptomatic, which is considered the most critical success factor for the sustained re-opening of campuses this fall according to Responsible RestartOhio.

Isolation & Quarantine
The term "quarantine," as defined by the CDC, is used in reference to the separation and restriction of the movement of people who were exposed to a contagious disease to see if they become sick. Thus, in the case of COVID-19, quarantine will be required for those who have been closer than six feet of an infected person for at least 15 minutes two days before illness onset or, for asymptomatic individuals, two days prior to the date on which they received their test for COVID-19.
If a campus community member is identified in this way, they will be required to quarantine, in a designated location, for at least 14 days. Students are encouraged to quarantine at home or, if that is not feasible, they will be given specific instructions for quarantining on campus. Students may be relocated to a new room assignment for quarantine and once there will be required to stay in their rooms and always wear a mask when leaving their room; students in quarantine should only leave their rooms for healthcare appointments.
During quarantine, campus community members will monitor their temperature and symptoms and keep a log of any possible symptoms if they occur. The Clark County Combined Health Department will be checking in with probable cases several times a week.
The term "isolation," as defined by the CDC, is used in reference to the separation of sick people with a contagious disease from people who are not sick. Thus, in the case of COVID-19, isolation will be required for those who have tested positive for the illness.
When a student is diagnosed with COVID-19, students are encouraged to go home to recover or, if that option is not available, they will be relocated to a Wittenberg owned property, reserved specifically for isolation.
When diagnosed with COVID-19, Clark County Combined Health District (or health department of jurisdiction) will follow up with those who have tested positive daily and monitor their temperature and symptoms. Initially, they will also conduct a thorough contact tracing interview to ascertain who else might be considered a probable case for COVID-19. Any impacted community member will be notified.
While students are encouraged to isolate or quarantine at home, Wittenberg will work to provide essentials to any student with a need to isolate or quarantine on campus. Students should talk through their needs and capabilities with their family so that they have a plan in mind if quarantine or isolation is necessary at any point.
While students are encouraged to isolate or quarantine at home, Wittenberg will work to provide essentials to any student with a need to isolate or quarantine on campus.
---
Student Senate Message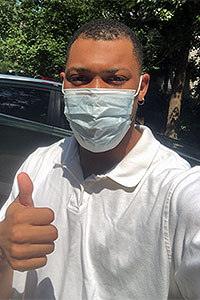 From Emmanuel Thombs '22, Student Senate President:
"Coronavirus showed us that many things are out of our control. Having to abruptly leave school and return to uncertainty back home was disheartening, yet, we aren't helpless in this fight. If we want to enjoy the vibrant culture and great people awaiting us on campus, we each need to do our part by wearing our masks. This small gesture will not only help protect our peers but empower us to have a substantial individual impact on our community and collective experience. If you want to take a stand for your country, campus and community, wear a mask this fall."
---
Dining Update
Campus Dining this fall will look different as we continue to build in protective measures for the safety of our students and staff. Precautions include designating one-way traffic flow through servery spaces, moving to staff-assembled plates instead of self-serve buffets, and reconfiguring dining spaces to enable distancing between patrons. Students will also be required to sign up for their meal times each week through on online form. The weekly format will allow students to adapt to their changing schedule needs while still helping us reduce lines and crowds. We are also launching an online tool for students to be able to order a meal to-go if they'd prefer to limit their time in common dining spaces. Students will be sent more information about the sign-up process and the online ordering option in the coming week.
---
Move-In Update
Don't forget to sign up for a move-in time by Sunday! Any students without a move-in time will be automatically assigned a move-in time on Monday, July 27. If your early arrival deadline has changed due to changes with fall athletics, please know you can keep your check-in time that you already signed-up for – no change is necessary. However, if you would like to alter your plans, please send an email to housing, and we will delete your original time so you can select one that works better for you.
All campus housing students will check-in at a central drive-thru check-in at the corner of Woodlawn and Bill Edwards in the Tower lot. Instructions for arrival and travel routes through campus will be sent to residents prior to their move-in day via their Wittenberg email. Maps and instructions will also be available online next week. Please remember to bring a picture ID, face covering, and to limit your helpers to no more than two people. We are excited to welcome you back to your campus home!
---
Face Coverings
Effective July 2020, Wittenberg has implemented a Face Covering policy to help prevent the spread of COVID-19. Are you ready to #MaskUp? We need people like you who understand the unique responsibility that comes with being a member of our community. Wearing a face covering is an essential part of making sure our community stays strong, healthy, and vibrant. Sign-up to become a role model for Wittenberg. Please share your WHY for wearing face coverings and spread the work to encourage others to do the same. As an Ambassador, you will get some swag and other Ambassador items along the way! Sign up today by clicking here.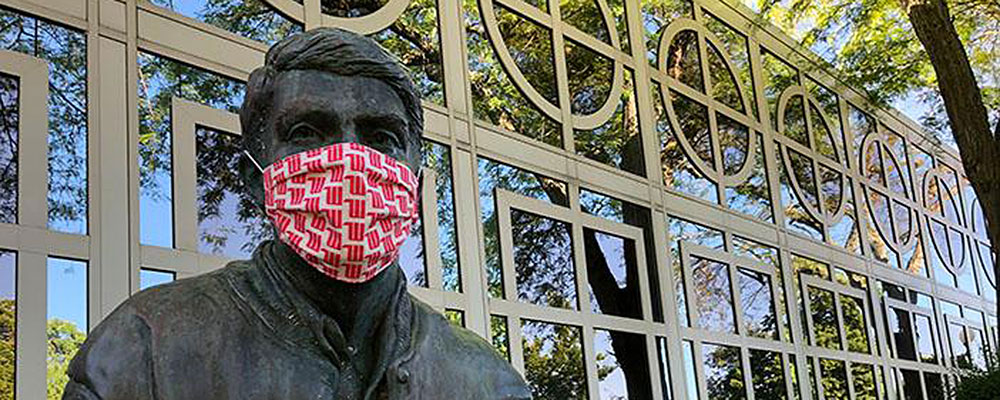 Student Support
Students who might be in need of accommodations due to the impact of COVID-19, or who would like to discuss potential learning or living accommodations, should contact Accessibility Services via email. Students can also submit a request for accommodations via the form found here or access more detailed information on the Accessibility Services webpage. It is critical that symptomatic or exposed students not physically attend class or work or participate in other campus activities. Students in quarantine/isolation should work with Accessibility Services and the COMPASS: Sweet Success Center regarding accommodations required for the continuation of their coursework.
---
Course Delivery
We again want to reiterate that we understand this semester is going to look and feel different for all of us. That said, we remain committed to promoting the high standards of artistic, scholarly, and scientific inquiry that are Wittenberg's trademark. Specific information regarding the instructional approach of individual courses will be forthcoming. Learn more here.
---
Athletics Update
Recognizing that the COVID-19 pandemic continues to present evolving challenges to our campuses and communities, Wittenberg University, in conjunction with the North Coast Athletic Conference (NCAC) Presidents' Council, has suspended all intercollegiate competition through December 31, 2020.
The athletic department is working though many details with regard to the impact of this decision and will be providing further communications, information, and guidance to student-athletes through their head coaches by Friday, July 24, and in the subsequent weeks leading up to the start of classes. You can read the full release here.
---
Concerns & Questions
If you have a concern about exposure (yours or someone else's) to COVID-19, please complete this online form. If you have general questions about COVID-19 and Wittenberg University's response, please email the COVID Response Team at covid@wittenberg.edu.