Halfway There
We are heading into the final stretch of the fall semester, Tigers!   
42 days until Thanksgiving
50 Days until the last day of class
We're In This Together, and together we can slow the spread and finish the semester as a community. A big THANK YOU to all those students that have followed and continue to follow guidelines, taking them and the health of your community seriously.
---
Community Reminders
As We're In This Together, please remember to follow and promote these critical safety measures.
Avoiding being a direct exposure contact to others is one of the things you can control – simply keep your distance (more than 6 feet apart) and limit amount of time spent at a closer distance to less than 15 minutes. Most community spread comes from people who are asymptomatic at the time of contact. Keep yourself and your community safe – maintain your distance at all times!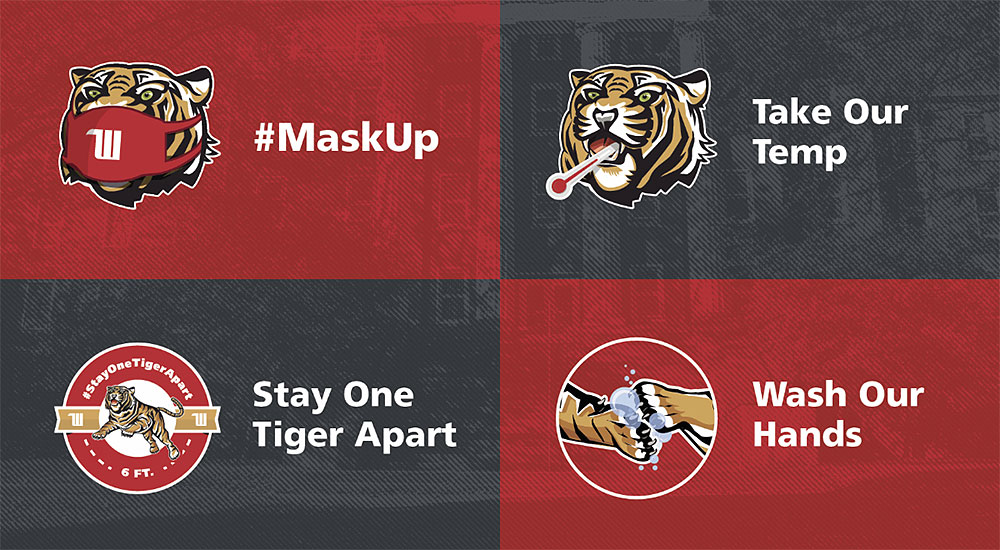 Travel Within Clark County
While we expect students to remain diligent in their efforts to slow the spread of COVID-19 in order to enable us to remain on campus, we understand there are many low-risk activities and essential services available to students in Clark County. With this in mind, travel is now permitted off-campus within Clark County for low-risk and essential service activities. All COVID-19 safety guidelines must be followed including: wearing a mask, maintaining six-foot distancing, washing hands frequently, and avoiding being in groups larger than 10. Visiting of high-risk establishments, in particular condensed indoor dining and bars/clubs, is not permitted due to concern for virus spread. Should case numbers rise or Clark County spread warrant, we may reevaluate this policy. As you decide to travel within Clark County, please consult this resource on going out from the CDC.
---
Student Mask Distribution
All students will receive a new Wittenberg mask as we hit the halfway point of the semester. The mask, voted as the winning design of the Mask Design Competition, will be distributed Friday, October 16, from 12 p.m.- 4 p.m. on Alumni Way as part of the Registration Carnival and Campus Social. Mark your calendars to stop by, pick up your mask, enjoy food and fun! Congrats to Hannah Winget '22 for her winning design.
---
Entertainment Venue Guidelines
Campus departments and registered student organizations are able to host limited, larger-capacity events in certain entertainment venues designated on campus per the State of Ohio order for entertainment venues. If your organization or group is interested in socially distant meetings or events that can allow slightly larger groups to gather, please read the Entertainment Venue Guidelines found HERE and schedule your event well in advance for approval via 25 Live. Please note: all events in entertainment venues must have a University official present for the duration of the event.
---
Travel Advisory Update
Any students entering Ohio after travel to states reporting positive testing rates of 15% or higher for COVID-19 are asked to self-quarantine for 14 days. If your permanent residence is in one of these states, please do not travel home without contacting the Dean of Students by email in advance of your travel. Ohio updates the list of states every week on Wednesday. To see the current states on the list, visit here.
---
Mask Distribution & Registration Fair
It is time to register for spring semester classes! Need assistance searching for courses to take? Want to prepare for your advising meeting? Curious how to plan your major courses? Unsure of what to major in? Need assistance in how to clear holds on your accounts? Stop over today, Friday, October 16, from 12 p.m.- 4 p.m. on Alumni Way. Connect with the COMPASS team and other University staff, grab some snacks, relax, and get advising and registration support. Also, pick up your new Wittenberg mask at the event! Ready to set up a meeting to talk through course plans or to talk through your options? As always, you can request a meeting by clicking HERE.
---
Weekend Fun
Check out these special events:
FRIDAY, OCT. 16
Mask Distribution & Registration Fair: 12 p.m.-4 p.m., Alumni Way
Food Truck Friday: 4 p.m.-7 p.m., Alumni Way (Raging Bull Wood Fired Pizza)
Bring Your Own Tie-Dye Event: 3 p.m.-5 p.m., Alumni Way
Witt Late Night: 8 p.m.-12 a.m., Alumni Way, Fall-Themed Inflatables, Pumpkin Painting & Candy
SATURDAY, OCT. 17
Follow @Wittshappening on Instagram and @witts_happening on Twitter to be notified of all events and things to do on campus and in the community.
---
View Mid-Term Grades Now
Attention all students: To see your mid-term grades, please visit selfservice.wittenberg.edu. For the remainder of the semester, it can be helpful to develop a plan for your classes, and identify the resources you want to take advantage of and the time you would like to spend on academics. Below are a few resources you could consider:
Your Professor: The person best equipped to help you develop a plan of attack in a specific course is the professor for the class you would like to improve in. Set up an appointment with them, or meet with them during office hours (often posted in the syllabus), or before/after class so that adjustments can be made if necessary.
Need academic or personal support, or feeling overwhelmed by classes? Set up an appointment in COMPASS ASAP. Tutors, academic skill development, and one-on-one coaching are all available by filling out a meeting request form HERE. This form can also be found on the COMPASS: Sweet Success Center webpage. Additionally, there are tutors and professional support available at the Math Workshop, Language Learning Center, and Writing Center.
---
Save-The-Date
The Office of Student Involvement is excited to host a Fall Festival, Thursday, Oct. 22, from 4-8 p.m. on Alumni Way. Be sure to mark your calendar for this jam-packed evening of activities, all inspired by the season.
---
Build Your Academic/Personal Support Plan
With the semester halfway through, this is usually the time when mid-term assessments, tests, projects, or other may occur in your classes. Now is the time to build a study plan, review test-taking strategies, and map your time so you feel prepared and less stressed! COMPASS can help. Set up a meeting with COMPASS today at www.wittenberg.edu/success. Stay connected with COMPASS resources and helpful information by following @WittCOMPASS on Twitter and Instagram.
---
Advising Meetings & Spring Class Registration
Formal advising starts October 19 through October 30. Registration for Spring 2021 classes is set for October 28-November 8. Each student's specific registration time can be found at selfservice.wittenberg.edu.
---
Looking for a Campus Job, Internship or Community Partner Internship?
Start building your pathway to a meaningful life with a local job or internship in the Springfield community. The Susan Hirt Hagen Center for Civic and Urban Engagement at Wittenberg has developed an excellent set of local opportunities for all majors through their 50/50 Community Partnership Program. In addition, other local companies have also posted roles on our job board. Access these opportunities AND dozens of other on-campus student employment positions via the Job Board.
---
How To Report Concerns
If you have a concern about a member of our community not fulfilling our community expectations, please complete the Wittenberg University: COVID-19 Report a Concern Form. A member of the COVID Response Team will follow-up as appropriate. If you have a concern about exposure to COVID-19 (yours or someone else's), please use the same form above. For general questions about COVID-19 and Wittenberg University's response, please email covid@wittenberg.edu.
The campus community can also use the WITTTIP safety alert system to send a confidential tip via text message to the Wittenberg University Police division regarding safety concerns or criminal activity. Users should text the word WITTTIP and your message to 79516. A response will come from the text system promptly, to acknowledge it was received. Note: This is not to be used for emergencies. For emergencies, call Wittenberg Police at (937) 327-6363.
---
Contact Tracing, Quarantine, and Isolation
The COVID Response Team is working to answer all questions and respond as needed. The WITT: We're In This Together website is another helpful resource. In addition, here is a reminder on helpful terms:
Quarantine is for individuals that are asymptomatic and/or have reason to believe they have been exposed to the virus.
Isolation is for individuals that have tested positive for COVID-19.
If you are contacted by a contact tracer, be upfront and honest about your interactions with others. This helps us get ahead of the spread and stop it short.