Keep Doing Your Part
As we continue our period of remote learning and all work actively to slow the spread, please take a moment to focus on how you will continue to model the way and do your part to follow and reinforce all health and safety protocols. We're In This Together, Tigers, and together we can slow the spread and finish the semester. A huge THANK YOU to all those students that have and continue to follow guidelines, taking them and the health of our community seriously.
---
Community Reminders
As We're In This Together, please remember to follow and promote these critical safety measures.
Avoiding being a direct exposure contact to others is one of the things you can control – simply keep your distance (more than 6 feet apart) and limit amount of time spent at a closer distance to less than 15 minutes.
Most community spread comes from people who are asymptomatic at the time of contact. Keep yourself and your community safe – maintain your distance at all times!

Why Do You Take COVID-19 Protocols Seriously?
We want to hear from you! As we navigate this semester together, we would like to hear how each of you is adapting and persevering with the changes. Our intent is to share your stories to remind us of W.I.T.T (We're In This Together). As we share your stories, we will be keeping them anonymous, so don't share any identifying information in your answers. Share your story HERE.
---
Sharing Concerns
If you have a concern about a member of our community not fulfilling our community expectations, please complete the Wittenberg University: COVID-19 Report a Concern Form. A member of the COVID Response Team will follow-up as appropriate. If you have a concern about exposure (yours or someone else's) to COVID-19, please use the same form. For general questions about COVID-19 and Wittenberg University's response, please email covid@wittenberg.edu.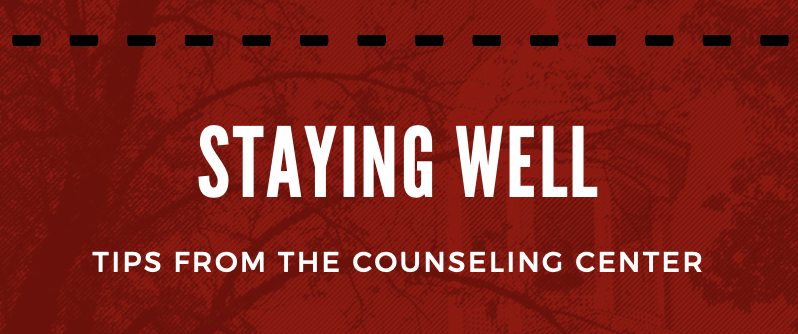 As you have heard among your fellow students or seen through the COVID-19 Dashboard, there have been a number of students who have been directed to quarantine due to being in contact with another student that has tested positive for COVID-19. During these periods it is likely that anxiety and stress will naturally rise within us as we wait for results, and as we think about the "what ifs." Click here for a few things to keep in mind in order to stay calm and manage your anxiety.
---
Constitution Day
Constitution Day is Sept. 17 and celebrates the formation and signing of the U.S. Constitution in 1787. An election year is a good time to refresh your knowledge of the foundation of U.S. democracy. For more information, click here. Also check out @WittCOMPASS on Instagram and Twitter for Constitution Day Trivia!
---
Weekend Fun
Check out fun virtual or limited events this weekend:
FRIDAY SEPT. 18
Food Truck Fridays on campus: Kona Ice, 3 p.m.- 6 p.m.
Art Project: Make your own Wittenberg Mug, 3 p.m. - 6 p.m.
 
SATURDAY SEPT. 19
Springfield Farmer's Market, 9 a.m. - 12:30 p.m., Downtown Springfield (100 S. Fountain Ave.)
2v2 Volleyball Tournament 2 p.m.- 5 p.m. Sign-up on IMLeagues  
Outdoor Movie, Irresistible, 9 p.m., Commencement Hollow  
Follow @Wittshappening on Instagram and @witts_happening on Twitter to be notified of all events and things to do on campus and in the community.
---
Greater Springfield Events & Happenings
Interested in staying connected with Greater Springfield Events and Happenings, including the Downtown food truck schedule and fun things to do a short walk from campus? Sign up for the Springfield Chamber of Commerce weekly events newsletter here.
---
Career & Professional Development
Now is the perfect time to start or refine your resume or cover letter — a critical step in the internship and job search process. REGISTER NOW for two workshops offered next week:
Meet with Wittenberg alumni to grow your skills in interviewing and the job search in the "Why You Mock Interview Program," times for which are scheduled between Oct. 7-9. Register today here.
Questions? Contact Heath Queen, internship coordinator, by email.
---
Coffee and Conversation Series
Interested in the Arts? How about the field of fundraising?Join the next Coffee and Conversation featuring Katharine Nemeth '10 on Thursday, Sept. 24, at 12 p.m. Learn about the field and how to connect your passions and skills to a career! Register Here.
Interested in service post-graduation? Join the Coffee and Conversation featuring the ELCA Young Adult Global Mission (YAGM) program. Learn about how a year of global service can assist communities and fuel your passions further on Thursday, Oct. 1, at 12 p.m.). Register Here.
Additional Coffee and Conversation Dates:
Thursday, October 15 (12 p.m.), Topic TBD
Thursday, October 29 (12 p.m.), Topic TBD
Questions? Email Internship Coordinator Heath Queen.
---
Unsure of Major or Career Options?
COMPASS is hosting a virtual Focus 2 Major/Career Exploration Workshop on Wednesday Sept. 30, at 5 p.m. The Focus 2 assessment is a tool used to gauge a student's skills, passions, and personality type. Armed with this information, students gain insight into possible major and career occupations correlated with their Focus 2 results. The second part of the training directs students to whatcanidowiththismajor.com to further explore career opportunities. Reserve your spot today by clicking here.
---
Resources for Success
Feeling overwhelmed with classes? How have grades been on your first assignments, tests, papers, or quizzes? Not where you want them? Set up a meeting with COMPASS today. Stay connected with COMPASS resources and helpful information by following @WittCOMPASS on Twitter and Instagram.
---
Tales From The Social Distancing Social Club
How are you feeding your social needs, building and maintaining relationships, while still keeping the community safe? Today's story is observing some local community members. If you've ever worked in food service, you know that often you have a small group of regulars who always come in around the same time and order the same thing. Usually they don't order much – it's just their chance to catch up with each other and "chew the fat." My local McDondald's has one of these groups, and, on my daily commute, I have seen these men managing to maintain their social connection throughout the challenges of the pandemic at a safe social distance, in open air, enjoying their coffee together in the parking lot on lawn chairs. This daily reminder that connection is still available and can be done with care is my favorite part of my commute.

WITT TIP
See peers creating unsafe conditions and ignoring COVID-19 policies and protocols in the neighborhood or residence halls? Do your part and use WITTTIP for non-emergency concerns.
The WITTTIP safety alert system allows community members to send a confidential tip via text message to the Wittenberg University Police Division regarding safety concerns or criminal activity. Users should text the word WITTTIP and your message to 79516. A response will come from the text system promptly, acknowledging receipt.
The WITTTIP text service is not for emergencies. Items that should be texted will be those that the Wittenberg Police Division should be alerted about, where no person is in imminent danger. Emergencies still need to be reported using the emergency phone number, (937) 327-6363, or by using a blue cap phone on campus, if accessible, where the caller can speak directly to police dispatchers. For those who prefer to use an Internet interface, there is a web tip form where community members can confidentially submit their concerns online using this link.