News Around the Hollow
Top stories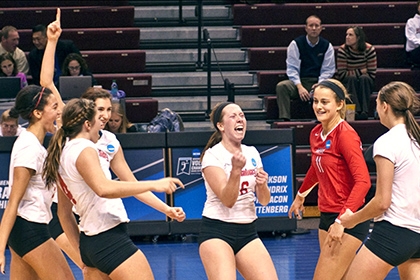 NCAA National Runner-Up!
Women's Volleyball takes second place in NCAA Division III Championships.
The Wittenberg Tigers came into the NCAA Division III Tournament championship match riding a 14-match winning streak, including five straight postseason wins that had the Tigers on the brink of their second national title in five seasons. more>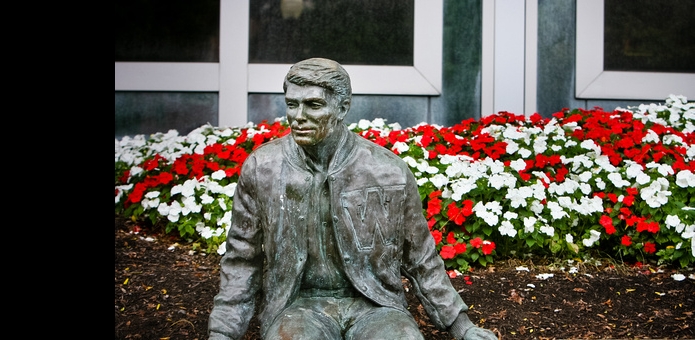 Wittenberg University is rated high among the best Ohio Schools
BestValueSchools.com recently researched Ohio schools and ranked them based on key points. Wittenberg earned 117.85 points out of 200.
Of the many great choices for higher education in Ohio, Wittenberg University ranks No. 13 out of 30 Ohio Best Value colleges and universities according to an October 2015 website article on BestValueSchools.com. more>
Computer Science Major Returns to Wittenberg
The university will officially begin enrolling new majors in January of 2016.
Back by popular demand and offering a new course of study in cybersecurity, the computer science major at Wittenberg University is making its return and will be available in early 2016 after a two-year hiatus. more>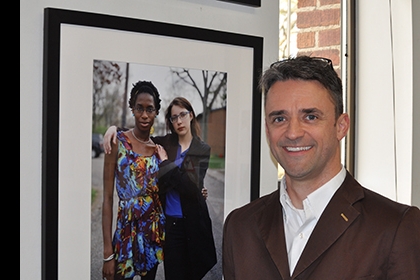 Wittenberg Professor a Finalist in Smithsonian's National Portrait Gallery Competition
The competition received more than 2,500 entries in a variety of visual arts media. McInnis' work is among 43 pieces that will be on display for the juried exhibition.
Daniel McInnis, associate professor of photography, department of art, has been selected as a finalist in the Smithsonian's National Portrait Gallery Outwin Boochever Portrait Competition (OBPC). more>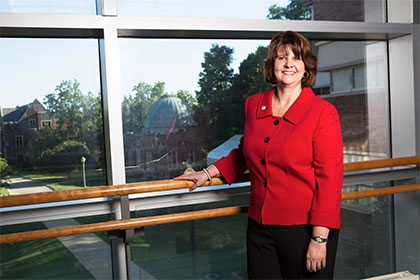 Wittenberg Announces the departure of President Laurie Joyner, PhD
President of Wittenberg University since 2012, Joyner will leave her post effective Friday, November 6th.
Dr. Joyner arrived during a time of financial uncertainty and took on the crucial effort to preserve the University's most important strengths while charting a productive and fiscally responsible course forward. more>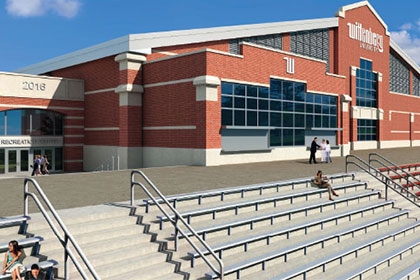 Health, Wellness & Athletics Complex
New Classroom and Facility Space on the Horizon for Wittenberg
The Wittenberg Health, Wellness & Athletics Complex is an investment in the future of Wittenberg University and our local community. The combination of outstanding academic programs, competitive athletics and diverse recreational opportunities are so vital to Wittenberg University. This new facility will allow growth at the school and in Springfield. Student success and retention is at the heart of the new initiative. more>
Read More News Around The Hollow >>>
Featured

Wittenberg Welcomes Back Alpha Xi Delta Women's Fraternity
Alpha Xi Delta Women's Fraternity recently accepted an invitation to recolonize at Wittenberg University in the spring of 2016 after a 24-year absence. more>

Local Children Catch a Glimpse of College Life
Providing children with their first glimpse of college life and engaging them with a variety of opportunities offered to a Wittenberg University student, the Community Service Program hosted Mini-Witt for the second-straight year in honor of Make a Difference Day. more>

Money Raised through Tiger Triathlon helps Wittenberg Students
Many Wittenberg University students have benefited from scholarships provided by the Wittenberg Guild through the success of the Wittenberg "Tiger Tri" Triathlon. more>

Four Wittenberg University Students Attend Propel Ohio
Inspiring and empowering undergraduate students to grow into civic leaders in Ohio was the goal of Propel Ohio, a collegiate leadership summit for which four Wittenberg students were selected to attend and represent the university. more>

Wittenberg Students to Send Nutritional Meals to Lesotho
Students in Wittenberg University's Peace Corps Preparatory Program are using their skills and commitment to service to make a difference in the lives of children in the southern African nation of Lesotho. more>

Wittenberg Announces Exercise Science Approval
Committed to expanding opportunities for students and supporting their success, Wittenberg University announced that its exercise science program has been approved by the Ohio Department of Higher Education, allowing students to pursue a major or minor in exercise science. more>

Wittenberg Announces New Math Partnership
Wittenberg University's Department of Mathematics and Computer Science has announced a new partnership with Miami University that allows Wittenberg students to complete both a bachelor's and a master's degree in five years. more>
Social