Environmental Science Program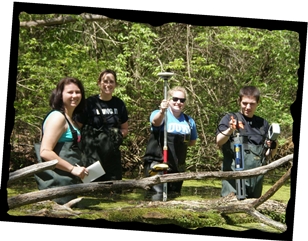 Become an Agent of Environmental Change: Society's actions increasingly affect the natural environment, and our participation in understanding, assessing and minimizing the impact of our actions is critical.  Wittenberg's mission, in part, is to create a participatory citizen who recognizes his or her obligation to the natural environment. Environmental problems confronting society transcend traditional academic boundaries. Students engaged in environmental science at Wittenberg University will join faculty from diverse fields and interests to explore environmental issues.
Options for Exploration: Environmental study at Wittenberg includes both BS and BA degrees with a major in Environmental Science and a minor in Environmental Studies. Student activities and service opportunities are also encouraged. The major in Environmental Science is focused around themes that reflects the environmental expertise of our faculty.  Themes include conservation biology, aquatic ecosystems, stream resources, forestry, water resources, and wildlife management. (Students in Global Climate Change, Environmental Science 100 (SP 2013) present literacy modules at the Columbus Center of Science & Industry (COSI).