Welcome to the Philosophy Department
These students presented their senior theses in philosophy in the annual colloquium exhibiting their best work: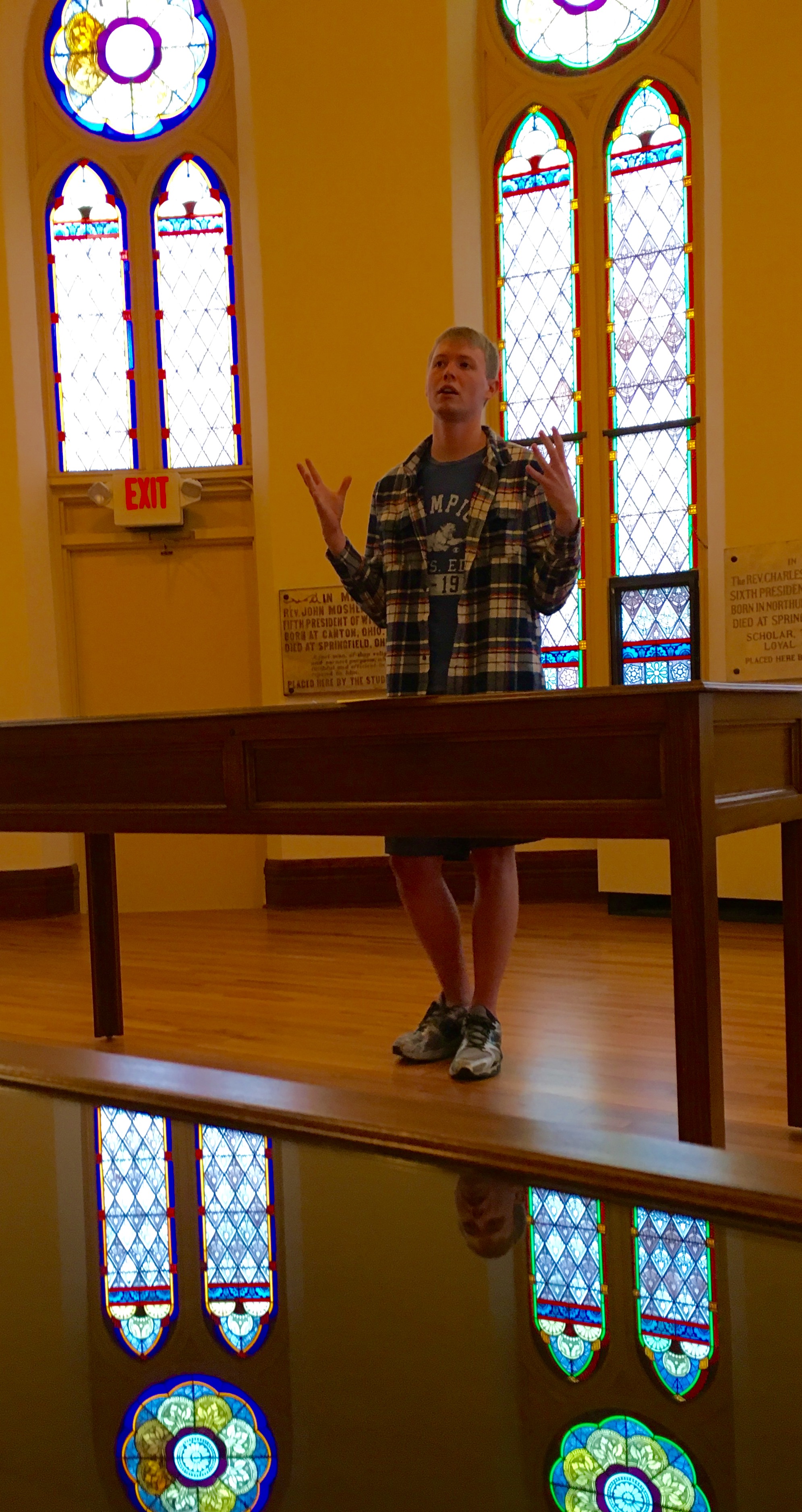 Tim Baker ('16)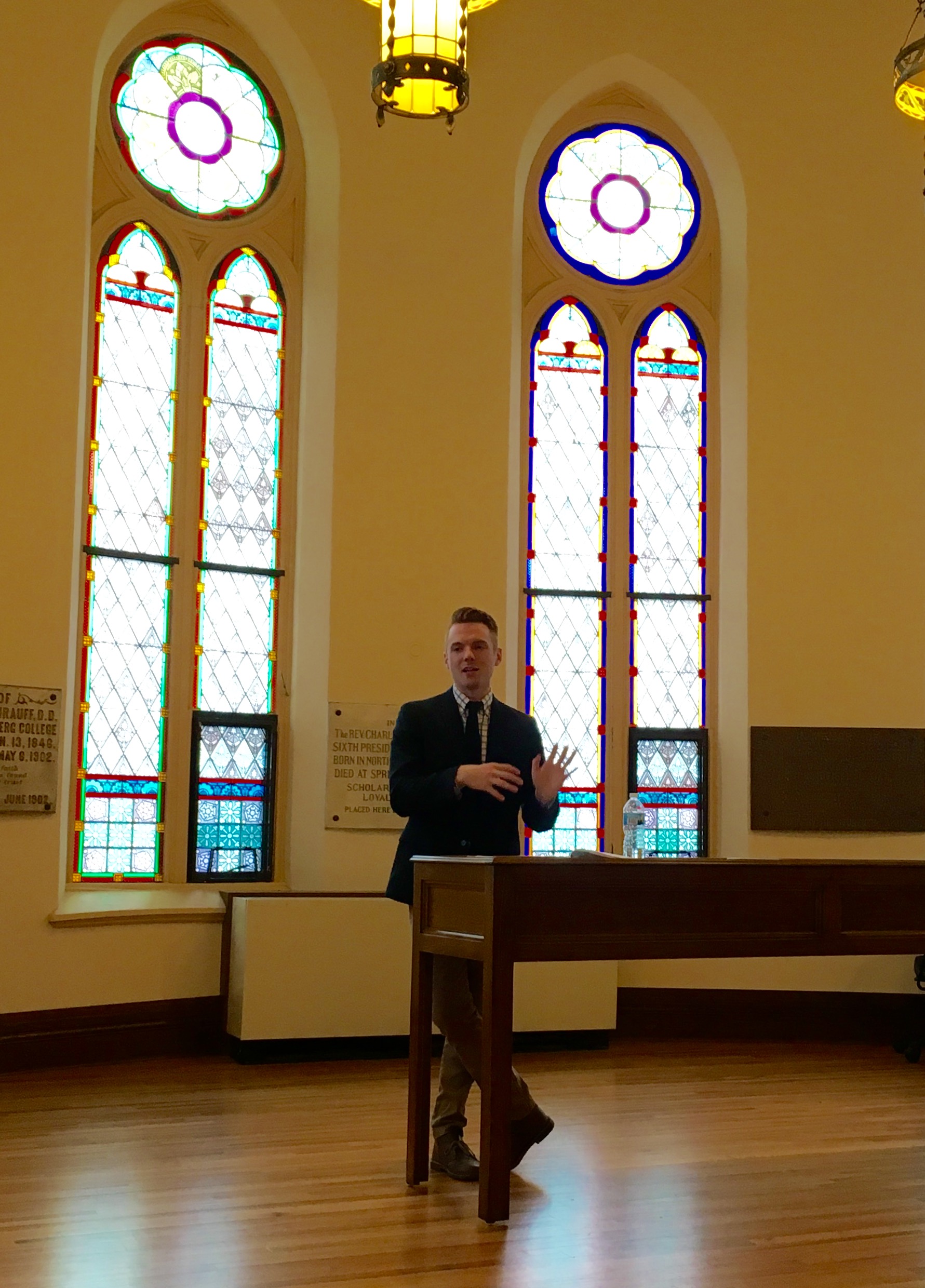 Jake Murray ('16)
(Scroll to the bottom for more photos.)
Congratulations to Jacob T. (Jake) Murray, Winner of the 2016 Remsburg-Klivé Award!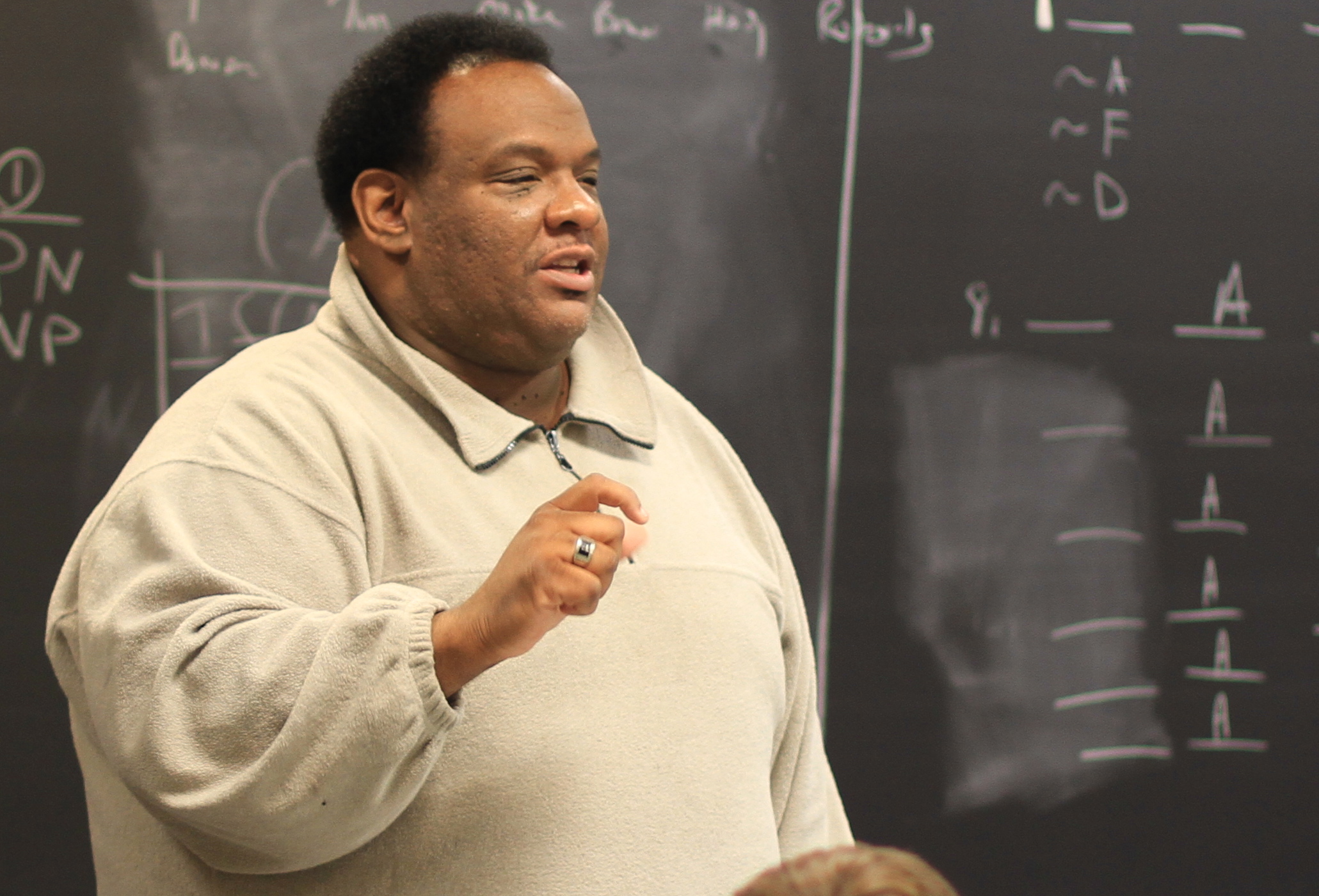 "Philosophy" means -- literally -- love of wisdom.  The word was coined to refer to those who don't settle for simple answers to big questions. They seek deeper truths, and they are willing to look beyond what is superficial and conventional to discern what is real.  They don't let others think for them.  They want to figure things out for themselves.  For this reason, of course, philosophy is not for everyone.  If it is for you, we can help.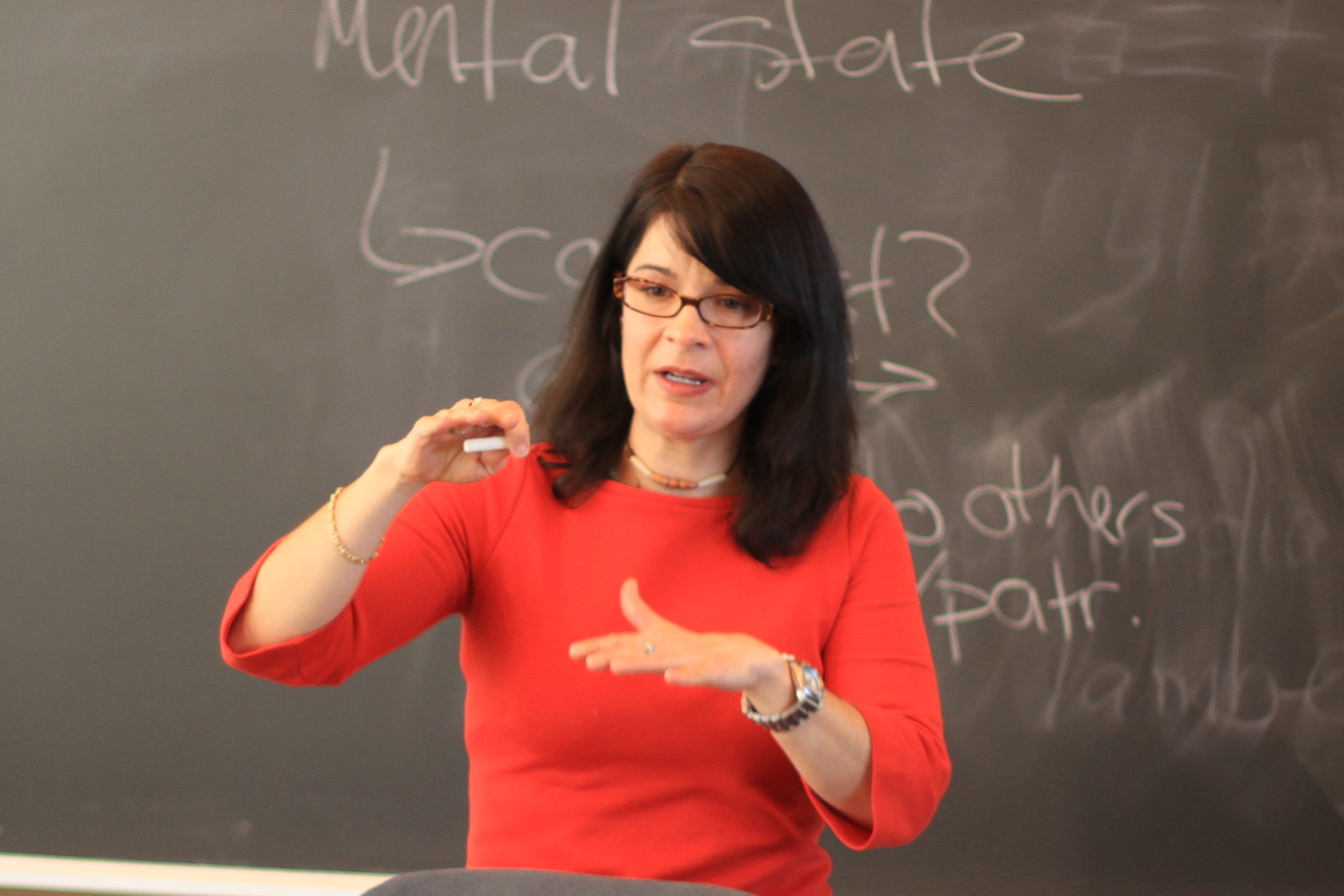 Traditionally philosophy has been a quest for truth and wisdom. It primarily concerns itself with those fundamental beliefs by which people have tried to make sense of their lives - to understand people and their place in the universe. In this quest, it has focused attention on three questions:
What can we know? (epistemology)

What is real? (metaphysics)

How should we live? (ethics)
Following Socrates who held that "the unexamined life is not worth living" philosophy has always been critical and analytic but it has also been synthetic and comprehensive, developing into the classic speculative systems of Plato, Aristotle, Hegel, and others. The study of philosophy involves serious study of the works of the great philosophers, a mastery of philosophical methods, and serious inquiry into major philosophical issues. To be a philosopher is to devote one's efforts to the clarification of these issues and to search for sound understanding.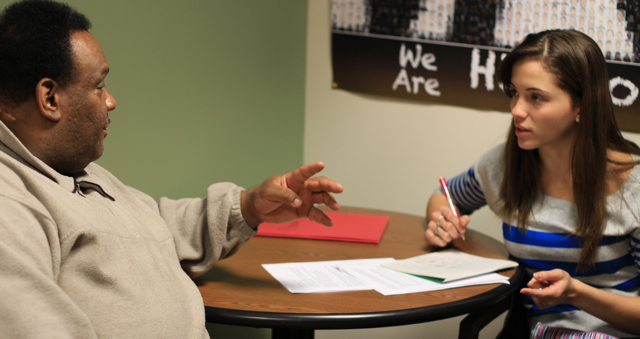 Courses in philosophy at Wittenberg are designed to explore the full range of theories concerning the nature of people and their place in the universe and to develop ideas that can help students make sense out of both facts and values. They are intended (1) to equip the student with the basic tools of philosophical analysis, tools for dealing with those basic problems, principles, concepts, and methodologies that occur in other disciplines or fields of inquiry, (2) to provide the student with an understanding of the basic ideas that have shaped and still shape our cultures, both Western and non-Western, and (3) to furnish the student with opportunities to engage in the personal exploration of the meaning of life.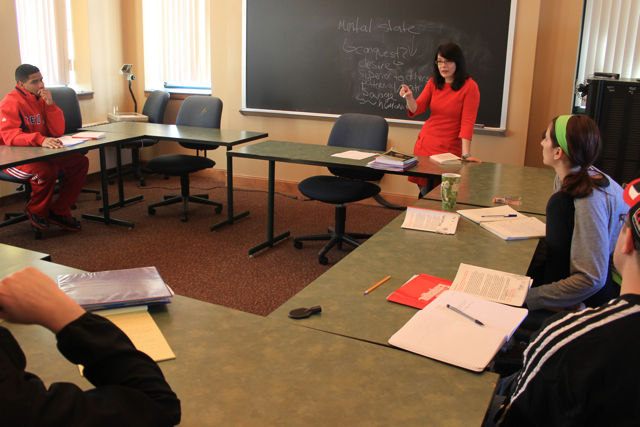 The Wittenberg Philosophy Department consists of three full-time members. The academic background and interests of the faculty span the full range of philosophic styles and assure a broad exposure to the field. Department offerings include a comprehensive set of standard courses and a variety of topics or special interest courses.
We invite you to look further into our website.
Restorative Justive Initiative
The Restorative Justice Initiative is a unique collaboration between Wittenberg University's Philosophy Department, Project Jericho (an arts program for at-risk youth), and the Clark County Juvenile Court. Wittenberg students and community members are trained in restorative practices and work together with youth who have been involved in the juvenile justice system. Restorative practice starts from the assumption that it is the relationships and bonds that we form with each other that change our behavior. The goal of the Restorative Justice Initiative is to develop strategies to help youth stay out of the juvenile justice system and succeed in school and in their personal lives through commitments to themselves and their communities. In this project we all become reshaped by how we work together and conceive of our relationships to each other and the Clark County community. 
Majoring in Philosophy:
"
The Rise in Stock of Philosophy Graduates
," J. Shepherd, The Guardian (UK), 2007.
"
In a New Generation of College Students, Many Opt for the Life Examined
," W. Hu, New York Times, 2008.
"
Is Philosophy the Most Practical Major?
", Edward Tenner, The Atlantic, 2011.
"
What Can I Do With A Humanities Degree?
", Bruce Janz
Alumni/ae Perspectives:
Students who graduate from Wittenberg with a Philosophy B.A. go on to do great things. Their degree plays a critical role in their careers, and even their life, beyond college. But don't take our word for it. Here are some students' thoughts on their Philosophy degree and exactly why it is so important to them.
"Currently I am living in Jamaica.  Under the auspices of a US Fulbright grant, I am conducting interviews with local farmers to gather information on the phenomenon of raising chickens and livestock on city streets in the very urban capital of Kingston.  Every day, I use the skills I developed while studying philosophy.  I think back to the importance my professors placed on reading challenging articles from around the world, learning to listen close enough to an argument to really understand it from that person's point of view, and learning to present one's ideas confidently and articulately, both inside the classroom and publicly.  These are skills I use whether I am analyzing data, reading studies by regional scholars, or relying on confidence and public speaking skills to meet with strangers and ask them to share their lives with me."

 

 Alison Helmuth ('07), Fulbright Scholar in Jamaica after Witt, now Ph.D. student in sociology at The George Washington University, living in Washington D.C.

"My study of philosophy at Wittenberg University informs nearly every aspect of my work at Highland School.  Perhaps most obviously, the subject matter of philosophy permeates my teaching.  Yes, we begin with texts like the Ramayana, Things Fall Apart, and Julius Caesar, but from there we move outward, seeking to engage with important questions.  Why is there something instead of nothing?  What are the implications of adopting a stance of cultural pluralism?  Is there ever a time when violence might be necessary?  I teach young minds, and they want to know.  However, in order for them to know, I have to teach them to read carefully, interrogate critically, and communicate clearly, all habits that philosophy demands.  Beyond the classroom, however, it is my job as an administrator to lead and support students and faculty on a more programmatic level.  Again, the philosophic mindset and skill set enables me to effectively perform my job.  Among other things, I have to be able to adopt a compassionate imagination while seeking to understand another's struggles or successes, clearly communicate with colleagues, students, and parents, and, most dauntingly for me, organize my duties into a (mostly) manageable workload.  Every day, I am reminded of how invaluable my study of philosophy has been to my life after school.  I am also reminded of how lucky I was to be part of such an outstanding department with faculty who are so clearly invested in not just the subject matter that they teach, but also the students who they teach."

 Ronnie Ross ('09), Instructor of English after Witt in the Upper School at Highland School, Warrenton, Virginia, where after two years he became Freshman Dean and is now also Director of Character and Leadership

"Given my interest in pursuing graduate studies in philosophy, the philosophy department at Wittenberg prepared me for the intensive program that is to be expected at the graduate level.  The rigorous standards set by the faculty enabled me to easily transition into professional studies."

 Rich Wilson ('06), M.A. in Philosophy at Virginia Tech after Witt, now an officer in the U.S. Navy, living in San Diego

"The philosophy department paid particular attention the ability to create a plan and a timeline for ourselves as we began our senior theses.  I'm capable of staying on track with nearly any project now.  My experience with research has also helped me be employable.  Writing bibliographies for children's literature is easy compared to the massive excavation of obscure academic literature that I completed for my senior thesis.  And now as I prepare for graduate school several years later, I'm still finding that the professors in the philosophy department are willing to offer their support and guidance."

 

 Emily Ann Guhde ('05), Teach for America after Witt, now a children's librarian, living in Yellow Springs, Ohio

"A philosophy major from Witt is a planter full of the richest soil. Being able to pick up a book and within a couple hours to articulate its fundamental argument and integrity within a particular field clearly indicates effective undergrad preparation. Then a couple hours later admitting that you got it all wrong because you missed a major premise that redistributes your whole thinking on the book, this sort of criticism—of the self alongside ideas—signals a commitment to learning that only the truest education can instill. I took this class at Wittenberg named African American Philosophy. Now I'm at Yale Divinity School taking classes called Ministry to the Disinherited, and Christian Ethics and Social Problems, and MLK and the Civil Rights Movement. I can trace a line directly from my undergrad transcript through my masters transcript that will surely keep on going. My time at Witt didn't just prepare me for further study; it made me a philosopher and a theologian. A Wittenberg philosophy major is an education, an immersion, an induction into love of learning, and not learning for learning's sake but learning for the sake of social justice, and moral literacy, and knowledgeable debate, and reconciliation, and the imagining and making of a better world—both its people and ideas. That's what I'm striving for now with my philosophy major."

 Daniel Jacob ('10), finishing an M.Div. at Yale Divinity School, living in New Haven Connecticut 

 

"I often hear people complain about reading and discussing philosophy: it is too abstract, they say, too far from the concrete and irrelevant to the problems we confront daily on a local and global scale.  This may be true in some philosophy classrooms, but I never found this to be the case at Wittenberg.  Underlying every class discussion was the assumption that the material we were studying was not only relevant, but essential to understanding the problems we face as a world.  Our conversations were something like experimentation; we explored how different ideas or theories result from particular circumstances, and how they affect perceptions of education, the body, and human rights.  If you simply browse the list of courses, you will see how practically-oriented the department is: 'Gender, Science, and Medicine,' 'Knowledge and Social Change,' 'Philosophy of Revolution in Latin America,' 'Ethics and Psychology."' My time spent studying under the philosophy professors at Wittenberg prompted me to think differently, read and write differently, buy differently, eat differently, and vote differently.  These aren't habits that you discard after graduation, but ones that you carry with you for the rest of your life."

 Alison Davis ('06), taught English in Slovakia after Witt, now a Ph.D. student at the University of Chicago, living in Chicago

Meghan White ('15) 

 Seamus Kettner ('15) 

 Scott Neall ('15)

Colby Clark ('14)

Daniel Cathcart ('14)

 

Brandon Nesiba ('13)

Karlos Marshall ('13)

Emilia Cirrincione ('13)

 Ben Garcia ('15) 

 Olivia Karp ('15)

  Martin Lukk ('14)

Josh Mongtomery ('14)

Briana Leary ('13)

Joe Rosen ('13)

Adam Schueler ('13)