A profile of the Philosophy Department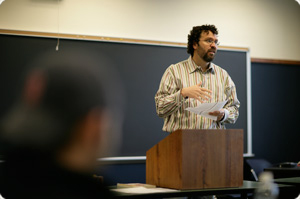 Take a look at what past grads from Witt have done with their majors – internships, grad school programs, and first jobs after graduation.  It's not always as cut and dried as you think; a Liberal Arts degree has a lot of flexibility!
What Past Witt Philosophy Students Have Done
Why Philosophy?
Traditionally philosophy has been a quest for truth and wisdom. It primarily concerns itself with those fundamental beliefs by which people have tried to make sense of their lives - to understand people and their place in the universe. In this quest, it has focused attention on three questions:
What can we know? (epistemology)
What is reality? (metaphysics)
How should we live? (ethics)
Following Socrates who held that "the unexamined life is not worth living" philosophy has always been critical and analytic but it has also been synthetic and comprehensive, developing into the classic speculative systems of Plato, Aristotle, Hegel, and others. The study of philosophy involves serious study of the works of the great philosophers, a mastery of philosophical methods, and serious inquiry into major philosophical issues. To be a philosopher is to devote one's efforts to the clarification of these issues and to search for sound understanding.
Courses in philosophy at Wittenberg are designed to explore the full range of theories concerning the nature of people and their place in the universe and to develop ideas that can help students make sense out of both facts and values. They are intended (1) to equip the student with the basic tools of philosophical analysis, tools for dealing with those basic problems, principles, concepts, and methodologies that occur in other disciplines or fields of inquiry, (2) to provide the student with an understanding of the basic ideas that have shaped and still shape our cultures, both Western and non-Western, and (3) to furnish the student with opportunities to engage in the personal exploration of the meaning of life.
The Wittenberg Philosophy Department currently consists of three full-time and one or more part-time members. The academic background and interests of the faculty span the full range of philosophic styles and assure a broad exposure to the field. Department offerings include a comprehensive set of standard courses and a variety of topics or special interest courses.
Degrees Offered
Major: Philosophy
Minor: Philosophy
Requirements
Requirements for Major
20 semester hours from Critical Thinking / Critical Theory
4 semester hours in Logic and Critical Reasoning (110R)
No more than 8 semester hours at the 100-level
At least 8 semester hours at the 300- or 400-level, in addition to the Historical / Professional sequence (310, 311, 312, and 400)
16 semester hours in the Historical / Professional sequence
12 semester hours:   a three-course sequence in the history of Western philosophy

Ancient and Medieval Philosophy (310)
Modern Philosophy (311)
Contemporary Philosophy (312)

4 semester hours: Senior Seminar (400)
Requirements for Minor
8 semester hours:   the first two courses in the history of Western philosophy (310, 311)
12 semester hours of elective courses, outside the history of Western philosophy sequence, with no more than 4 semester hours at the 100-level
Courses
102R. Introduction to Philosophy. 4 semester hours.
This course is an introductory examination of the basic areas of philosophy, addressing questions like the following: How do we know if an action is right or wrong, and are any actions universally wrong?  Is "beauty" really only in the eye of the beholder, or are there objective standards in the visual, musical, and literary arts?  What sorts of things exist, for instance, do any non-physical things (such as minds, souls, or spirits) exist?  Do we have free will, or are our behaviors and thoughts determined by chemical and physical events in our brains?  Is knowledge possible and, if so, how do we know what we know?  And is there a genuine difference bertween reasoning and coercion, between persuasion and manipulation, and how can we tell?  Every year.
103R. Ethics and Identity. 4 semester hours.
An introductory course in ethics and social identity, exploring the ways our moral principles and ethical ideals are related to our places and identities within concrete social systems.  The goals of the course are to teach a method of moral decision-making, to enable students to understand how moral norms are in some sense relative and yet also in some sense objective, to explore ways that we are all to some extent selfish and yet to some extent always already in relations of interdependence and cooperation with others.  Primary texts by theorists such as J.S. Mill, Kant, Hume, and Aristotle are studied.
104R. Knowledge and Social Change. 4 semester hours.
Introductory course in theories of knowledge, i.e., epistemology.  The goal of the course is to help students understand that the epistemologies we hold have a substantial bearing upon how we live and that certain kinds of epistemologies are more conducive to more meaningful and ethical lives for individuals and for the flourishing of groups and communities.
110R. Logic and Critical Reasoning. 4 semester hours.
An introduction to traditional and symbolic logic that typically includes: (1) informal fallacies, (2) syllogistic logic, and (3) elementary sentential and predicate logic. Students are required to construct proofs using a variety of formal methods. Every semester.
200R. Introductory Topics. 0-4 semester hours.
Introductory examination of the work of a philosopher or philosophical school or of an area of philosophical study such as feminism, race theory, or existentialism. This course may be repeated for credit. Every year.
203R. Mysteries of Self and Soul. 4 semester hours.
This is a course focusing on issues at the intersection of the philosophy of mind and psychology and the philosophy of religion.  Problems discussed include the mind-brain/body problem, the problem of free will, the immortality of the soul, and the possibility of spirit-possession.   The goal of the course is to bring students into an examination of their understandings of their own metaphysical, physical, and spiritual constitutions.   Primary texts by theorists such as James, Freud, and Beauvoir are studied.
204R. Philosophy of Women's Lives. 4 semester hours.
A course in global feminism that begins with studying feminist epistemologies and feminist postmodernism, and moves between theoretical readings about women's lives and actual first person narratives by women about their lives.  The cours is based on the belief that studying actual women's lives and words leads to a better understanding of theories about women's experiences.
205R. Philosophy of Revolution in Latin America. 4 semester hours.
The course focuses its attention on selected Latin American philosophers and the role philosophical thought plays in revolutions.   The course explores the context of Latin American revolutions primarily in the 20th century.  The goal of the course is to develop appreciation of the philosophical perspectives that have been developed in Latin America in relation to social and political problems.  Through the study of selected thinkers and their particular social involvements, students address some of the following questions: When is a revolution justified?  Is force a necessary part of social and/or political change?  Is there a difference between political emancipation and human emancipation?  Is politics ever a neutral enterprise?  How do our competing conceptions of what it means to be a human being affect our understanding of social and political frameworks?
206R. Philosophy of Culture in Latin America. 4 semester hours.
This course exposes students to philosophical perspectives from different regions in Latin America.  It covers primarily four areas of study.  First, the course examines whether there is a distinctive "Latin American Philosophy."  Second, the course evaluates different conceptions of being in the world from a Latin American perspective, including addressing these questions: What does it mean to be a human being?  Why do I exist?   How should I live?  Third, the course considers education and movements of liberation, e.g., What roles does spirituality play in social and political movements in Latin America?  How does education affect culture and cultural identity most specifically?  Fourth, the course evaluates the influence of the "postmodern" movement in Latin America, considering such questions as: What does it mean to be a postmodern Latin American philosopher?  Should one be a postmodern Latin American philosopher?  Have Latin American philosophers in general remained prisoners of "modernity"?
303. Ethics and Psychology. 4 semester hours.
This is a course focusing on issues at the intersection between moral theory and psychology.  the goal of the course is to explore theories of moral development, moral functioning, and moral education, especially as articulated by psychologists, sociologists, and anthropologists who base their empirical work on self-consciously philosophical concepts of morality and by philosophers in dialogue with them.  Primary texts by such theorists as Dewey, Piaget, Durkheim, Kohlberg, and Gilligan are studied.
304. Knowing Bodies. 4 semester hours.
An advanced philosophy of the body course.  This course seeks to center the body within philosophy, arguing that philosophy can be meaningful only by recognizing the necessary relation between bodies and knowledge, bodies and ethics, and bodies and social change.  Questions we will seek to answer are: What can I know?  How can I know?  How do I go about knowing?  As we pursue these questions, we will find to answer them we must address the metaphysical questions of where knowledge takes place and what is the relation between the mind and knowing, the body and knowing, the body-mind and knowing, and the role of somatic experience in knowing.
305. Applied Ethics. 4 semester hours.
Intensive study of one or more areas of applied ethics, e.g., medical, business, or environmental ethics. A background in the relevant field is helpful. Prerequisite: Philosophy 103 or permission. This course may be repeated for credit. Offered in rotation with 303.
306. Ethics of Economic Development. 4 semester hours.
The primary aim of this cours is to provide students with the abilities to recognize and evaluate ethical issues and perspectives as they relate to economic, social, cultural, political, and technological development.   Students will be engaged critically with aspects of development ranging from the growing rates of economic inequalities, poverty and healthcare, and sexism and its effects on policy alternatives.  We will look at these issues both from a theoretical and practical point of view.  As a consequence, students should leave the course with a better understanding of the complexity of policy initiatives and the competing ideologies that promote them.
310. Ancient and Medieval Philosophy. 4 semester hours.
This course spans the period from the ancient Greek presocratics to 17th century European philosophy.  The primary goal of the course is to introduce students to the historical method of philosophy, emphasizing the ways in which the philosophers of this period responded to perceived inadequacies in the solutions their predecessors offered to philsophal problems.   Primary texts by Plato, Aristotle, Augustine, Thomas Aquinas, and Thomas Hobbes are studied.
311. Modern Philosophy. 4 semester hours.
Modern philosophy (17th-19th centuries) is one of the most fascinating areas of philosophy.  It is during the modern period that philsophy began to be concerned with the kinds of methods and ideas that we think of as philosophical today.  Perhaps the most interesting thing about modern philosophy is that it is a period of intellectual change and social upheaval.  The beliefs we have in democracy and the faith we have in scientific method, for example, developed during the modern period, as did navigation methods and optics.  The modern period was one of the most hopeful times for social reform, but it also was a period of imperialism and colonialism, which did not have social reform for Others in mind.  We will study Descartes, Princess Elizabeth, Locke, Hume, Mary Wollstonecraft, Hegel, Marx, and other thinkers.   We also will study contemporary critiques of the modern period, seeking to understand why and how many of the modern ideas are still relevant today.
312. Contemporary Philosophy. 4 semester hours.
While the focus of this class will not be all movements in the 20th century, the student will become acquainted with two traditions, namely "continental tradition" and the "pragmatist tradition."   We will be asking questions related to but not limited to the following: How does Marx influence philosophy, most specifically the Frankfurt School, in the 20th century?  What is the relation between philosophical positions and social change?  Can we identify the ills of society?  If so, how do we go about critiquing social movements and social institutions?  Do human beings have the power to change the world or does the world exert so much power over human beings tha we are the whim of social (and natural) forces?   What constitutes a philosophical solution both to a philosophical problem and a social-political problem?
380. Advanced Topics. 0-4 semester hours.
Examination of the works of a major philosophical thinker or school of philosophy, e.g., Whitehead, empiricism, pragmatism, etc. Prerequisites defined by instructor. Offered occasionally.
400. Senior Seminar. 4 semester hours.
An advanced topics, research methods course, with the topics varying by course at the discretion of the instructor.  Prerequisite: Philosophy 312.
490. Independent Study. Variable credit.
Offered for advanced students wishing to do independent research on a topic not offered as a regular course. This course may be repeated for credit.
491. Internship. Variable credit.
Work-study opportunities designed to enable students to apply ideas and skills developed in the study of philosophy, particularly analytical and writing skills, and knowledge of the principles of moral and political philosophy. Possibilities include work in an art museum, with a social services agency, or on a congressional staff. This course may be repeated for credit.
499. Honors Thesis/Project. Variable credit.
Prerequisite: 3.50 GPA and permission of the Department Chair.