Results of Go Green, Give Green On #Giving Tuesday -- THANK YOU!!

Named one of America's top Green Colleges (Princeton Review, 2013), Wittenberg has long been going green by emphasizing campus sustainability.  Thank you to everyone who helped who donated to the following three featured on campus sustainability projects:
A beautiful rain garden
A high-efficiency light bulb exchange
Green improvements to the Eco House
See below for the results of #GivingTuesday!
Green improvements to the Eco House -- FULLY FUNDED!!
Seal the attic of Wittenberg's environmentally-themed Eco-House, home to some of Wittenberg's environmental leaders on campus.  Students who live in the Eco-house agree to live sustainably by recycling, composting, and minimizing energy and water use but their efforts can go only so far.  Sealing the attic against the infiltration of outside air fits well with the mission of the house and will offer a model for other homes on campus and in the Springfield community.  Air sealing is one of the most effective measures we could take to improve the energy efficiency of the Eco-House, and it sets the stage for future attic insulation and window replacement projects. ($4,800)
A high-efficiency light bulb exchange -- FULLY FUNDED!!  
A light bulb exchange is an opportunity for any student living in University housing.  Our goal is to strengthen their effort and commitment in being sustainable.   This program, if chosen, will exchange any incandescent bulb for a compact fluorescent bulb as long as the supply of 2,000 bulbs last.  If all the bulbs are used, the exchange has the possibility of saving approximately $3,500 per year in energy costs.  With the average life of a compact bulb being 7 years the savings for the life of the bulb is approximately $21,000 dollars. I would say that's a great return on your investment and a great start on being sustainable!!! Pass on the light and vote for the light bulb exchange!  
A beautiful rain garden -- PARTIAL FUNDING MAY PERMIT ALTERNATE SITE, STAY TUNED...
Help us plant a rain garden next to LEED-certified Blair Hall, ideal for class projects, outreach and student sustainability research!  A rain garden will add beauty and reduce stormwater runoff.  Our rain garden will improve water quality, promotes low impact landscaping, and exemplify and expand Wittenberg's Groundwater Guardian status.  Students will benefit from experiential learning opportunities as they conduct on-site research on the physical, biological, and chemical properties of the rain garden in their science class.
---

Sustainability in the Curriculum
Wittenberg receives National Science Foundation grant to expand its curriculum in the area of environmental sustainability:
http://serc.carleton.edu/serc/news/integrate_annou.html
Wittenberg aligns its goals for sustainability education with the Brundtland report's definition of sustainability: meeting the needs of the present generation without compromising the ability of future generations to meet their needs.  Addressing sustainability challenges requires interdisciplinary thinking, flexibility, creativity, and ongoing collaboration.  Sustainability courses can fall into the following two categories:
•        Sustainability-focused courses concentrate on the concept of sustainability, including its social, economic, and environmental dimensions, or examine an issue or topic using sustainability as a lens. 
•        Sustainability-related courses incorporate sustainability as a distinct course component or module or concentrate on a single sustainability principle or issue.
To help identify if a course incorporates sustainability either as a central focus or as a module, several sample sustainability learning outcomes follow:
Students will be able to:
•        Demonstrate an understanding of key sustainability challenges.
•        Understand interdisciplinary aspects of sustainability including the feedbacks between science, economics, society and/or cultural influences.
•       Approach sustainability topics through team activities that encourages multiple disciplinary lenses.
•       Critically engage in problem-solving related to sustainability (e.g. case studies, field studies, evaluations of best practices, research).
 
A course does not need to include all of the above learning outcomes to be considered sustainability-focused or sustainability-related and the above list is far from comprehensive.
Wittenberg's EcoHouse
The Wittenberg Eco-House celebrates another year of living sustainably and is home to five Wittenberg students during the 2014-2015 school year:  Nathan Dillahunt, PoWER Magistrate to the Sustainability Task Force, Michael McDunn, Audrey Owens, Vitalia Vargo, and Andrew Ziminski, Secretary, PoWER.  Started up in 2009 by the initiatives of faculty and students combined, with no small dose of vision from past PoWER president David Donofrio ('09), the EcoHouse is a reality at Wittenberg.  The house is located at 484 N. Wittenberg Ave. and has housed past residents: Maura Hauer, former Green Senator Michael LaCagnin, Jessica Weaver, Matt Parker, Ben Johnson, Zack Stewart, Nate Bennink, and former PoWER Presidents Emily Dick, Brandon Pytel, and Isaac Wittmann. The house benefits from the savvy guidance of faculty advisor Dr. Rick Incorvati, and from the encouragement of Associate Dean for Residence Life Mark DeVilbiss.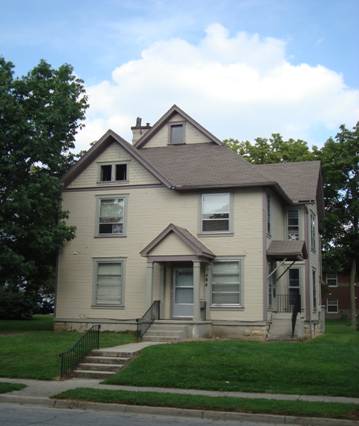 No, the EcoHouse is not all decked out with the latest in photovoltaic panels, passive solar water heating contraptions, geothermal climate control, or indoor vermiculture composting equipment.  Rather, 484 N. Wittenberg is a typical Springfield residence with one key difference:  these Wittenberg students living there have each signed an agreement that will guide their living habits for the coming year. The contract states that they will live an earth friendly lifestyle as both a testing ground and beacon for all Wittenberg residence.
·          recording and reducing their energy consumption;
·          maintaining an on-site garden and a compost bin;
·          diligently recycling and avoiding the purchase of non-recyclable materials;
·          purchasing organic and/or locally grown food when possible;
·          pursuing carpooling options for travel needs; and
·          seeking out energy efficient options whenever repairs or replacements of appliances are necessary.
The residents of the EcoHouse also have the duty of providing some educational programming for the campus, so keep your eyes out for opportunities to learn more about this group.  In the meantime, if you happen to know any or all of these fine environmentalists, give them your encouragement as they set the standard this year for the future of this timely residence.
Dr. Incorvati and J.P. Jackson
Green Senator The office is held by a student who is elected through a campus-wide election on the yearly ballot. The Senator serves as a liason between both PoWER and the Sustainability Task Force, being required to attend weekly meetings, as well as attend Senate-mandated Faculty Meetings. This year's Green Senator is Max Joseph.