Welcome to the Office of International Education
Printer-Friendly Version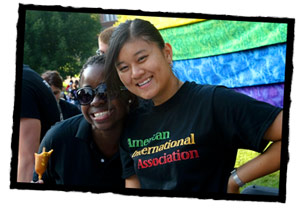 The mission of the Office of International Education is to enhance all aspects of international education at Wittenberg, both curricular and non-curricular. The activities in the office range from study abroad advising and administering Wittenberg's five direct exchange programs and four consortial memberships to immigration and tax advising for students.
The daily tasks of the office left on our two large constituencies – the Study Abroad related students and the International Student population.
Additional links:
       1. International Admission Homepage.
       2. Additional information for Prospective International Students.
       3. Wittenberg University Study Abroad Programs.
Office Location and Hours:  
Hollenbeck Hall, First Floor, Room 126
Monday - Friday, 8 a.m. to 5 p.m.
Contact Information:
 
JoAnn Bennett
Director, Office of International Education
jbennett@wittenberg.edu
Amy Parks
Administrative Assistant, Office of International Education
aparks@wittenberg.edu
Phone: 937-327-6185
Fax: 937-327-6178