Student Employment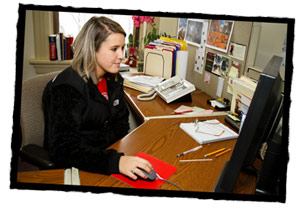 What is Student Employment?
The Student Employment Office at Wittenberg University serves to provide employment opportunities to students with financial aid work awards. Students are given an opportunity to further enhance their classroom experiences by obtaining employment at a variety of job settings both on and off campus. This can not only assist in development of a possible career path, but also defray the cost of some college expenses.
 
Who works for Student Employment?
The Student Employment Office is open to all students who have been issued a work award in their financial aid package. These awards include Federal Work-Study and Student Employment awards. Student Employment offers jobs on and off campus in many different environments. On campus, students have the opportunity to work one on one with professors as well as many of the offices found around campus. Our wonderful Off-Campus Community Partnership Program offers many opportunities too. Working an Off-Campus job helps you to obtain a connection to the Springfield community. This program allows our students to work in schools, businesses and many other types of settings.
How do I get a job?
Read through all the job listings thoroughly.
Identify three jobs that interest you. To select them, click on the "Add to Job Cart" button at the bottom of each page. Once selected, they will be added to your job cart, which you can view by clicking on "View Cart", a link in the upper left corner of the main listings page.
Submit three applications for the jobs that interest you.
Contact the employer by phone two weeks after e-mailing your application to ensure they know you are interested.
Ask if you should set-up an interview during New Student Days.
Be confident and pursuant. Finding a job over the summer will be a lot less stressful than if you wait until you arrive on campus in the fall.
Position Description Form:
Position description form: click here
Example position description form: click here