COMPASS: Sweet Success Center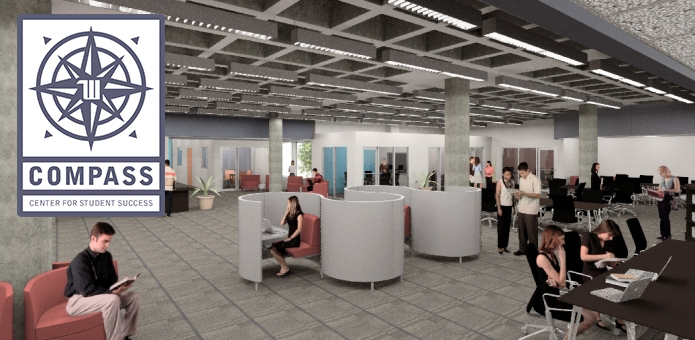 COMPASS: Sweet Success Center is a connection and resource center built with your experience in mind.  Think of it as your gateway to getting the most out of your Wittenberg experience. 
What you'll see:
Centrally located in the heart of Wittenberg's campus on the main floor of Thomas Library, COMPASS will provide:
5,000 square feet focused on student success
Collaborative spaces for students to partner and create
A fresh, streamlined environment to maximize space and engagement
A coffee shop for conversations and refreshments
Open-air study areas
Tutoring rooms
Group study facilities
Remodeled conference room for large-scale group projects
What you'll find:
A one-stop location for engaged learning and student success, COMPASS houses multiple offices, including those focused on:
Academic services
Disability services
Career services
Success ambassadors
Academic coaching
Tutoring
Student employment
The Oral Communication Center is also based within Compass, and satellite offices for financial aid, student accounts and the registrar during peak weeks throughout the academic year are being discussed. 
What you'll discover.
In addition to the range of offices and activities, Compass ensures that students have access to critical high-impact practices that provide hands-on learning opportunities. These include internships, faculty-student research opportunities, community service and other engaged learning options.
"Wittenberg has always insisted on maintaining a culture of success for our students by providing collaborative learning opportunities, encouraging persistence in one's efforts, and ensuring that students have the support they need to achieve their goals. Compass takes our ongoing commitment to a whole new level." – Jon Duraj, associate dean of students, student success and retention. 
By uniting essential components of the Wittenberg experience under one roof, Compass also provides greater collaboration and partnering among areas and departments, which further enhances the student experience and students' personal and professional success.