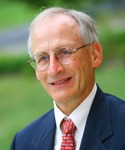 Coordinator of Lutheran Recruitment
937.327.7494
rwhite@wittenberg.edu
I enjoy working in admission because?
It is an honor to meet with prospective students and families, to get to know them and help them through the process of deciding on a college/university. Then, seeing the excitement – often tears - in their eyes as they decide Wittenberg will be their university. Follow this up with welcoming them to campus and being a part of the marvelous transformation that occurs during their four years here – it is fulfilling.
My favorite place on campus?
None comes to mind – I value different places at different times.
Hobbies?
Opera, running marathons, golf, reading, art, fine dining, travel.
What I look for in a student?
A student who gets the most out of the Wittenberg experience is one who is motivated and engaged in the process of a Wittenberg education; someone willing to wrestle with difficult issues, to take risks in order to grow, who seeks to serve others, who seeks fulfillment in life – discover their calling, who has the humility necessary to learn, and the courage to ask for more.
Quote?
Given the opportunity, a Wittenberg education will transform you.