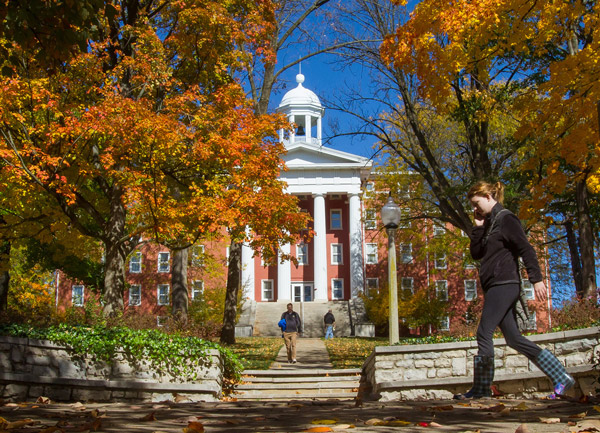 Life on Wittenberg's campus takes many different forms and is as unique as the student body. From concerts and plays to varsity athletics and general social gatherings, something is always happening on Wittenberg's active and engaged campus.
With more than 125 campus organizations, Wittenberg offers many opportunities to get involved and belong to a group. From politics and publications to rock concerts and choir concerts, the clubs and organizations on campus offer an array of activities that appeal to all interests.
The athletics department fields 23 varsity teams and sponsors many club sports. More than 30 percent of the student body participates in athletics, making it one of the largest organizations on campus. In addition to intercollegiate athletics, students also enjoy the fun competition that the vibrant intramurals program offers.
On any given night, students will find a wide variety of social activities on campus. Residence Life sponsors many programs in the residence halls, while Greek organizations host other events around campus. Every night students gather in a residence hall or off campus to preview the latest hit DVD, share poetry in a local hang-out, or just relax with good company.
The Arts
The arts play an important role in the campus community. The art, music, theatre and dance departments offer regular performances and exhibitions.
Ranging from productions of classics such as As You Like It​ and popular fair such as Nunsense​ to student-produced dance concerts, the department of theatre and dance is always active.  All productions and dance concerts have open auditions that welcome all students to audition.  Whether you prefer to be an audience member or someone working onstage or backstage, there is a place for you in theatre and dance at Wittenberg.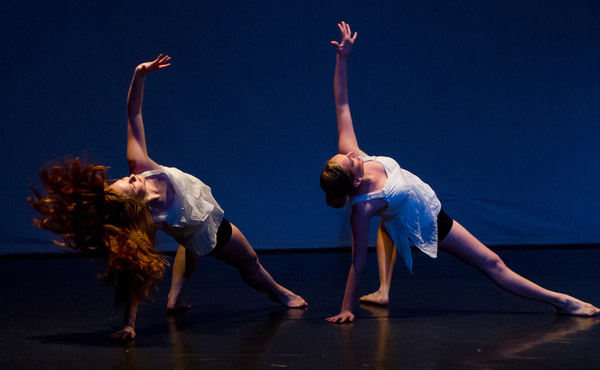 If it is music that you crave, Wittenberg has a long list of performance groups, including the Wittenberg Choir, Symphonic Band, Wittenberg Singers, and Chamber Orchestra. These talented groups are always seeking new and aspiring talent. The Wittenberg Choir has toured the world over the past decade, performing from Europe to Asia, as well as the United States.
The art department regularly features the work of students and visiting artists. The walls of Koch Hall are full of art displays throughout the semester. In the spring, the Senior Art Show, an exclusive collection of all senior-designed pieces, is on display for three weeks and features some of the top pieces of the year. Another annual tradition of the art department is its annual charity event "Empty Bowls." This features a dinner of soups served in student-crafted ceramic bowls. All proceeds benefit the local food bank.
Athletics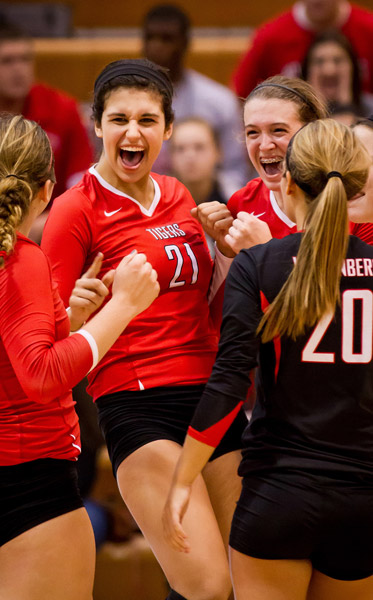 For more than 160 years, Wittenberg University has been a name synonymous with a superior education and exceptional athletics. If you are looking for a small liberal arts university that can offer both great academics and a nationally recognized athletic program, Wittenberg is a perfect choice.
As a member of the North Coast Athletic Conference, Wittenberg offers a broad-based intercollegiate athletic program. More than 30 percent of the student body participates in varsity athletics each year, making it one of the top extracurricular activities on campus. Wittenberg's athletic tradition includes a long list of not just athletic All-Americans, but also academic All-Americans.
In the fall, teams are fielded in men's and women's cross country, women's field hockey, men's football, men's and women's soccer and women's volleyball. Winter sports are men's and women's swimming and diving, men's and women's basketball and men's and women's indoor track. The spring season features men's and women's golf, men's and women's outdoor track, men's and women's tennis, women's softball, men's baseball and men's and women's lacrosse.
Every year, Wittenberg ranks among the top teams in the North Coast Athletic Conference and National Association of Collegiate Directors of Athletics all-sports standings. Every year since 1993, Wittenberg has been in the top five of the NCAC all-sports standings. The Tigers have been in the top 25% in the NCAA Directors Cup standings in each of its twelve years of existence.
In addition, hundreds of student-athletes have been named to All-NCAC teams in recent years, and Tiger coaches are frequently honored as Coach of the Year.
For the latest scores and information, please see the Athletics Homepage.
If you are interested in playing athletics at Wittenberg, please fill out the online information form.
Community Service
At Wittenberg, contributing to the well-being of our community is a priority. Community service strengthens the Wittenberg liberal arts advantage and creates an environment where students become more aware of the link between self and community. Developing this awareness of one's community through service cultivates civic responsibility and often breaks barriers of misunderstanding, whether cultural, racial, religious, economic, linguistic, or social.
Before a student's senior year, Wittenberg's Community Service Office assists with the selection of a local agency for service. Opportunities for service, diverse and numerous as the needs of the community, include working with the cultural arts, the elderly, family services, health issues, hunger, housing and poverty issues, literacy, persons with a physical and/or mental disability and youth. Wittenberg's community service graduation requirement is completed in one semester. Involvement in this unique and innovative program can both benefit the Springfield community and enrich students' lives for years to come. In fact, the experience is so rewarding that many of the students continue to serve above and beyond the requirement.
Fraternities and Sororities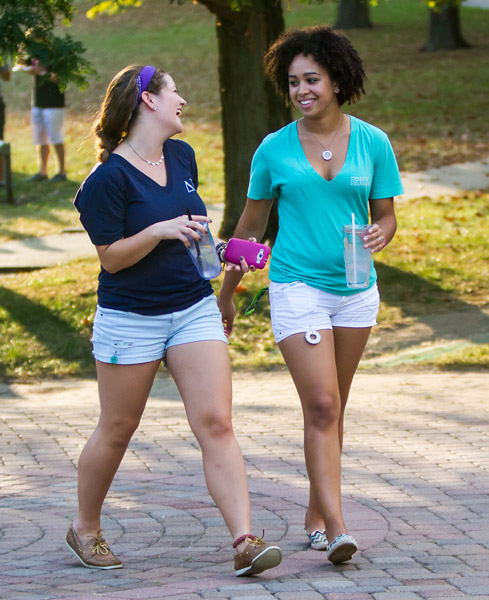 A healthy balance exists at Wittenberg between the Greek system and the campus community. Our six national fraternities and five national sororities each focus on ideals such as leadership, scholarship, community service, and friendship. Between 30 and 40 percent of the student body participates in a Greek organization.
The major membership drive for entering students is the rush program at the beginning of the second semester. To pledge, a student must be in good academic standing and have completed 16 semester hours. Greek organizations consider all members without regard to race, creed, sexual orientation or national origin. Most fraternities and sororities have their own houses with live-in options for juniors and seniors. Most houses have their own dining facilities as well.
 
Fraternities
Sororities

Beta Theta Pi
Delta Sigma Phi
Delta Tau Delta
Lambda Chi Alpha
Phi Gamma Delta
Phi Kappa Psi

Alpha Delta Pi
Delta Gamma
Gamma Phi Beta
Kappa Delta
Sigma Kappa
Springfield Area
Wittenberg is located in Springfield, Ohio, the county seat of Clark County, which has 137,000 residents. Columbus is 45 (72 km) miles to the east, Dayton is 25 miles (40 km) to the southwest, and Cincinnati is 72 (115km) miles to the southwest. The university is easily reached by Interstate 70, U.S. Highways 40 and 68, and Ohio Highways 4, 72 and 41. Students and visitors also have access to the Dayton International Airport in nearby Vandalia, as well as to Springfield's transcontinental bus line.
Springfield is both a "living laboratory" and a "college town," providing students with access to a wide range of real learning opportunities that include the advantages, challenges and realities of small-city life. Wittenberg's campus is located in a residential setting, yet the downtown area, shops, restaurants and parks are within walking distance. Public transportation is available to the mall, airport and other major cities.
Academic Advantages of Wittenberg's Location
Students can gain internship experience with local businesses, law firms, political campaigns and service organizations.

Clinical internships allow interested students to pair up with area physicians and medical health professionals in ways that offer unprecedented access and hands-on learning opportunities.

Students volunteer in organizations ranging from the Springfield Center for the Arts at Wittenberg University, the Head Start program and Habitat for Humanity to the YMCA, Clark County Historical Society and the Public Library.

Education majors can student-teach in private or public urban, suburban and rural schools.

Parks, wetlands, rivers and a reservoir are living laboratories for research and field experience in environmental studies or the sciences.
Social Advantages of Wittenberg's Location
Springfield offers a wide variety of places to go for shopping, dining and recreation.

Whether you like to listen to an orchestra or watch a ballet troupe pirouette across the stage, you will find cultural activities such as the Springfield Symphony, the Broadway and Beyond Series and the Summer Arts Festival.

Students can hop on the interstate for easy access to the metropolitan areas of Dayton (25 miles or 40 km), Columbus (45 miles or 72 km) and Cincinnati (72 miles or 115 km).

Nature enthusiasts can hike in Springfield's parks or in nearby Clifton Gorge or Glen Helen Preserve. The city and state park systems also give students the great outdoors to camp, canoe, swim, sail, windsurf, cycle and play golf.
To read more about Springfield, please see the City Guide.
Religious Life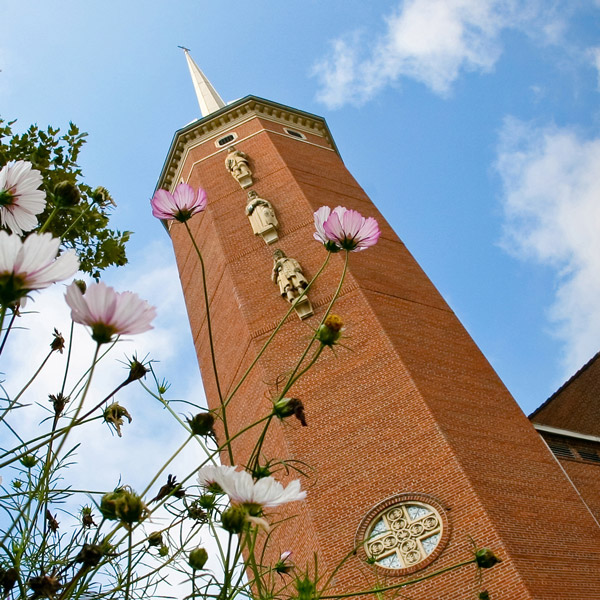 Wittenberg is affiliated with the Evangelical Lutheran Church in America and is served by two university pastors. Worship is held Sunday mornings in Weaver Chapel and a Roman Catholic mass is conducted Sunday evenings. In addition, a contemporary service is led by the pastors and a student music team on Sunday evenings in Ness Family Auditorium. Weekday chapel is held Tuesday and Thursday mornings, with the majority of speakers from the student body, the faculty and staff.  Opportunities for worship in the Springfield area abound for students who wish to pursue spiritual development off-campus.
Weaver Chapel is the center of Christian life and ministry on campus, with weekly fellowship opportunities, social outreach projects, festival worship services, Bible studies, and an off-campus retreat each semester in addition to regular weekly worship. The Weaver Chapel Association, an interdenominational student organization, plans most of these activities.
Many other fellowship and program opportunities exist on campus, including Newman Club, The Jewish Culture Club, Athletes for Christ, Common Ground and Lutheran Student Movement.
Residence Life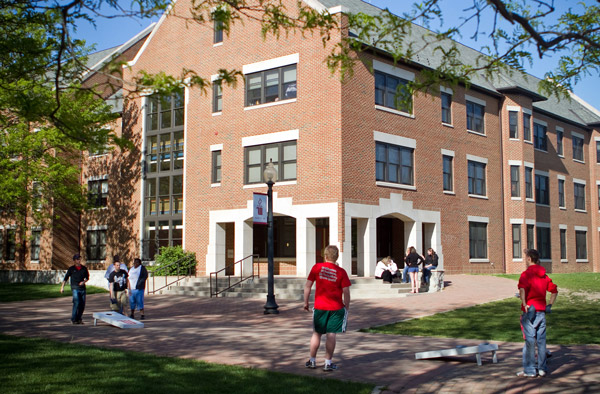 We believe that your time spent at Wittenberg will be the most rewarding time of your life. Living on campus is a special part of that experience, particularly because of the variety of the living options we offer to students. Most small universities are unable to provide these options. From residence halls and a program house to independent residences and Greek houses, Wittenberg truly is a unique place to spend four defining years.
New students live in double rooms in all residence halls except Ferncliff Hall and Polis House. Special interest housing is available for students during their first year on campus. Such programs may include the honors program, substance-free, international and all-female residences.
As the only "program house" on campus, the Polis House, an international living and learning residence, provides a unique living experience. Students must have a minimum sophomore status to live in the Polis House, which opened in 1998 as a student residence.
Many students choose to participate in the Greek system. Fraternity and sorority homes are located on campus and typically house between 15 and 100 students. The residences are almost exclusively older American-Victorian style homes that have been updated with many modern amenities. Some are wired for high-speed Internet service, and most have their own kitchen and cooking staff.
Wittenberg also provides private residence living for students who have completed their sophomore or junior year. The university's two apartment complexes, Keller Place and Sprecher Place, house fully-furnished three- and four-bedroom units. Modern amenities include dishwashers, built-in microwave ovens, high-speed Internet service and cable television. The University also owns many homes in adjacent blocks around campus. Typically these homes or apartments have a capacity of between two and five occupants; some house more than five, and a few single apartments are available for those who enjoy complete privacy. Students enter a lottery each spring to pick the residence of their choice.
Please see the virtual tour for more information about student housing.
Please see the Office of Residence Life for more information about student life on campus.
Campus Organizations
With more than 125 student organizations, the daily calendar at Wittenberg is full of planned activities throughout the academic year. Union Board sponsors concerts, comedians, and other entertainment for students, while clubs like the College Democrats and the College Republicans often sponsor political events. The Astronomy Club, Caving Club and the Outdoors Club also sponsor events that encourage participation from the campus community.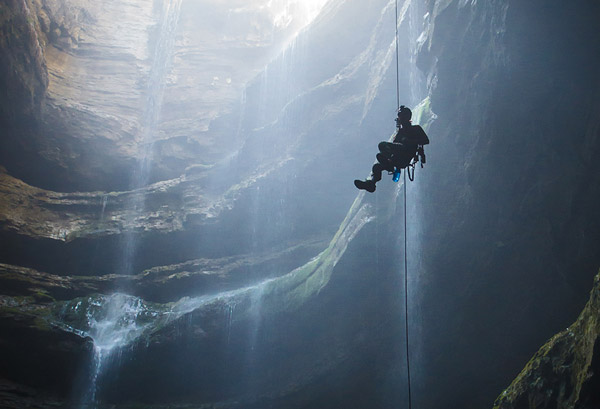 So what do you do if you can't find anything you want to join? Make you own club! Every year, like-minded individuals new clubs, which always created under the umbrella of Student Senate.
Student government is very active at Wittenberg as well. Students run highly competitive campaigns for positions ranging from class officers to Student Senate seats. Student Senate is a self-governing body that acts as a liaison between the student body and the administration. In addition to class representatives, there are representatives from all areas of campus, including residential life, athletics, the Greek system, and off-campus residences, among others.
While campus politics are always in hot debate, organizations that deal with national and global politics are just as active. Wittenberg has branches of the College Democrats, College Republicans, Amnesty International, Campus Greens and Students Taking Action Now, Dammit! (STAND). In addition, Wittenberg has a Model United Nations Club.
If you are interested in writing, Wittenberg students have been publishing their own weekly newpaper, The Torch, since 1913. Campus news, opinion and sports dashed with the usual dose of college humor find their way to student residences every Tuesday afternoon. If journalism isn't quite your style, then you may be interested in one of Wittenberg's literary magazines.
The East Asian Studies Journal is the only undergraduate EAS publication in the country. A student editorial board is selected by the faculty every fall and accepts submissions from students across the country. The journal has been in publication for more than 30 years. The Wittenberg Review of Art and Literature is an annual student publication that features works of fiction, non-fiction and poetry mixed with photographs of student art. Other campus publications include Pholeos, Spectrum, the Wittenberg Journal of Political Science and the Journal of the Wittenberg Speleological Society.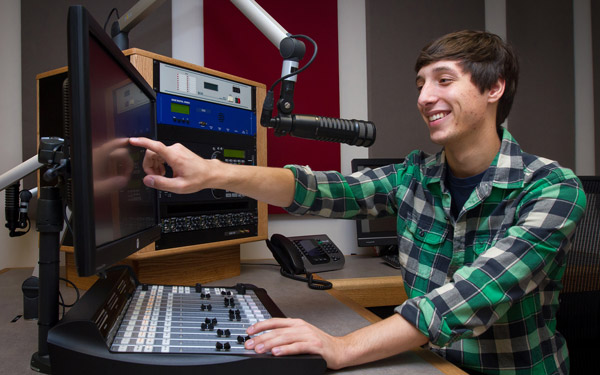 Wittenberg has several social awareness groups on campus. The oldest and largest is Concerned Black Students (CBS). CBS was formed in 1969 during the height of the civil rights movement to protect and advance the African-American students at Wittenberg. They continue to work toward racial diversity on campus. Voices, Wittenberg's women's association, sponsors many events across campus that focus on women's rights, and gender issues such as sexual assault and domestic violence. The Gay-Straight Alliance, formed in 2000, is Wittenberg's newest social awareness club. GSA promotes a campus community that is more understanding and supportive of gays, lesbians, transgenders, and bisexuals.
For more information about campus organizations, please see the Student Organizations Web site.
If you have any questions concerning international admission or financial aid, please contact Jimmy Williams, coordinator of international recruitment, at internationaladmission@wittenberg.edu.