Michael Farms Wins 2014 EBAward
Friday, February 7, 2014
Springfield, OH—After six months of promoting the award, analyzing nominations and systematically narrowing down the finalists, Beth Hubbard, Logan Warye, Kim Loofbourrow and Sarah Guilloteau, WittConsultants for the 2014 Entrepreneurial Business Award, presented their findings to the managing partners and a winner for the award was chosen. The team is excited to announce the winner, Michael Farms of Champaign County.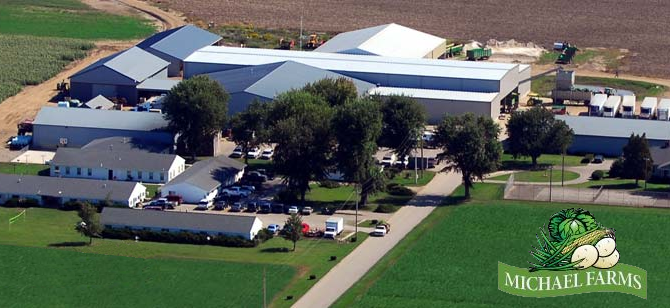 Michael Farms is located in Urbana and specializes in supplying grocery retailers and food service distributors in Ohio and surrounding states with top quality fresh produce. The truly innovative aspect of the company is that they are a company of many firsts—creating personalized hydrocoolers, microwavable products, and grocery store data analysis programs to name a few. Also, Michael's was the first farm in Ohio to install a center pivot irrigation system in 1965. What started as a small potato farm on 130 acres has grown to be the largest vegetable farm in the state encompassing nearly 3000 acres.
Michael Farms has shown a commitment to the Urbana community for over 50 years. The company is a second-generation, going on third, family owned and operated company that stresses the importance of innovation, common sense and hard work. Michael Farms has 25 full-time and as many as 120 seasonal workers during the harvest season.
The award will be presented to Scott, Todd and Kurt Michael at the Junior Achievement Hall of Fame Banquet on May 15, 2014.  The award committee is managed by Security National Bank, Junior Achievement, and the Wittenberg Center for Applied Management.