Five members of the Wittenberg University community went "Over the Edge" and rappelled off an 11-story building in downtown Springfield during Think Tank Inc.'s Over the Edge fundraiser at the Shawnee Place Apartments on Sept. 6.
Sarah Jurewicz, Wittenberg's women's basketball head coach; Jon Duraj, associate dean of students for student success and retention; Jules Tignor, Office of Admission administrative assistant; Evan Cameron, class of 2014, and Beth Hubbard, class of 2015, community service student coordinators, rappelled 106 feet from the roof to the ground to spread awareness of the non-profit's initiatives, which include combatting social problems and poverty.
"This isn't a typical engagement opportunity, but it helps us better understand community needs and what we can contribute. Engagement is important to Wittenberg, so if we need to rappel off a building, we will," said Director of Community Service Kristen Collier, Wittenberg class of 1992.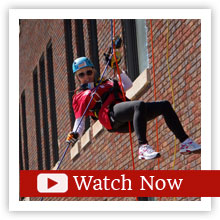 As the first Wittenberg rappel time of 11:30 passed, a slight schedule delay added to the anticipation of the crowd, which included Hubbard, who rappelled later in the day.
"I was so nervous as I watched them step up to the ropes," she said, "I didn't exactly know what I got myself into, but I was very excited to be a part of this and to give back to the community."
Eleven stories up, Jurewicz, who has climbed a fourteener in Colorado and ziplined in South Africa, challenged Duraj to a race down the building. A small crowd of Wittenberg staff cheered them on as they maneuvered down the brick façade, past windows and a wasp nest, to reach the ground. 
Duraj quickly took the lead and made his way to solid ground first, but to Think Tank, both Tigers were winners.
"This was a great way to raise awareness of the work that Think Tank does to make meaningful social change," Duraj said.
More than 50 fundraiser participants, who each had a goal to raise $1,000, also went over the edge. The money raised will benefit Think Tank's projects, including the Circles program and the Springfield Promise Neighborhood.
Wittenberg's efforts in the area of community engagement have been recognized nationally for five consecutive years, 2006-2010, and again in 2012, on the President's Higher Education Community Service Honor Roll for exemplary service efforts.
Wittenberg students annually contribute more than 20,000 hours of community service, which translates into more than $380,000 in donated time to the Greater Springfield area.
Much like rappelling, community engagement has its challenges, but to members of the Wittenberg community, it's also exhilarating and worthwhile.
"Stepping off the edge, I thought, 'No—this is not easy,'" Jurewicz said, "but I wanted to help empower families in need and to show my support to all community members in Springfield. Would I do it again? Absolutely."
Written By: Leigh Hall
Photos/Video By: Erin Pence
Publish Date:
Tuesday, September 3, 2013