Fast Track Your Career With An Advanced Degree In Analytics
Why pursue a Master's of Science in Data Analytics degree?
High demand for individuals with deep analytical skills
By 2020, research has shown, there will be need for 250,000+ people with this advanced degree
Management, Healthcare, Finance, Marketing, Logistics, and Operations are just a few of the many industries which pay $100,000 salaries for those with advanced analytics degrees 
Why pursue a Master's of Science in Data Analytics degree at Wittenberg?
Only program in the nation with blended on-campus residency and online coursework
Collaborative projects that include real-world issues, client facing problems, and final project readiness which highlight your personal passion or current industry work
Top-level advisory board featuring educators, in industry executives, and high level access within program
Best program for bridging the gap between capturing, organizing, and analyzing data and the need to make better and faster decisions
Wittenberg's M.S. in Analytics program was intentionally designed to meet the learning and lifestyle preferences of working professionals. Program highlights include:
Program completion in 12 months
Flexible classes including online offerings
Practical, personalized case studies tailored for your field
Networking from day one – both in and outside the classroom
Maximizing the tools that already work for you
Collaborative learning teams that generate results
Press Release: Wittenberg University Admissions Underway for August 2017 Master of Science in Analytics Cohort
Creative Capstone Options
Three current M.S. in Analytics students share their success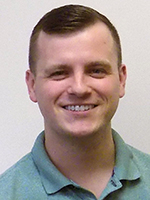 Travis Croxall will be among the first group of students to graduate with an M.S. in Analytics in July. He currently works at Provimi, an animal nutrition business, having previously graduated from Wittenberg in 2011 with a B.S in biology. Each student in the graduate program must complete a capstone project, and Croxall chose to use data from his current employer's Enterprise Resource Planning System to help optimize food design for various types of animal feed in different regions of the United States.
"Some of the pieces in the data I am looking at include taking over vendor spend and margin generation, segmenting vendors and optimizing spend with select vendors to maximize our profit margin," he said. "Once we have the final data, we will use the information to change our buying behavior to increase business performance. So far, I took a small group of ingredients for the data, and by changing the buying behavior, we can increase the profit margin by $1 million per year."
As for the overall program, it "has given me the experience and tools needed to allow me to combine data in new ways," he said. "I am really enjoying it."
---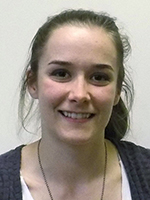 A 2015 graduate of Wittenberg, Shelby Kaho is currently enrolled in Wittenberg's new M.S. in Analytics program and will be among the first group of students to graduate with the degree. Building upon her B.A. in marketing with minors in biology and health studies, Kaho is interested in pursuing the fields of food and health, and her capstone reflected that.
"I am working with millions of records provided by the National Celiac Foundation to enhance the ability of physicians and parents to diagnose this common disease sooner than what's possible now," Kaho explained. "Currently the time to receive a positive diagnosis is seven to 10 years. The goal is to use the data to find correlations between related factors in those that are diagnosed more quickly. My mother, my brother and I all suffer from the disease, which is why I have taken a special interest in it."
As for the overall program, Kaho said it has been eye-opening.
"I've learned a lot about the software, the tools and the processes in the field. The program also follows along with Wittenberg liberal arts ideas: developing the 'wholeness of the person' and seeing the whole picture."
---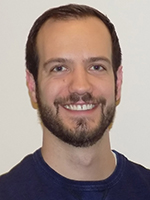 A data analyst in the marketing division of J.P. Morgan Chase in Columbus, Ohio, Steve Simecek will be among the first to graduate from Wittenberg's M.S. in Analytics program in July. A 2012 graduate of Miami University with a B.S. in accounting and minors in information systems and statistics, Simecek is exploring airline customer service in his capstone project.
"I am using sentiment analysis software to evaluate airline customer perceptions," he said. "I have always thought that the airline industry was really interesting. Using data from passenger reviews posted online about airlines will allow me to do a sentiment analysis so I can better understand better what factors lead to a customer being satisfied or unsatisfied with the airline. I am also looking at reviews from other countries, what months customers are flying and at the different correlations."
As for the overall program, Simecek, who knows analytics is his passion and who is already employed in the field, has found the program to be one that delivers results.
"I can do a lot of fancy analytics and find cool trends, but I have to be able to deliver the results and present the analytics to influence the decision makers," he said. "This program has helped me develop confidence and knowledge when it comes to presenting the analytics."