Brian D. Yontz
Printer-Friendly Version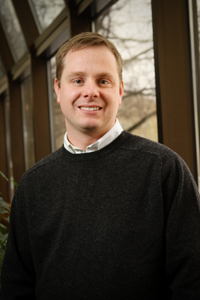 Brian D. Yontz, Assistant Professor of Education, came to the Department of Education at Wittenberg University in the Fall of 2006.  Brian is a product of the Springfield City Schools and considers it a true blessing to work with the students and teachers in Clark County and the Springfield City Schools.  From 2006-2009, Brian served as the Director of Student Teaching and Teacher Placement.  In the fall of 2009, Brian moved into a full time teaching position.  Brian teaches courses in Human Development and Sociology of Education at the graduate and undergraduate level.  He also serves as the Director of Licensure and Program Approval for the education department.  His most recent work has centered on being the project director for Wittenberg's Urban Teaching Track.
Prior to coming to Wittenberg, Brian was the Partnership and Outreach Coordinator at Wright State University in Dayton, Ohio.  Along with working extensively in partnership schools, Brian also supervised student teachers and practicum students at WSU.  
Brian has presented at numerous state and national conferences focusing on pK-12/University partnerships, stewardship of schooling, and overall initial teacher preparation program design.  His research interests are in initial teacher education program design, urban schooling, stewardship of our nation's schools, and the intersection of society, human development, and schools. 
Brian lists his professional highlights as serving as WSU's teaching liaison to The Stivers School for the Arts in the Dayton Public School 2003-2006, studying with Dr. John Goodlad during the summer of 2006, and going through the National Network for Educational Renewal's Leadership Associates Program in 2006. 
Brian has a B.A. from Asbury College, a M.S. from Wright State University and a Ph.D. from The Ohio State University.  He lives in Springfield with three incredible girls, his wife Erin and daughters Claire and Caroline. 
Contact Information: