Oral Communication Center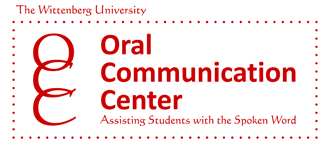 "Speech is power: speech is to persuade, to convert, to compel." -Ralph Waldo Emerson
Location: Thomas Library 206
Opening for Fall 2016 on Sunday, September 11th. 
Hours: 7-11 p.m. Sunday- Thursday (closed during breaks and finals)
The Oral Communication Center (OCC) provides one-to-one assistance to students facing any kind of speaking assignment, such as a presentation, discussion, debate, leading a class session, or any other kind of speaking requirement. Trained student consultants can work with you on any stage of the preparation process, from brainstorming about topics, to helping you decide how to organize your ideas, to offering feedback on a practice run-through. The consultation is designed to help foster effective preparation and speaking skills, which students can then apply to future speaking assignments. Come see how we can help you!
Make an OCC consultation appointment. Appointments are strongly recommended to ensure you receive first priority when you visit.