What is the OCC?
Printer-Friendly Version

The Oral Communication Center is a place where you can go to receive one-to-one assistance with any stage of preparation (from brainstorming, to organizing your ideas, to polishing your delivery) for any kind of speaking assignment (from presentations to debates to leading a class session) or any speaking-related skill (from speech anxiety to effective listening to developing a PowerPoint presentation). A trained student consultant will work with you, provide suggestions and feedback, and help guide your preparation in the right direction. If you want to practice your speaking, you can choose to be videotaped, and the consultant will watch the video with you and provide helpful suggestions. The OCC also features a projector so you can work on and practice with your PowerPoint presentation.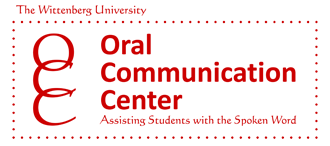 The mission of the OCC is to help students learn how to ethically and effectively communicate their ideas in a manner appropriate to context and with consideration for diverse listeners. The goal is to empower students to participate effectively and meaningfully in academic, civic, professional, and social contexts throughout their lives by helping them develop oral communication skills that transcend the parameters of a particular assignment or project.