Commencement 2014 - Saturday, May 17
Printer-Friendly Version
The 2014 Commencement Exercises will be held on May 17 at 11:30 a.m. in Commencement Hollow.
All guest should be seated by 11:00 a.m. 
Traffic Advisory
As Commencement approaches, the university looks forward to welcoming family and friends to our beautiful campus to celebrate with the Class of 2014.  In order to allow these guests to gather safely at Commencement Hollow for the Ceremony, we will be closing East and West Campus Drives at 9:30 a.m. on May 17.
The exit to N. Plum Street (the road behind Koch Hall (Art building) will be reversed so that vehicles cannot exit onto N. Plum St. from west campus drive and instead vehicles will be able to enter from N. Plum St. at 9:00 a.m. to allow easy access to the Recitation Hall and Carnegie Hall parking lots to accommodate handicap parking for guests only.
To help alleviate traffic congestion, there will be no west bound traffic on West Ward St. between Woodlawn Ave. and N. Wittenberg Ave. Vehicular traffic will be redirected down Woodlawn Ave. to W. College Ave.  Also, N. Wittenberg will be restricted to one-way traffic north from W. College Ave. to W. Ward St.
Officers will be at these locations to assist you and your family and friends. Officers will also be a various other locations to assist you with your needs. In the event of rain and Commencement is held at the HPER Center, we will not regulate traffic in the areas mentioned above.
---
Olympic Gold Medalist Donna de Varona To Address Wittenberg As 2014 Commencement Speaker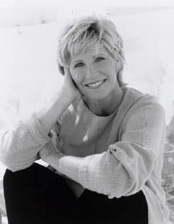 With Commencement less than 100 days away, the soon-to-be-graduates have selected Olympic Gold Medalist and award-winning sports journalist Donna de Varona to give the university's Commencement address on Saturday, May 17.
A leading activist for sports and fitness for youth, de Varona has provided expertise as a consultant to the United States Senate on several landmark pieces of legislation, and she served five terms on the President's Council on Physical Fitness and Sports. The San Diego, Calif., native has been recognized by leaders in both major political parties, with appointments to commissions by Presidents Ford, Carter, Reagan, Clinton and Bush.
Want to know more about her?
Come join us on Thursday May 15th from 6-8 pm at the Bayley Alumni House to mix and mingle with peers, faculty, and staff and of course your commencement speaker Ms. de Varona.