Congrats Graduates
Wittenberg Celebrates Class of 2017 With 167th Commencement Exercises
Springfield, Ohio –  Nothing but blue skies welcomed a standing-room only crowd in Commencement Hollow to celebrate the Class of 2017 as Wittenberg University hosted its 167th Commencement exercises on May 13.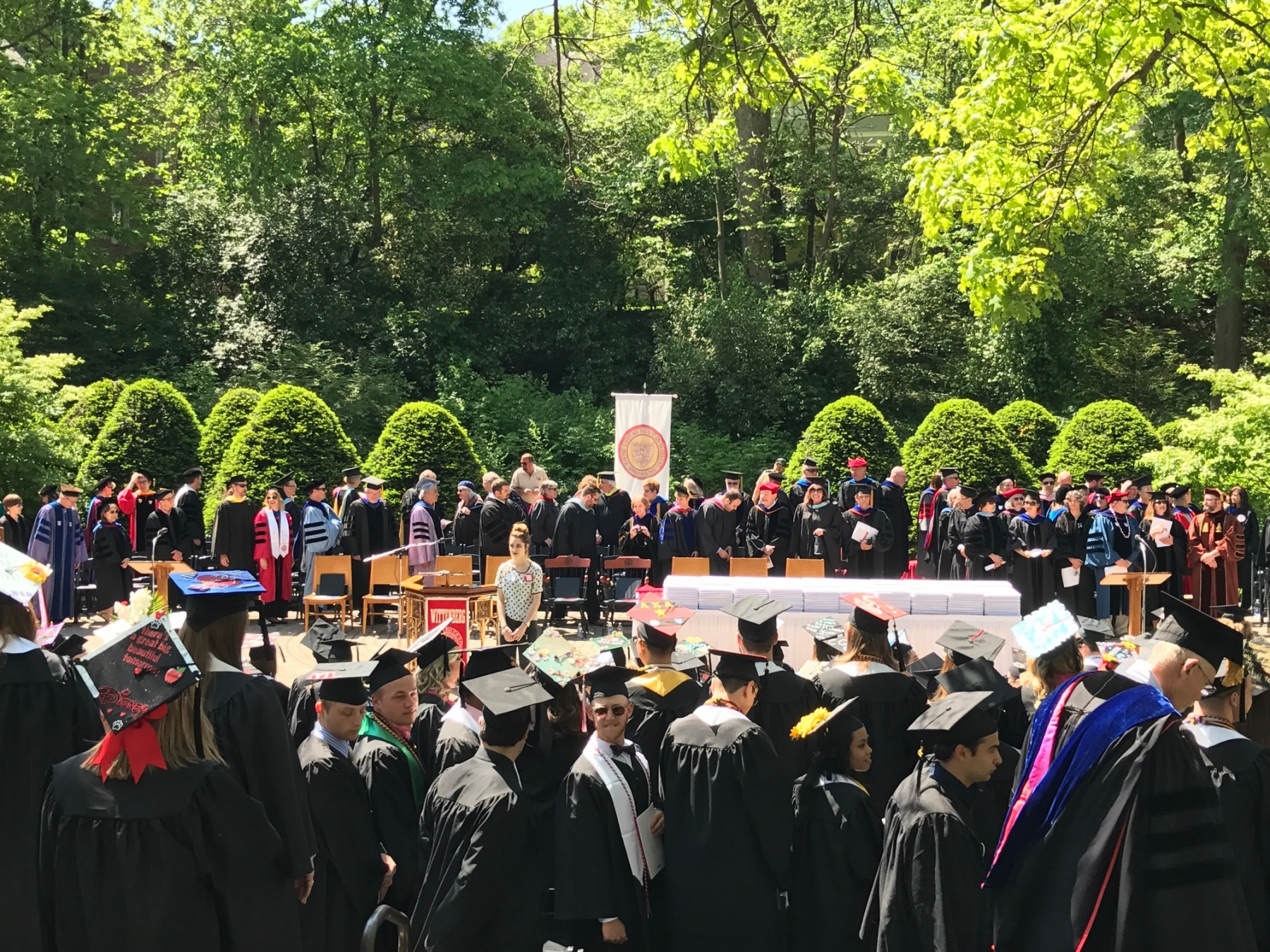 Interim University President Dick Helton led the Commencement celebration, congratulating the 430 members of the Class of 2017 in his opening remarks. He also awarded honorary degrees to two distinguished guests: Commencement speaker Sandra L. Postel, Wittenberg class of 1978, director of the independent Global Water Policy Project, and Christopher Philip Long, Wittenberg class of 1991, dean of the College of Arts and Letters at Michigan State University.
Helton welcomed the graduates and their invited guests to the ceremony, while making special mention of the parents in attendance. They were invited to stand and be recognized by the assembled crowd with a thunderous ovation. He then praised the Wittenberg faculty before saluting members of the Class of 2017.
"This is my second and last Commencement at Wittenberg, and I can say with all sincerity that this university changes lives," he said. "As a teacher, administrator, coach, and longtime college president, I have had the distinct privilege of seeing lives changed at every age and through every experience. The most important thing I have discovered is not whether the mountain is in Asia or Europe or beneath the sea. The most important thing is that the mountain you choose to climb is high. I think that is the power of this place, which has given you the confidence, curiosity and the foundation you need not only to choose your own mountain, but to successfully scale it each and every time."
Helton ended his speech by sharing with the students some important advice.
"It is my belief that if you are going to be successful, you have to have a passion for what you do and a compassion for those you serve," he said. "That is the Wittenberg legacy, and it's all good."
Helton then welcomed Senior Class President Megan Bobbitt to the podium. Bobbitt, from Rocky River, Ohio, is a marketing major with a minor in communication. She explained why Wittenberg provides its students a unique experience.
"I heard from my friends at other schools who have graduated recently that when they get [to this point], they look around and realize that they don't know anyone," she said to her fellow classmates. "But not at Witt. That's what makes us unique. You know people from classes and clubs, holding the door and passing them on Myers hill. It feels like we have known each other forever.
"While it may be the end of our time at Wittenberg, it's not the end at all," Bobbitt added. "Together, we are starting a new beginning. Witt has created a culture of caring. We have become a family during these four years, and that isn't going away. I hope that as you go out into the world, you bring Wittenberg wherever you go."
Wittenberg's Commencement address was then delivered by Postel, a leading authority and prolific author on international water issues, whose work has appeared in multiple popular and scholarly publications. Postel has also penned 20 op-ed features that have been published in more than 30 newspapers in the United States and abroad, including The New York Times, The L.A. Times and the Washington Post. Postel, who received an honorary doctor of science at the ceremony, spoke about climate change, the environment and students finding their niche in life.
"Take time to find your niche – your place and your role in the human enterprise," she said. "Your niche is that sweet spot where what you love intersects with what you're good at. Maybe you already have some inkling about what that is. Maybe you're planning on teaching because you love learning and helping others to learn, and you're pretty confident you'll be good at it. Maybe you're heading into the medical field because you love the idea of helping people stay healthy, and you've got the skills to be good at it.  Many of you, no doubt, are still searching for your niche. And that's good. It may take time and experimentation and some false starts to figure it out. But never stop looking for it because doing what you love and doing it well are among the keys to a happy and fulfilling life." 
She added that this generation of students has the opportunity to be involved with the changes that are ahead.
"The changes that are coming, and that we're already seeing, have a big, wide silver lining around them," she said. "And that silver lining is that you – your generation – has the unique opportunity to re-imagine human society – what it looks like, how it functions and, perhaps most importantly, what it values."
The awarding of degrees then followed. A total of 135 graduates earned Latin honors in recognition of their exceptional academic pursuits.
The class also included students from Arizona, California, Colorado, Connecticut, Florida, Georgia, Illinois, Indiana, Kentucky, Maine, Maryland, Michigan, Minnesota, Missouri, New Hampshire, New Mexico, New York, North Carolina, Ohio, Pennsylvania, South Carolina, Tennessee, Texas, Virginia, Washington and Wisconsin, and several international students from Barbados, Canada, China, Columbia, Ethiopia, Jamaica, Japan, Mozambique, Pakistan, Thailand, United Kingdom and Vietnam. In addition, 32 "non-traditional" students graduated from the School of Community Education.
The most popular majors for the class of 2017 were biology, business, education, English and psychology.
The event was streamed live, a recording of which is now available online. For that link and additional Commencement information, click here. Special coverage can also be found on Twitter at #StompTheSeal.
-Cindy Holbrook, Office of University Communications
About Wittenberg
A nationally ranked university for the liberal arts and sciences affiliated with the Evangelical Lutheran Church in America, Wittenberg University has repeatedly been ranked throughout the years by the Princeton Review for the quality of its teaching and faculty, including 11th in the nation for "Best Classroom Experience" and 15th in the category "Professors Get High Marks" in the 2011 edition of Princeton's annual Best Colleges guide. Most recently, Wittenberg earned the No. 4 spot in the category of "Most Accessible Professors." Wittenberg appeared in the Princeton Review's Guide to Green Colleges in 2013 and again in 2015. Additionally, Wittenberg currently has more Ohio Professors of the Year than any other four-year institution in the state, and has been recognized nationally for excellence in service and athletics.