Wittenberg Business Students Triumph Again, Capturing Both First Place Titles in 2011 Tau Pi Phi Case Competition
March 26, 2011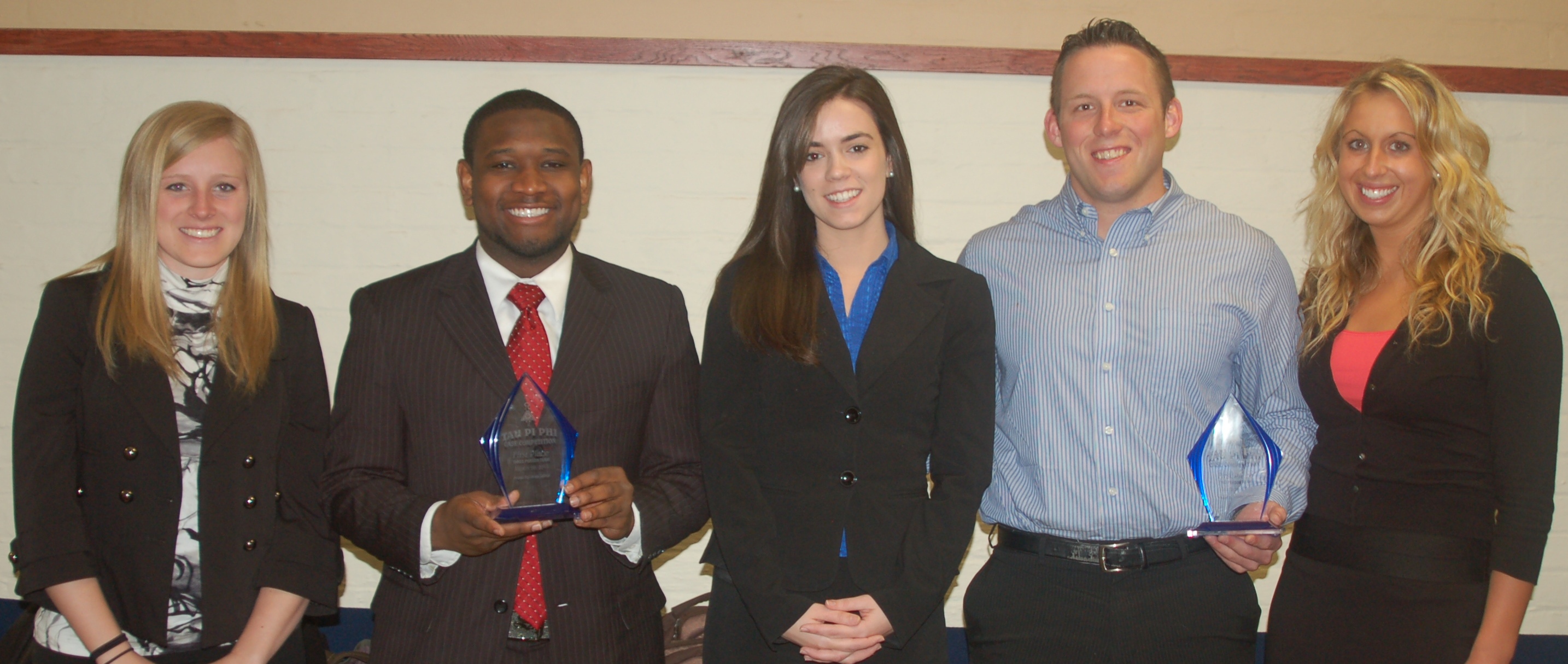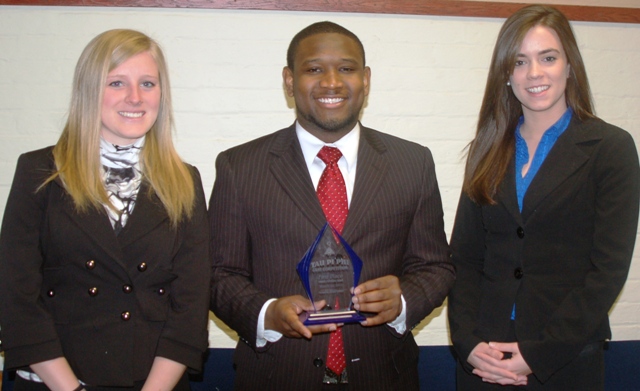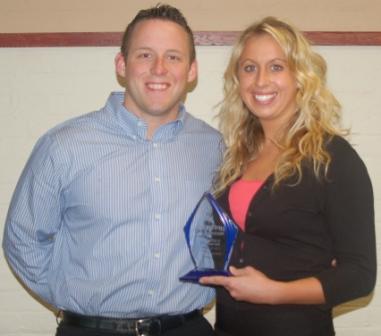 Springfield, OH—Both WittBiz teams participating in the 2011 Tau Pi Phi Case Competition held at Juniata College brought home first place laurels.  Kelly Foley, Andrew Tudor, and Jennifer Cahill represented Wittenberg in the three-member team competition, with Todd Carter and Rebecca Zajac entered into the two-member team competition.  The other schools represented were Juniata College, Marietta College, Mt. Union University and Capital University.
The competition began on Friday when cases were distributed to the various teams at 1:00 pm.  All of the teams then retired to their rooms to analyze a case involving the NFL's strategy in marketing viewership of games using digital technology.  Executive summaries were presented to the judges at 4:30 and the team presentations began at 5:00 and went into the evening.
At 8:00 am on Saturday the second case was distributed to the teams.  This case involved analyzing Nintendo's disruptive strategy and its implications for the video game industry.  Executive summaries went to the judges at 11:30 and presentations began at noon.  By 3:30 when the banquet and awards ceremony began, both teams were anxious about the results.  The three-member team of Cahill, Foley and Tudor was confident that the presentation had gone well.  The two-member team of Zajac and Carter was worried that their Friday performance was sub-par, but believed their Saturday presentation was right on target.  When the results were announced, our three-member team was a clear winner and the two-member team had recovered enough points with their Saturday presentation to achieve a tie for first place.
Congratulations to these seniors who took time from their busy schedules to represent the Wittenberg Business program at this annual event.  They have shown, again, that the Wittenberg Business program is highly competitive and one of the best.   
-END-
Meet the winners:
Todd Carter,'11 from Troy, Ohio, is a Wittenberg senior majoring in business management with a finance concentration and a minor in economics. During his sophomore year, he participated in a student-led internship with Audio Bookshelf, where he worked on title development through marketing research and negotiations with publishers. Carter has also spent an extensive part of his undergraduate experience as a district manager intern for ALDI Foods. In that role, Carter was able to work on a series of projects in a variety of areas including produce quality, product allocation, real estate development, and advertising coverage. As president of his fraternity, Carter has led an increase in membership of 212% and the chapter has received numerous awards from the Greek Life at Wittenberg including highest campus involvement, highest GPA, and most philanthropic donations. Upon graduation, Carter plans to pursue an MBA with a concentration in finance.
Jennifer Cahill,'11 from Mentor, Ohio, is a senior at Wittenberg University, double majoring in Psychology and Business. Cahill held multiple internship positions at Avetec Inc, in which she both conducted research for a government organization and collected and analyzed data to write grant evaluations for local schools. In the summer of 2009, Cahill held an internship position at a Management Consulting firm where she was mentored by trained Myers Briggs Type Indicator counselors. Cahill is currently conducting two research projects on focus groups and group behavior in conjunction with faculty members at Wittenberg. She also acts as project manager for the 2011 version of the Clark County Wage and Benefits survey.  On campus, Cahill is an active member of her sorority as well as Circle K, an international community service organization. Within Circle K, she held the offices of Fundraising Chair, President, and Vice President.  In addition, Cahill works as a campus tour guide in the University Office of Admissions. Cahill received several academic awards from the University and community such as the Woodrow Wilson Excellence in Business Award, the Virgil E. Rahn Memorial Award in Psychology, and the SHRMA award/Kristen Yarger Memorial Scholarship. Cahill plans to attend a Master's program in Industrial/Organizational Psychology after graduation.
Kelly Foley, '11 from Dublin, Ohio, is a senior honors student with a double major in geology and business management and a computational science minor. A presidential scholar, Foley is also a two-year captain of the women's soccer team, two-time Academic All-American, and secretary of the Student Athletic Advisory Committee. Her athletic experience has given her a perspective on team work and the personal determination needed to achieve any goal in life. Foley has participated in a research experience for undergraduates funded by the National Science Foundation and served as a business consultant for the Wittenberg Center for Applied Management. Upon graduation, Foley hopes to integrate her knowledge of geology and her business sense to start a career in hydrogeology, specifically in water resources. She is passionate about bridging the gap between the scientific community and policy makers. Ultimately, she aspires to become an environmental lobbyist in Washington, D.C.
Andrew Tudor, '11, from Cincinnati, Ohio is a Wittenberg senior majoring in Business Management. He is currently the chapter president of Alpha Phi Alpha Fraternity Inc. He also served 2 years as a Justice on the Student Senate Hearing Board. Tudor was a summer intern at US Bank in Cincinnati, Ohio, where he worked as an intern in their Consumer Finance Division. He was also a summer assistant for the Director of Multicultural Affairs where he schedule and budgeted the approaching school year events. Tudor plans a management career in the banking industry focusing on finance.
Rebecca Zajac, '11, from Livonia,Michigan, is a senior business major and economics minor. Zajac was inspired to work in the nonprofit sector through a service trip to Lesotho, Africa two summers ago, and recently returned from a semester in Australia where she studied nonprofit sports management. While abroad, she interned with the Australian Baseball League where she developed a public relations guideline for the league, conducted interviews and wrote website stories.  Zajac currently interns as a grant writer in Wittenberg University's Advancement Office where she has written successful grants totaling over $30,000 in endowments for the school. Zajac previously interned as a fundraising consultant for Witt-in-Africa initiative, a nonprofit project that supports the creation of sustainable living in the impoverished nation of Lesotho, Africa. She serves as the Vice President of  Wittenberg Human Resources Management Association, the International Service Coordinator of Rotaract club, the Vice President of Omicron Delta Kappa; a member of the University Honors program, Alpha Lambda Delta (a women's honorary society), Mortar Board, Tau Pi Phi (a Management honorary society); a representative on the Educational Policies Committee, as well as on the Student Appellate Board and is on the Dean's list. Zajac also volunteers with Habitat for Humanity, Special Olympics Ohio, as a Peer Helper to other students on the Wittenberg campus and as a service dog trainer with campus program 4 Paws for Ability. After graduation, Zajac plans to serve in the Peace Corps and then pursue a career in the nonprofit secto
About Tau Pi Phi: Founded at Wittenberg University in 1931 at Wittenberg, Tau Pi Phi is a national honor society that recognizes academic achievement in Accounting, Business Administration and Economics programs. Since 1991, the start of the competition, Wittenberg teams have placed or won 25 times. The Wittenberg chapter of Tau Pi Phi is advised by Assistant Professor Ronald Lucchesi. Case teams are coached by John Fennimore. 2010 student officers of Tau Pi Phi include: Samantha Grasso (President), Maggie Curtis (Vice President), Jules Lininger (Secretary) and Brendan Corrigan (Treasurer). Incoming student officers for 2011 include: Brian Hertzog (President), Hillary Monnin (Vice President), Samantha Iden (Secretary), and Michael Duffy (Treasurer).