Department of Music
The Music Department is one of the University's most active departments, with many students (both music majors and non-majors) enrolling in music classes, ensembles, and lessons.

Get involved with music at Wittenberg! Take lessons, perform in a music ensemble or two, attend concerts at one of our several performance venues, or take courses in a variety of areas—music theory, music appreciation, world music, popular music, and much more.
Read why students chose Wittenberg »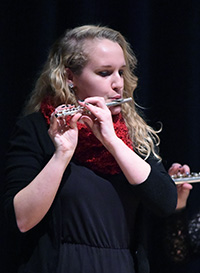 With excellent faculty and first-rate facilities, the Music Department has been an accredited member of the National Association of Schools of Music (NASM) for more than 80 years. Wittenberg is a small residential college with more Ohio Professors of the Year than any four-year university in the state! Because of our 12:1 faculty-student ratio, you will enjoy small class sizes.
After graduation, our alumni enter a wide variety of careers. They are active as teachers, performers, music therapists, church music directors and organists, composers, conductors, college professors, and music librarians. Some of our alumni combine their music activities with work in fields such as non-profit management and community-building. Some professions, like medicine and law, don't require a particular undergraduate major, so some of our students earn a music major just to pursue their love of music.
A double major is common at Wittenberg. Recently, students have combined a music major with a major in English, business, psychology, communication, and biology, as well as other disciplines.
We award several dozen music scholarships each year, available to all students regardless of major, for orchestral and band instruments, voice, piano, organ, and classical guitar.
Have questions about Wittenberg's music program? Contact:

TBA
 
 
Wittenberg University is a small college in central Ohio that has been highly ranked by Princeton Review for the quality of its teaching and faculty, including 11th in the nation for "Best Classroom Experience" and 15th in the category "Professors Get High Marks" in the 2011 guidebook Best Colleges. Most recently, Wittenberg earned the No. 4 spot in the category of "Most Accessible Professors." The 2017 Fiske Guide To Colleges calls Wittenberg a "Best Buy" and notes "strong student/faculty relationships." Wittenberg has more Ohio Professors of the Year than any other four-year institution in the state and it draws students from 40 states and 25 countries. The Music Department is one of the most active departments on campus. Students often combine music with another area of study, and pursue a wide variety of careers after graduation.