Business Students Place at Annual Case Competition
Monday, April 21, 2014
Springfield, OH—Wittenberg Business students once again excelled at the annual Tau Pi Phi Case Competition in Pittsburg, Pennsylvania.
Held just a few weeks ago, regional liberal arts colleges competed in the fields of business and economics in a team format over a two-day period.  Each of these schools host a chapter of the honors society, and student members are selected by professors to compete in Pittsburgh.  The students are broken into teams of two and three, and are given business and economic cases to solve.  Using classroom knowledge and real world experience, the students are given a day to work through the cases and develop presentations showcasing their findings.  The students present to Tau Pi Phi alumni who hail from the respective schools in the competition.
The Tau Pi Phi chapter of Wittenberg University brought one two-student team and two three-student teams.  Over fifteen teams in all where there to compete from schools like Juniata, Marietta, Capital, Ohio Northern, and Kenyon.  Wittenberg Business students Alyssa Delaney, Andrew Stylski and Amber Lara took second place in the three person team format.  Delaney, a junior accounting major from Urbana, Ohio was very excited about her team's performance and the whole experience that weekend.  "Getting to present to business professionals as a college student is a special experience.  This case competition is something that I know I will appreciate down the road."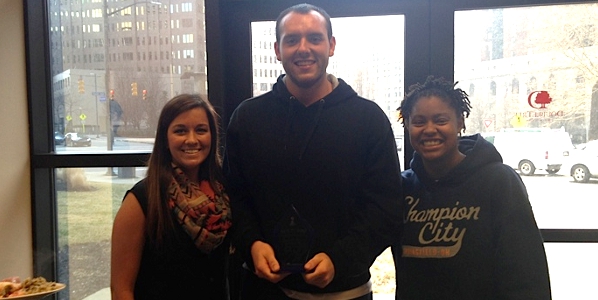 Allie Lawwill, also a part of one of Wittenberg's three-student teams, was eager to see how she stacked up against some of the best business programs in Ohio.  "Getting to compete against other schools like this is very exciting, and has been one of my best out-of-classroom experiences at Wittenberg."
Wittenberg's Tau Pi Phi chapter is rich in history in both their case finishes and the honors society in general.  Founded in 1931 on Wittenberg's campus, Tau Pi Phi pulls together the best and brightest business and economic students on campus, and with top finishes nearly every year at the case competition, the honors society is one of the best ways for students to academically compete outside of the classroom.
-Ben Hogenkamp '14