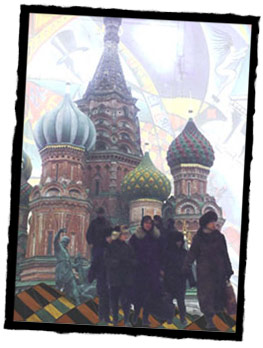 In an interdependent world, Russia and the nations of Central Eurasia offer immense possibilities for trade and cooperation. Yet the ignorance about these countries is profound. Winston Churchill's famous statement that Russia is a "riddle wrapped in a mystery inside an enigma" should serve as no excuse for this situation. All the nations—Russia, Belarus, Ukraine, Moldova, Georgia, Armenia, Azerbaijan, Turkmenistan, Uzbekistan, Kazakhstan, Kyrgyzstan, and Tajikistan—are open for study as during no other time in history, offering extraordinary opportunities to students and professionals.
It is in this spirit that Wittenberg offers The Russian and Central Eurasian Studies Program to its undergraduates. Through the study of Soviet and post-Soviet history, art, language, literature, music, geography, economics, sociology, and politics, Wittenberg students gain important knowledge about Russia and Central Eurasia today. Students and faculty regularly travel there to conduct research, thus keeping up with the latest developments in their fields.  Some students may be stimulated enough to perform advanced work in graduate schools; others, to seek policy-making positions in the U.S. government or to engage in business activities in the area. But the fundamental purpose of the program is to produce intelligent citizens and participants in the society around them who have a thorough understanding of Russia and Central Eurasia, whatever their vocations may be.
The Russian and Central Eurasian Studies Program assumes that knowledge of Russia and Central Eurasia demands, first and foremost, an understanding of those internal cultural, political and historical forces that contribute to the life of the nations today. For without such knowledge, explaining current domestic or foreign behavior is a futile exercise in applying faulty assumptions about what the leaders and people in these nations "really" believe and why they believe it or in using frameworks that are rooted in the American experience, rather than in the perspectives of Russia and Central Eurasia.
Misperceptions about the societies and political systems in the post-Soviet area inhibit fruitful political relations and harm normal international business contacts. George F. Kennan, eminent scholar and diplomat, has said that part of the problem of American policy toward the USSR derived from a misunderstanding of the Russian historical experience and its political manifestations. The Russian and Central Eurasian Studies Program Program attempts to impart an accurate, informed view of Russia and the Central Eurasian nations, to present their realities and to increase international understanding.
---
News
Wittenberg Students Earn Research Awards At Regional Geography Conference
Three Wittenberg students were recognized for excellence in an undergraduate poster and paper competition at a joint meeting of the East Lakes and West Lakes Divisions of the American Association of Geography at Northern Illinois University in October. Read More...
Five Wittenberg RCEP Students Present at Midwest Slavic Conference
Five Russian and Central Eurasian (RCEP) students, accompanied by RCEP Director Jerry Pankhurst, participated in the Midwest Slavic Conference at Ohio State University in Columbus on Friday-Saturday, March 28-29, 2014.  The students presented in a conference session on the theme "Russia's Struggles with the 'Other" from Medieval to Modern Times," which was chaired by Professor Irina Stakhanova from Bowling Green State University.  Attached is a slide show of the conference session.  View the pictures