Sheryl Cunningham--Communication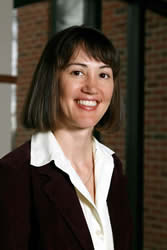 What is the most important thing you want your students to know about writing?
Getting feedback from others is an important part of the writing process, but it's often difficult, especially for beginning writers, to understand how to implement useful feedback and discard feedback that isn't helpful. We learn how to revise over time and through practice. I think the strongest writers learn how to take in others' suggestions, but keep their own authorial voice-- a tricky balance.
What is your favorite assignment and why do you like it?
I teach a class that focuses on argumentation and in that class students write standpoint essays. Students are encouraged to think about what position they would argue when faced with a controversial issue, but also why they might argue in a particular kind of way. The assignment encourages reflection about argument, and this kind of reflection is something we see very little of in public discourse.
How would you describe yourself as a writer?
Quick drafter and slow reviser who sometimes talks myself out of my own arguments....but not until the third draft.
Other comments you'd like to make about writing at Wittenberg, or writing in general?
I like that we have writing intensive courses at Wittenberg and I think they help our students become better writers over time. Oh, and about titles: we need more sexy titles! I mean, would you rather read:
Paper One: Rhetorical Analysis 
OR
Apologia and the Iraq War: Why doesn't Hillary say "I'm sorry?"