Scholar in Residence
Dr. Imane Khayat shares research on international entrepreneurship.
February 15, 2011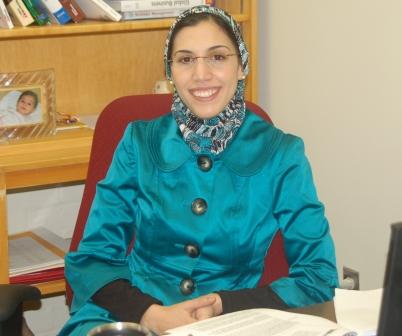 Springfield, OH – On Wednesday, February 9th students and faculty gathered in Bailey Auditorium to hear Dr. Imane Khayat's, Wittenberg's visiting assistant professor and this semester Business Scholar in Residence, delivered a keynote lecture related to nascent* entrepreneurs and their intent to become an international business. Dr. Khayat earned her B.A. in Management at the University of Mohamed in Rabat, Morocco in 2000. She continued her studies internationally as she earned her M.A. in Management with a Specialization in Marketing and Distribution at the University of Strasbourg in France in 2001. Then in 2008, she received her PhD in Business Administration with a Specialization in International Entrepreneurship at the University of Versailles Saint-Quentin in Paris.
Dr. Khayat started her lecture by explaining international entrepreneurship and the history behind it. Some history highlights included that a quarter of a century ago, the Internationalization of small and medium sized enterprises (SMEs) was thought to be a marginal phenomenon. But in the last decade, more and more SMEs operate internationally from or near their inception. According to Khayat U.S, micro-firms represent 69% of all U.S. exporting firms. 
Khayat's research was designed to answer the question, "What are the antecedents of the new venture internationalization?" Specifically, which selected aspects of cognition, demographic and new venture characteristics influence the export intentionality of nascent* entrepreneurs?" To answer these questions the study that was done examined two levels of analysis:
Individual-level includes the cognitive and demographic characteristics of nascent entrepreneurs. 
New venture-level is represented by customer diversity and high-technology.
Khayat's research was driven by a literature search. That research helped Khyattand her co-researcher (Charles Matthews, University of Cincinnati) develop nine hypotheses, each describing some aspect that their research would reveal. The nine hypotheses were tested using survey data from the National Panel Study of Entrepreneurial Dynamics (PSED I). Out of 559 nascent entrepreneurs who completed the question on export intentionality, 151 also answered questions related to cognitive, demographic and new venture variables.  Answers to the survey questions were then analyzed against these variables to see which characteristics influence how likely an entrepreneur is to go International.
Overall,  Khayat found support for a number of the proposed antecedent relationships with international intentionality, including age, innovative decision style, personal realization, risk taking attitude and hi-technology venture. However, some of their findings were unexpected and challenged previous research, most notably that entrepreneurs/managers' internal locus of control would stimulate the involvement of small firms in export.
Khayat finished her keynote lecture with a discussion on the limitations that her research had and proposed what should be done in future research. Following the lecture, students and faculty had a chance to ask questions about her research.    
-End-
By: Katherine Martin '11
* A nascent entrepreneur is one who has not yet launched his or her business, but is in the process of doing so.
About Scholar in Residence:
The Scholar-in Residence program, started in 2008, brings noted academicians to campus to involve business majors in a discussion of current research.  Both how research is conducted and how it is applied is covered in class sessions and a keynote address to majors.