Scholar In Residence
Management Department Launches its Scholar-in-Residence Program by Featuring the New Ness Chair in Entrepreneurship
November 10,2009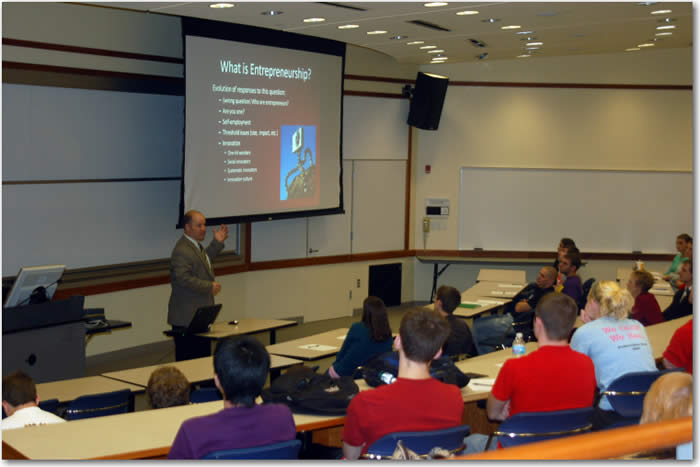 Springfield, OH—Students got a sneak-peek of WittEntrepreneurs at the first ever Scholar-in-Residence keynote on October 21 in Bayley Auditorium.  Dr. Tom Kaplan, Ness Chair in Entrepreneurship, spoke to a full auditorium of students, faculty, staff, and administration on trends and the importance of entrepreneurship.  Kaplan's keynote, Entrepreneurship Matters, addressed the topics of research studies and practice in entrepreneurship, embracing change and innovation, the importance to organizations of all types and sizes, as well as Wittenberg's future launch of WittEntrepreneurs.
Kaplan's presentation began with a Peter Drucker quote: "The greatest danger in times of turbulence is not the turbulence; it is to act with yesterday's logic."  This message resonated throughout his presentation as he moved through various topics by using  entrepreneurship examples to emphasize the importance of managing change.  Kaplan spoke about the advancement of entrepreneurship education from 'hero stories' to the combination of theory and concepts with practice, along with some of the finding of his own research.
Kaplan made several key points about the entrepreneurship field including:
Embracing change is a critical aspect of entrepreneurship
Entrepreneurship is as important for big business and government as it is for small businesses
Entrepreneurs can fail if their vision is too narrow, too short, too confident, or too comfortable. 
He spoke of two specific entrepreneurs, Javier Fernandez-Han, 15,  who created a process for turning human and animal waste into energy (Versatile System) and Jack McConnell, MD who in 1992 after his retirement developed a culture of caring with health care clinics staffed by retired physicians and volunteers (Volunteers in Medicine).  These examples were used to emphasize that age is irrelevant and entrepreneurial ideas can apply to business and the non-profit world.
The results of a post-keynote assessment survey demonstrated that Kaplan's message on Wittenberg's upcoming WittEntrepreneurs program resonated most with students.  Wendy Gradwohl, chair of the business department, indicated that the department is excited about the WittEntrepreneurs program which will foster the development of student-run businesses and student conceived businesses.  To help drive the importance of entrepreneurship and innovation for every field, Kaplan also announced that future entrepreneurship classes will be offered for both business and non-business students.
The keynote was followed by a dinner where administration and faculty from a variety of departments across the university discussed how entrepreneurship is viewed in their disciplines, and how the entrepreneurship program in the business department might benefit them.
-END-
By: Julianne Lininger, Assistant Student Manager, WittCAM