A profile of the Business Department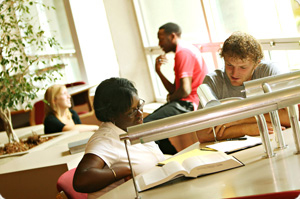 Take a look at what past grads from Witt have done with their majors – internships, grad school programs, and first jobs after graduation.  It's not always as cut and dried as you think; a Liberal Arts degree has a lot of flexibility!

What Witt Business Students Have Done
Strong academics with an emphasis on experience
The department of business at Wittenberg offers a broad-based business major within the context of a liberal arts college. Having taken courses in most of the functional areas (e.g., accounting, marketing, operations, finance), business majors graduate with a clear understanding of how organizations of all types operate.
Our program offers flexibility in several ways. First-year students who want to begin their business education may choose from many classes. Through the selection of electives, both within the business department and throughout the university, students craft an experience that specifically meets their particular education and career objectives.
 
Degrees offered
Business professors serve as academic advisors and will help you choose classes and decide which program is best for you.
B.A.: Business
Minor: Business
Courses
Wittenberg offers courses that address many different areas within business, including accounting, corporate law, finance, human resources, international business, marketing communications and operations.
Business within the liberal arts
What does it really mean to study business within the liberal arts? The Association of American Colleges and Universities explains that the study of any discipline within the context of the liberal arts cultivates individuals who become empowered, whose minds are liberated from ignorance, and for whom social responsibility is a mandate.
In the context of a liberal arts education, a student gains a breadth of knowledge and understanding, develops intellectual abilities, and sees values as an important part of character and personal development.
Students learn to question the usual means and conventional ends of the business discipline, through both the development of a critical perspective and the application of methods of rigorous inquiry.
Students also seek opportunities to apply their entrepreneurial business skills and aptitudes within the social environment. The liberal arts context prepares business majors to embrace exploration, change and improvisation in order to frame questions in new ways that reveal problems and opportunities. Only through these new vantage points can managers learn to look beyond limitations and into the realm of possibilities.
Our embrace of the liberal arts is at the foundation of our Executive-in-Residence program. This program brings thought-provoking leaders to campus to challenge students to develop varied perspectives, understand the effect of current events, and extend their mental horizons.
Experiential learning
The goal of an experiential program is to provide students with the experiences to learn valuable, job-ready talents and skills that enhance their self-confidence—a critical component that prepares a student to contribute to achievement of any organization's mission.
Consulting
Our thriving undergraduate consulting program is coordinated through the Wittenberg Center for Applied Management. The program matches the needs of area organizations to student teams who work under the supervision of business faculty. In any given semester, student consultants are helping organizations grow, explore new directions, become more profitable, or communicate more effectively.
Student Groups
Our active student-managed clubs bring fresh insights to the interest areas of finance (WittInvest) and human resources (WHRMA). Our honorary (Tau Pi Phi) provides an outlet for those interested in other areas of business. These groups sponsor interaction with professionals and managers through competitions, speakers and skill-building activities.
Senior Portfolio
We take our experiential program the final step by incorporating the building of a portfolio as part of each student's senior assessment process. The Senior Business Portfolio showcases samples of actual work product and organizes these in an interview-ready format.
Internships
In the liberal arts context, business internships require the application of classroom theory to the organizational experience. We encourage students to find experiences in their area of interest after taking the requisite core courses.
Accounting
In the area of financial accounting, students can gain experience in the setting of a public accounting firm, governmental agency or private business. In the area of managerial accounting, students have worked in financial and industrial firms.
Finance
The demand for students with a background in finance is particularly important given the global economy. Our majors perform internships in investment firms, major banks and financial services.
Human Resources
Students interested in maximizing the human potential in organizations have applied their knowledge of business, psychological and sociological theories in both private and public firms.
Marketing
Students with an interest in marketing apply their understanding of marketing management, consumer behavior, economics and communication in for-profit, non-profit and government organizations. Students embrace their interest in marketing in marketing consulting firms, distribution and logistics companies, database management firms, retailers, media firms, communication agencies and manufacturers.
Study abroad
Wittenberg offers a variety of study abroad experiences in Europe, Asia, Latin America and Russia. Given the interaction between American and foreign businesses, all business majors, especially those interested in international business, can benefit from studying abroad.
Job placement and graduate study
Business majors have been employed by government (e.g., U.S. Air Force), private (e.g., JP Morgan Chase, Procter & Gamble, PriceWaterhouse Coopers), and non-profit organizations (e.g., CAPA, Peace Corps, Westcott House).
Students also pursue graduate study in professional programs (law, medicine), as well as within the business discipline (Master of Accountancy, Master of Business Administration) at schools such as Notre Dame, The Ohio State University, University of Virginia and University of Texas.