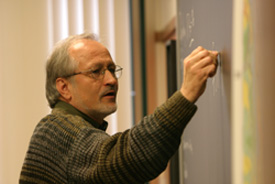 Professor Emeritus
jhuffman@wittenberg.edu
A native Hoosier and former newspaper reporter, I taught at Wittenberg for more than 30 years.  I specialized in the history of Japan's Meiji era (1868-1912), particularly the role of the newspaper press in bringing average citizens into Japan's political life. In the classroom, I taught the whole of East Asian history, everything from China in the age of Confucius to Japan under the samurai, on to Korea's divided era. 
Professionally, I am particularly interested in the long-term influence of imperialism, the impact of nationalism on Japan, and the struggle for justice in modernizing societies. I have recently completed a work that has engaged me for decades: a biography of an American journalist named House who gave his life to promoting equality for Japan in the imperialist world; published by Rowman and Littlefield in the spring of 2003, it is titled A Yankee in Meiji Japan: The Crusading Journalist Edward H. House. I also am finishing work on Japan: A History in Documents, to be published by Oxford University press in 2004. And I give quite a lot of time to the Springfield school board and to the development of materials on East Asia for college and high school teachers. The most important facets of my life, however, center in Tokyo (where my son James and his new wife Nao work for the Nippon Foundation and one of its affiliates) and Chicago (where my daughter Kristen, a social worker, and her husband Dave, a union attorney, provide a home for the world's two best grandchildren, Grace and Simon).
Academic Background:
Ph.D., History (modern Japan), University of Michigan, 1972
M.A., Asian Studies, University of Michigan, 1967
M.S.J., Journalism, Northwestern University, 1964
A.B., Indiana Wesleyan University, 1963