We hope you brought your appetite!
Our recipes come to life everyday in our kitchens using the best ingredients, prepared in the freshest ways possible. Have your choice of a wide variety of delicious and healthy meals, featuring local and sustainable foods, build-your-own meal concepts and special options for every diet.
We're excited for you to try our food that is alive with flavor and nutrition, prepared from scratch, using only the freshest and highest quality ingredients!
Meal Plan Management
All students residing in university residence halls are required to participate in a university meal plan. In order to effect a change to your university meal plan, please visit the MyWitt Portal and submit a Meal Plan Adjustment Form (found under the CAMPUS tab). No changes are permitted after 4:00 p.m. on the fourth day of classes each semester.
Witt Gold can be added to a dining account in $50 increments. To purchase Witt Gold, please click here.
To view each day's menu at Wittenberg, click the banner below.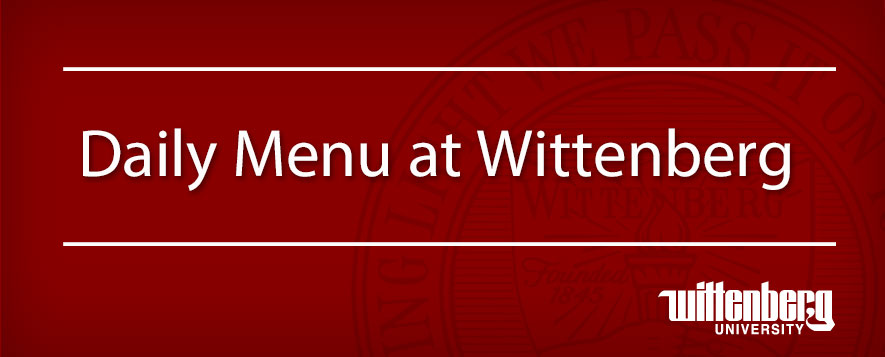 Breakfast

Monday-Friday: 7:30-10 a.m.

Continental Breakfast

Monday-Friday: 10-10:30 a.m.

Lunch

Monday-Friday: 11 a.m.-1:30 p.m.

Brunch

Saturday-Sunday: 11 a.m.-1:30 p.m.

Light Lunch

Monday-Friday: 1:30-3:30 p.m.

Dinner

Monday-Sunday: 4:30-8 p.m.
Please contact us by email at housing@wittenberg.edu with any questions or guidance you may need regarding your meal plan selection/change. If you would like to find out how many meals you have used or check your Bonus Dollar or Witt Gold balance, please ask one of the Parkhurst cashiers. For information regarding meal plan pricing, please visit this page at Student Financial Services.
Parkhurst Retail
Pour
Monday-Friday: 7:30 a.m.-12 a.m. (midnight)
Saturday-Sunday: 10 a.m.-12 a.m. (midnight)
Champ City Grill
Monday-Friday: 7:30 a.m.-12 a.m. (midnight)
Ward & Wood
Monday-Friday: 11 a.m.-9 p.m.
Saturday-Sunday: 12 p.m.-9 p.m.
Ezra's
Monday-Friday: 11 a.m.-9 p.m.
Founders Pub
Wednesday, Friday, Saturday: 5 p.m.-12 a.m. (midnight)
Science Center Market
Monday-Friday: 7:30 a.m.-2 p.m.
Parkhurst Catering
Campus Catering Contact:
Kathleen Holzapfel, Director of Catering
937-327-7032
holzapfelk@wittenberg.edu
Wittenberg Dining Sustainability Club
The Wittenberg Dining Sustainability Club allows members to take a meal from the CDR by presenting an ID badge and a Sustainability Card to the checker upon entrance and ask for a reusable green plastic container and disposable service ware. Disposable soup cups and lids will be provided upon request. Guests must bring their own reusable plastic beverage container for fountain beverages or coffee. Click here to learn more or to join the Wittenberg Dining Sustainability Club.