The chance to serve where he had been served by so many prompted Dan Jacob, Wittenberg class of 2010, to return to his alma mater.
As a deacon in the Evangelical Lutheran Church in America (ELCA) and under call from the Southern Ohio Synod Council of the ELCA, Jacob was installed this fall as the ministry associate in Wittenberg's Office of the Pastor during a contemporary worship service in Ness Auditorium, Hollenbeck Hall.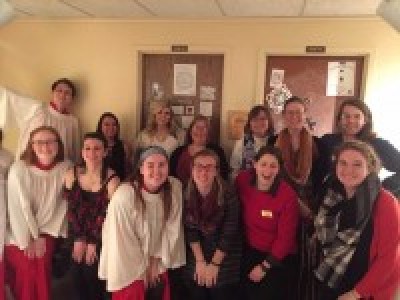 "I learned that this position would be opening at Wittenberg around the same time that I was leaving my previous ministry," Jacob said. "Right away, I was excited about the opportunity to serve," said Jacob, who is originally from Strongsville, Ohio.
A double major in English and philosophy with a minor in history, Jacob received his master of divinity from Yale Divinity School. He also served for three-and-a-half years at the Lutheran Church of Our Savior in Oakwood, Ohio, as a youth director before accepting the position at Wittenberg. Along with serving at the university, he is working with youth at Peace Lutheran Church in Beavercreek, Ohio.
"In my calling at Wittenberg, I help students organize and lead a contemporary worship service on campus each Sunday afternoon," he continued. "Students also work closely with me on many aspects of campus ministry. My call includes strengthening Wittenberg's relationship with the Lutheran Church, especially making sure that we have a strong presence at events like the 2018 ELCA Youth Gathering in Houston."
During his time at Wittenberg, Jacob was part of Weaver Chapel Association, the Lutheran Student Movement, Pre-Theology program, Common Ground, Primetime, the Contemporary Worship Service team, Peer Helpers and the track and field team.
"We're happy to welcome Dan back to campus for this year as ministry associate," Matevia Endowed University Pastor Rachel Tune said. "He is a creative leader whose experience in youth ministry, camping ministry from his previous work as a camp counselor, and social justice is of great value in campus ministry. He has quickly built relationships with students and already has many plans for connecting Wittenberg with high school youth. It's a wonderful blessing having him on our staff this year."
In just a short time, Jacob has been able to work with students on retreats, worship services, service projects and fellowship events. He is planning even more for the spring semester and this summer.
"My call to ministry has roots in my time as a student at Wittenberg as I discovered some life-changing theologies in the classroom," he said. "Although I had long felt a sense of purpose in church leadership, my class in African-American philosophy at Wittenberg introduced me to a theological perspective on restoring God's inheritance of grace to all people that ultimately drew me into seminary and ministry. Similarly, my English courses prepared me to be an active interpreter - aware of the stories and perspectives evolving around me. I fell in love with learning about others' stories and responding in ways that not only honors the joys and struggles involved, but also shares in them."
Jacob's calling as a minister of word and service led him to advocate often for the well-being of others.
"In speaking and acting for justice, I have come to know many people deserving of much admiration. In the many faces I have seen the face of God. No gift is greater than to be trusted to walk alongside someone in need. Each day I receive that gift from students at Wittenberg, and each day I see the face of God anew."