For the first time in the history of Denver, Colo., a female district attorney (DA) was sworn into office on Jan. 10, 2017. Her name is Beth McCann, a 1971 Wittenberg graduate.
McCann, originally from Blacksburg, Va., is no stranger to breaking gender barriers. She acquired a bachelor of arts in American studies at Wittenberg, which was a new major at the time that allowed her to take American political science, history and literature. After graduating magna cum laude, McCann went on to earn a law degree at Georgetown University in Washington, D.C., where only a handful of women filled the class.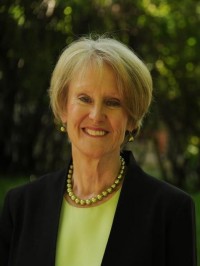 Now the 68-year old's job is to bring change to law enforcement in Denver, make the district attorney's office more accessible and accountable to the community, and find balance between being tough on crime and being aware of long-standing societal biases that contribute to racial disparities in the criminal justice system. It's a position McCann, who is in charge of 80 attorneys and more than 120 staffers, has spent decades working toward, and she believes she can help make a difference in the criminal justice system. Her office handles 8,000 felonies and some 12,000 misdemeanors each year.
"I am fortunate that at the end of my career, I have been able to accomplish something I have wanted for a long time," said McCann, who is married to Christopher "Toff" Linsmayer, a retired pilot. They have two children. "Now I hope I will be able to move our criminal justice system in a more progressive and humane fashion."
McCann, the daughter of an army colonel, liked the fact that the legal profession would provide her a variety of options. Throughout her career she has tested the waters and succeeded in providing change for women. Her career has included being only the second female law clerk with the U.S. District Court, forming the Colorado Women's Bar Association (CWBA), running for and winning a spot in the Colorado House of Representatives in 2008, and she was a partner in a small private law firm. She also served on the mayor's cabinet in the 1990s as the manager of safety, the civilian head of the police, fire, and sheriff departments – the first woman to hold the job. Later, she took over the city's excise and licensing department, the body that approves liquor licenses.
Now with almost a year in the district attorney's office, McCann took time out of her busy schedule to reflect on some of the chapters in her life:
Q: You are obviously no stranger to breaking gender barriers, so can you provide us a little insight on that?
A: I was one of a very small number of women who went to law school at that time. In my section of the 1974 class at Georgetown, there were about five women out of 125 students.
I was the second woman to serve as a law clerk to a judge on the U.S. District Court for the District of Colorado in 1974-75. I was the second woman trial attorney in the Denver DA's office when I started there in 1975.
I served as the first woman manager of safety for Denver from 1991-94. This is a cabinet-level position in the Mayor's Cabinet, serving as the civilian head of the police, fire and sheriff's departments with a budget of $180,000,000. There were many challenging issues including police use of force, admission of women into the fire department, demonstrations by the right-wing Ku Klux Klan, and a visit by the pope. We also transitioned to a new communications system.
Fortunately, there were many women legislators by the time I was elected to the Colorado House of Representatives in 2008. I was elected the first female DA in November 2016 for a four-year term.
Q: Were you surprised by the election results?
A: I had a very tough primary race. There were three of us running, and one man had started building his support years before I decided to run so he definitely had a head start on the endorsements and the fundraising. The other man was not as well known. Many folks told me I would have an uphill climb because of the work the other fellow had done. So, I was quite concerned about his head start and not at all sure I would win the primary. He ran a good campaign and got more votes than I did at the Democratic County Assembly so he received top billing on the ballot. Toward the end of his campaign however, things didn't go so well. His campaign ad fell flat. The Independent Expenditure Fund set up to support him ran a negative mailer against me that backfired.
We were running a really grassroots campaign, knocking on lots of doors and making thousands of phone calls. We had events in every part of the city and really worked the base. I had good name recognition, which helped as well. I was fortunate to win the Democratic primary by several points. In Denver, whoever wins a Democratic primary generally wins the general election. I wasn't surprised I won the general election, but I did not take it for granted and continued to campaign aggressively. I won with 74 percent of the vote in the general.
Q: Tell me some of the things you've done as district attorney since being in office and what your goals are in this role. What has been the hardest part?
A: Essentially, I am very interested in juvenile justice and working to keep kids out of the criminal system and providing alternatives to help them make better choices. I have expanded our diversion program and started restorative justice with kids. I am also very concerned about the interaction of the criminal justice system with those with mental health and substance abuse issues. We don't do a good job of addressing these problems in our criminal system, and we need to provide more resources upfront for folks suffering from these conditions. I am also troubled by the over-representation of people of color in our system and am working to make sure we don't have implicit bias in how my office handles cases.
I have started an elder abuse unit and have designated an attorney to work on human trafficking. We have a specialist in sex assaults to assist with the intake of those cases. I have a particular interest in domestic violence, sex assault, human trafficking and child abuse and have a specialized unit to handle family violence cases.
I have been fortunate to have an excellent staff who have been willing to help me accomplish my goals so it has been a pleasure working with them. The hardest part is dealing with these systems that are complex and big; change is difficult at times.
Q: How have people reacted to you being Denver's first female district attorney?
A: So far, the reaction has generally been positive. I have a lot of contacts in the community from my work as manager of safety and as a state representative. I think Denver was ready for a female district attorney and my constituents wanted a more progressive direction. That said, there are definitely some who would prefer a more traditional district attorney. There is a small local conservative paper that has been critical of some of my decisions and many of us believe that is because of my gender, at least in part.
Q: Tell me a little about your career path and what has been your favorite part or parts of your career. What has been the hardest part?
A: When I graduated from law school, I knew I was interested in being in the courtroom so I wanted to clerk for a federal judge for a year. I was able to do that in the U.S. District Court in Colorado with Judge Sherman Finesilver – a job I thoroughly enjoyed. I then was lucky enough to get a job as a deputy district attorney in Denver, which I also loved. I felt that I should try private practice after that and was fortunate to be hired by a defense litigation firm where I honed my skills in civil litigation handling many types of cases.
I continued to be interested in government and policy work, though, so I applied for the manager of safety position when a new mayor was elected. Mayor (Wellington) Webb tapped me for this position that was the most challenging and frustrating position I had held. I learned quite a bit in this position - it was much more political than any job I had ever encountered. During my tenure, we had a terribly violent summer in 1993. There were drive-by shootings, gang activity and random killings. As a result, we started the Safe City Summit in which we went to every part of the city and held neighborhood meetings to talk about how to keep kids out of gangs, violence and guns. The mayor established a Safe City Office, and I became the first director because of my deep-seated interest in crime prevention among young people. We started a grant program to provide grants to community-based programs that worked with youth. We had a 22 percent reduction in juvenile crime the year after we started.
The hardest part was probably as the manager of safety because we always had a crisis, not much support, and many people in those agencies did not want a civilian boss, much less a woman.
I have to say that generally I have enjoyed all of the various positions I have held. I think I had the most fun when I was a deputy and chief deputy district attorney because I so enjoyed the courtroom work as well as interacting with so many people from so many walks of life. I felt I really had an impact on peoples' individual lives.
Q: Tell me how this opportunity came about for you, and is this what you thought you'd be doing with your career?
A: The opportunity came about because we have term limits in Colorado, including for district attorneys, so there was a vacancy in the position. Also, I think my extensive background in litigation and management as well as my legislative experience provided a great base for me to run for this office.
When I graduated from law school, I did not think I would be a prosecutor. I was much more oriented toward the defense in criminal matters, and I was very interested in consumer protection and environmental issues. However, I knew I wanted to be in litigation and a DA and the public defender's office is the best place to get extensive courtroom experience so that part wasn't too surprising. I had always been interested in running for office at some point in my career, although it took me a long time to actually do it. I did not have a lot of confidence about running for office. I was not at all sure I would win. In fact, I ran for DA in 2004 and came in second. At that time, I did not intend to run again, but once the position came available, I decided this was something I really wanted to do.
Q: How did Wittenberg lead you down your career path?
A: I was very interested in politics, government and policy, and Wittenberg allowed me to essentially craft my own major in American studies. I was fortunate to have Dr. Charles Chatfield as my advisor, and he helped me design a major that fit my interests. I think Wittenberg gave me an excellent education and background to allow me to be successful in law school. I was at Wittenberg during the Vietnam War demonstrations. I participated in a big demonstration in Washington, D.C., that several of us from Wittenberg attended. Those were very formative years. It was also when drug use was on the rise. Women's liberation was getting started as well as movements such as the Black Panthers. It was a tough time to be in college because we were questioning everything and resisting authority. All of this was tough for my parents, but they never lost faith in me.
-Photo by Benjamin Rasmussen